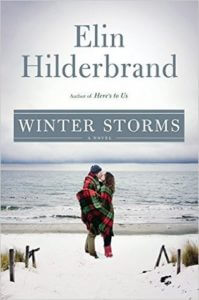 Winter Storms by Elin Hilderbrand
Series: Winter #3
Genres: Adult, Contemporary, Holiday
Published by Hachette on October 4th 2016
Also by this author: Winter Street, Winter Stroll, Winter Solstice
Format: Hardcover (256 pages) • Source: Library
Goodreads • Amazon • Barnes & Noble

Gather under the mistletoe for one last round of caroling with the Quinn family in this heartwarming conclusion to Elin Hilderbrand's bestselling Winter Street Trilogy.

Some of the stormy weather of the past few seasons seems to have finally lifted for the Quinns. After a year apart, and an ill-fated affair with the Winter Street Inn's old Santa Claus, Mitzi has returned to rule the roost; Patrick is about to be released from prison; Kevin has a successful new business and is finally ready to tie the knot with Isabelle; and best of all, there's hopeful news about Bart, who has been captured by enemy forces in Afghanistan.

That doesn't mean there aren't a few dark clouds on the horizon. Kelley has recently survived a health scare; Jennifer can't quite shake her addiction to the drugs she used as a crutch while Patrick was in jail; and Ava still can't decide between the two lovers that she's been juggling with limited success. However, if there's one holiday that brings the Quinn family together to give thanks for the good times, it's Christmas. And this year promises to be a celebration unlike any other as the Quinns prepare to host Kevin and Isabelle's wedding at the inn. But as the special day approaches, a historic once-in-a-century blizzard bears down on Nantucket, threatening to keep the Quinns away from the place--and the people--they love most. Before the snow clears, the Quinns will have to survive enough upheavals to send anyone running for the spiked eggnog, in this touching novel that proves that when the holidays roll around, you can always go home again.
Story
Winter Street swept me away pretty quickly for some reason. I was instantly intrigued by the Quinn family and wanted to get to know all of them. Once I finished with the bit of a cliffhanger, I moved on fairly quickly to Winter Stroll. The characters, over the course of the year between stories, regressed so much. They went back on decisions they already made and then made stupid ones. I didn't like it nearly as much, but you know I was ready for the final book in the WINTER trilogy to arrive at the library. It unexpectedly did last week, so I was quick to hop right into it to finish it off.
This book was definitely worse than the first one but better than the second one. I was incredibly annoyed by Ava mostly, with her love triangle that turned into a square. (Yep.) View Spoiler »Adding the third guy into her love life was a total cop-out by the author, so she didn't have to choose between Nathaniel and Scott. Readers invested themselves into those two characters for two books just to have a THIRD dude come in and take her away. Seriously. A cop-out. « Hide Spoiler I thought she became much snootier and more guarded than necessary. I think her character "developed" in the wrong direction. The other characters were their usual selves and I didn't mind them as much. I love where the story went for Kevin and Isabelle, Margaret and Drake, and somewhat for Patrick and Jennifer.
The ending was very abrupt and I kind of hated it. I think things were left too open-ended for my liking. View Spoiler »On one hand, I'm glad that the author didn't have Kelley die before the end of the story. On the other hand, I would have preferred to understand what was going to happen with him and so many others in the family! « Hide Spoiler So, there was some good closure with a few characters but not all of them.
Wintery Setting and Holiday Feels
This story was interesting because it started in the spring and worked its way toward the holiday season. I liked seeing the Quinns throughout the year actually! It showed what they all were up to during the other months of the year, and helped develop some of the action later on. As for the actual holidays… not too bad. There was a holiday wedding, a huge snow storm, and a few other surprises. It didn't feel as Christmassy as the first book but maybe was more Christmassy than the second book? I can't remember as many specific cozy Christmas examples, so that leaves me feeling meh.
Overall
Overall, I think this was a decent way to finish off the trilogy. I have to say that I'll totally miss the Quinn family! I'm interested in checking out Hilderbrand's other books. (She actually referenced herself and one of her books IN the story – so meta and a little annoying haha.) I think this series is worth reading if you like the Nantucket setting and getting involved with complicated family dynamics.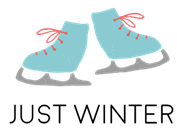 What Light
by
Jay Asher
Genres:
Young Adult
,
Contemporary
,
Holiday
Published by
Penguin
on October 18th 2016
Format:
Audiobook
(251 pages) •
Source:
Hoopla
Goodreads
•
Amazon
•
Barnes & Noble

Sierra's family runs a Christmas tree farm in Oregon—it's a bucolic setting for a girl to grow up in, except that every year, they pack up and move to California to set up their Christmas tree lot for the season. So Sierra lives two lives: her life in Oregon and her life at Christmas. And leaving one always means missing the other.

Until this particular Christmas, when Sierra meets Caleb, and one life eclipses the other.

By reputation, Caleb is not your perfect guy: years ago, he made an enormous mistake and has been paying for it ever since. But Sierra sees beyond Caleb's past and becomes determined to help him find forgiveness and, maybe, redemption. As disapproval, misconceptions, and suspicions swirl around them, Caleb and Sierra discover the one thing that transcends all else: true love.

What Light is a love story that's moving and life-affirming and completely unforgettable.
Story
Woof. This was pretty rough most of the time. For such a short book with a great audiobook narrator, I found myself increasingly frustrated and eye-rolly a lot of the time. The story itself is about Sierra and her family, who move from Oregon to California during the holiday season to sell the trees they grow in Oregon. She has best friends from home, Elizabeth and Rachel, and a best friend in California, Heather. She learns that this may be their last summer down in California and her friends decide she should have a month-long holiday romance. K.
So the entire book is about this romance. She is enthralled by this guy Caleb with a ~dark past~ of some kind. She can't get him to confirm rumors and honestly if I wasn't waiting for him to spill the beans so much, I would have DNFed the book pretty early. Every single conversation with her friends revolves around boys. I can think of maybe 2-3 about other things, like the holidays and her parents farm. Does the author think teenage girls can really only think about boys? That they only talk with other girls about how they feel about guys? It was infuriating to read, especially because the author has never been a teen girl. I thought it made them sound self-centered and vapid, and it was not fair. If Sierra loved her family's farm so much, I think she would have been much more focused on helping the farm OR talking about the farm with her friends. Introduce some romance, sure, but good lord – it is not the only thing girls can talk about. It just isn't. On that same token, Sierra pisses off her friends from home because she chooses not to come do something with them while she's down there. Instead of being honest about Caleb AND saying something like "I only have a month here every year and Heather is important to me" she decided to make it all about the boy. How much does Heather really even mean to her if she spent 95% of her time with Caleb over that month? I expected the climax and drama of the story to be about Heather wishing Sierra spent more time with her that month, or something about the farm.
I was interested to see where the story went but did let my frustrations take over. I wish we learned more about Sierra aside from her tree farm and Christmas-related hobbies/interests. I feel like I barely got to know her at all and I spent so much time in her head.
Wintery Setting and Holiday Feels
For a book about Christmas trees and a family that makes a living off of the season, there were less Christmas vibes than I hoped. Don't get me wrong, the holiday is referenced nonstop because of the trees. I just wanted a little more for some reason. (Clearly I compare everything to Jenny Hale now.) There wasn't a wintery setting necessarily, because they were in California without snow, but the holiday feels were there. The end of the book happened on those days, so that was fine, but otherwise… eh.
Overall
Overall, this book really pissed me off. I enjoyed some aspects of the romance but cringed a lot. I couldn't look past the author's portrayal of teen girls and how they apparently only talk about romance. I think the friendship aspect would have been SO much stronger if he gave the girls the ability to talk about LIFE or anything other than relationships. I wouldn't really recommend this to anyone, unless you're 100% good with instalove, cardboard cutout characters, and REALLY think the premise sounds interesting.



Related Posts