I knew exactly what I wanted to do for a post when I saw this blog tour announced by the Fantastic Flying Book Club. Felicity is a show I've always wanted to watch. I was constantly watching Friends with my mom (when I was way too young to watch it), but I never saw Felicity because she didn't watch it. I was only 7 years old when the show started so the college-aged main character fascinated me, but was out of my reach at the time. I loved the concept of Finding Felicity when I saw the book's synopsis a long time ago, and vowed to watch the show before reading the book. As you might have guessed, my role in this fun blog tour is to watch Felicity for the first time and share my feelings before reading the book. I'm going to include a little late 90s outfit Polyvore collage with Cover Colors as well, because I can't resist.
---
A first time Felicity watcher binges the show
The tour was announced at the beginning of March, so I knew I had a few weeks to get going on the show. I decided to keep my live-blogging to just the first episode because it would get out of hand for all the episodes (I learned this very quickly). I embarked on the binge the first weekend of the month when my boyfriend was working (and sleeping, due to his work schedule). Here are my thoughts on season one, starting with a live blog of the pilot and more detailed reactions to the following two episodes. With 22 episodes in the first season, I decided to keep it to just the beginning and then a good summary of my thoughts after.
But first… how perfect is this book cover compared to the pilot episode's opening!?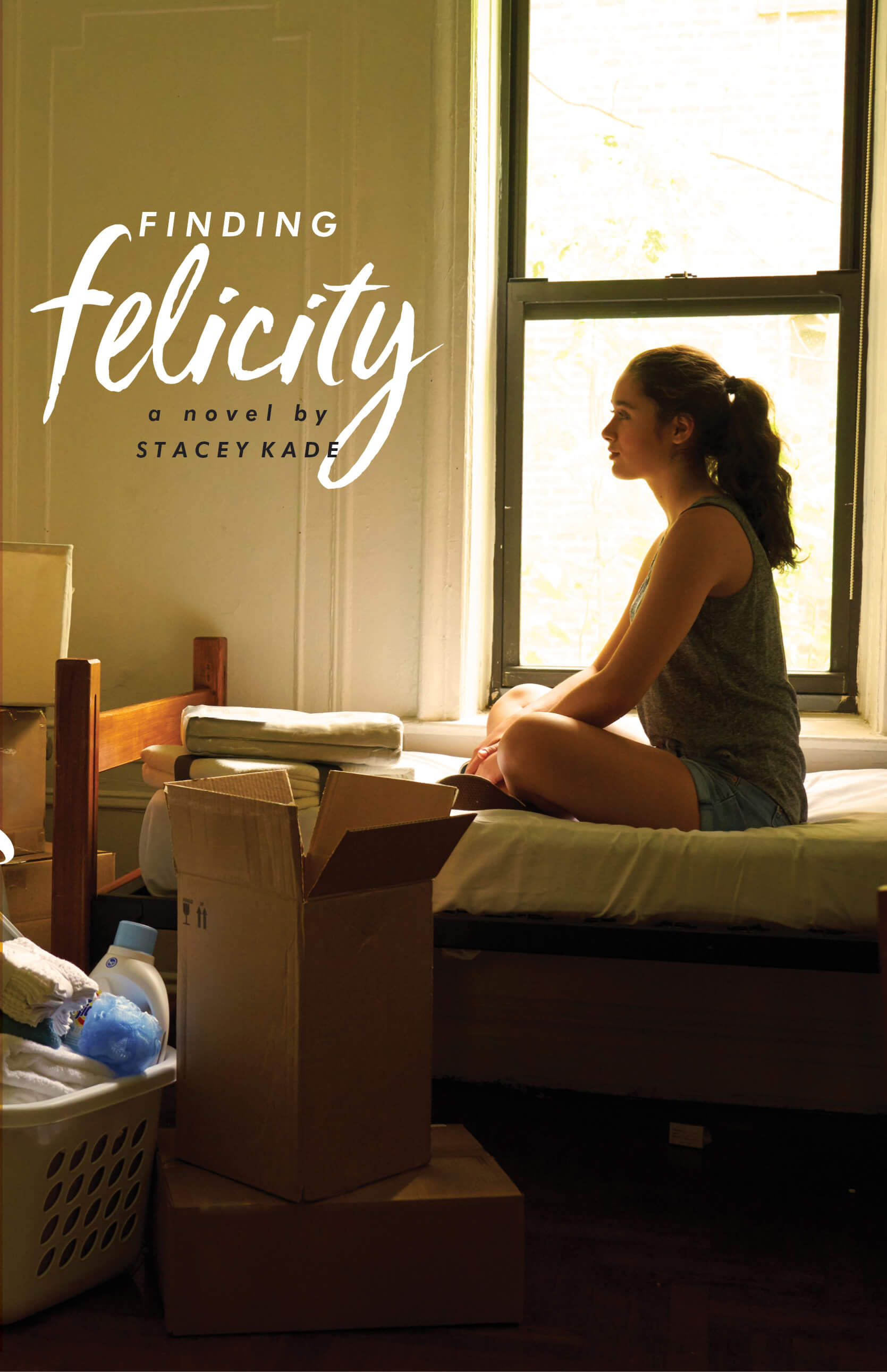 Season One Thoughts
Episode 1
Book cover is exactly the same as the first shot in the show, her sitting on the bed
Feel of dread after high school. Yup
Do people in high school actually sign yearbooks on graduation day?
He sure has a lot to say in her yearbook for someone who just introduced himself lol
This college letting her suddenly come in after graduation is wild
I really can't believe she'd change her whole future because a guy said that he wanted to know her a little bit
COOLEST DORM EVER
HOLY CRAP SHES RECORDING A TAPE
Oh god he has a girlfriend and forgot her name. That was unexpected and sad
Her parents suck
THOSE PENS! I remember them. Used to be obsessed. So many late 90s feels about to happen
Wow I can't believe she told Ben that she came to NY for him in the first episode! I expected it to be some big reveal/controversy later in the show
Love triangle at some point? Ben and Noel?
I never understand being mad your roommate is gone. Whole room to yourself!
Fall in love with him?! Dang Felicity. She really doesn't know him either
Oh hi Julie. That's awkward
I don't blame her for wanting to leave
This French tutor story is sad. I hope we get to see Sally in person at some point? I can't handle them sending tapes lol so 90s
Dang Ben, bold move on the application. Nice to see some honesty though. This is the most I've liked him all episode
Oh there's Noel with the feelings bomb. Go figure
Her parents are so controlling and unsupportive. Very classic TV parents. I like her sticking up for herself though. She deserves to carve her own path
I really like the Sally tapes storyline actually
Episode 2
I love the silly 90s black and white title sequence. This episode was good about developing the other characters a little bit more… and making me hate her parents even more. Felicity explained that she felt good being on her own and her mom took personal offense (instead of being an adult???) and stormed out of the room. Those two are the worst so far. They redeemed themselves by the end, but I'm curious to see how they stay involved throughout the show.
Episode 3
Again, slowly learning more about the other characters – I love that. So far I don't really ship her with anyone. From what I've heard over the years, Ben is probably the one to get excited about… so we'll see how that develops for me. This episode was a good one. It's nice to see Felicity getting integrated into college life and understanding the differences between high school teachers and college professors.
Overall Feelings
Some shows from 10-20 years ago just don't hold up over time. I know that even my favorite show from the 90s has a lot of distasteful jokes that wouldn't fly in today's world, thank goodness. I think the best part about Felicity is just how easy to relate to it is. Going away to college, dealing with boys and crushes, making new friends… it's all universal stuff. There are some REALLY heavy elements in the first handful of episodes and I thought they were dealt with very well. They cover a lot of progressive topics (at the time), which is really nice to see in hindsight. Felicity is an interesting character. I think she's a great friend in the sense that she always wants to help and do what's best for them, but she's very annoying when she butts in 1000 times more than she needs to. There are so many instances where I wanted to punch her in the head for a decision she made that she thought would help and ended up hurting someone close to her. Her behavior toward Ben (just following him to school across the country for no reason) was pretty wild, and I can't believe that he even spoke with her afterwards instead of getting a restraining order. I know a lot of people ship them together but I'm currently not a huge fan. I didn't love her with Noel either because he's always been a turd, in my opinion. Overall though, this is a really wonderful first season! I can't help but want to shake half of the characters by the shoulders sometimes but I love that it's still timely and relevant for today's teens heading off to college. I totally wish I watched earlier!
---
About the book and author
I received this book for free (hey, thanks!) in exchange for an honest review. I promise that this does NOT affect my opinion of the book or the content of my review. For real.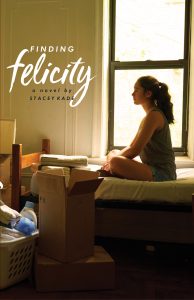 Finding Felicity
by
Stacey Kade
Genres:
Contemporary
,
Young Adult
Published by
Simon and Schuster
on March 20th 2018
Format:
eARC
(304 pages) •
Source:
Fantastic Flying Book Club
Goodreads
•
Amazon
•
Barnes & Noble
Felicity meets Fangirl in this contemporary novel about a young woman who must leave behind her fantasy life—inspired by her favorite WB show from the 1990s—and create a real one at college.

Caroline Sands has never been particularly good at making friends. And her parents' divorce and the move to Arizona three years ago didn't help. Being the new girl is hard enough without being socially awkward too. So out of desperation and a desire to please her worried mother, Caroline invented a whole life for herself—using characters from Felicity, an old show she discovered online and fell in love with.

But now it's time for Caroline to go off to college and she wants nothing more than to leave her old "life" behind and build something real. However, when her mother discovers the truth about her manufactured friends, she gives Caroline an ultimatum: Prove in this first semester that she can make friends of the nonfictional variety and thrive in a new environment. Otherwise, it's back to living at home—and a lot of therapy.

Armed with nothing more than her resolve and a Felicity-inspired plan, Caroline accepts the challenge. But she soon realizes that the real world is rarely as simple as television makes it out to be. And to find a place where she truly belongs, Caroline may have to abandon her script and take the risk of being herself.
More purchase links: iBooks | Book Depository | Kobo | IndieBound
Thoughts on the Book
I have to admit, I was super happy that I decided to start the show before reading the book. There are a LOT of comparisons and references to it, and I would have been completely lost without watching it. You find out early on that Caroline pulled the same stunt as Felicity, in that she followed Liam (Felicity's Ben) to college, even though they weren't friends. On top of that, she pretended all of the characters from Felicity were her friends in high school and lied to her mom for years. In other words… this book is obviously FULL of Felicity references.
Caroline was very similar to Felicity as well. She had a lot of cringeworthy internal thoughts that made me wonder what the hell she was thinking sometimes. Stacey Kade did a really great job of making the two seem similar (so you could understand why Caroline related to the character and the show) but also different (because Caroline was a little more awkward and unsure compared to Felicity). Caroline mostly grew on me throughout the book when she shook off the weirdness.
I didn't really ship Caroline and Liam together, which is exactly how I felt about Felicity and Ben. I was told to wait and see about Felicity/Ben so I was wondering if the same thing was going to happen with Caroline/Liam. I'm happy with where things went for that situation but won't spoil anything.
The callbacks to the show were really great, but not overbearing. It was nice to see Caroline slowly realize she didn't need to use the show as a crutch. Despite questioning a lot of her decisions (again, like I do with Felicity on the show), I really ended up enjoying this one by the end. The frustrating moments with Caroline were really just her experiencing some growing pains and trying to figure herself out.
About Stacy Kade

The daughter of a minister and a music teacher, Stacey Kade grew up reading Harlequin romances on the sly in the basement. Kade is the author of two young adult series (The Ghost and Goth trilogy and the Project Paper Doll series). Her first adult contemporary romance, 738 DAYS, was released earlier this year.
Prior to writing full time, Kade worked as an award-winning copywriter for several Fortune 500 companies. She lives in the Chicago suburbs with her husband, Greg, and their two retired racing greyhounds.
Author links: Facebook | Twitter | Goodreads | Website | Tumblr
---
Cover Colors & Collages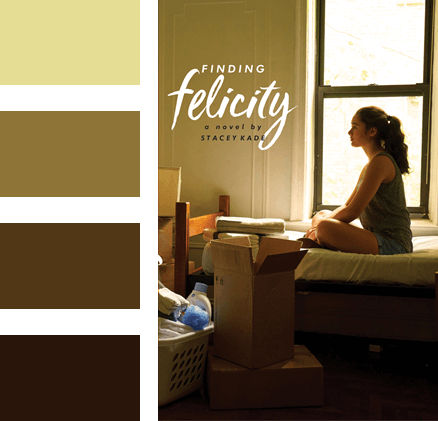 I knew that I wanted to do multiple looks here – one featuring the first season of the show and some of the late 90s trends at the time, and one featuring the book's main character and current trends. The book cover is actually great at matching the show itself, with the muted sepia tones – so reminiscent of the show and the time!
Felicity Season One – Late 90s Fun
The biggest pieces of Felicity's wardrobe were her cable knit sweaters and army jackets. Some of the other accessories are casual but always there, like Converse and a leather backpack. I kept her makeup simple because she definitely has a more natural face through the show. I cheated a little and looked at some cast pictures before I started watching and saw blazers and a red tank top/dress thing too.
Finding Felicity Book Look
This was a little tougher because Caroline goes through a lot of changes during the book, including her style. She wears a skirt on move-in day and is self-conscious, so she changes into a vintage Ashmore (college) tee shirt and jean shorts. I gave her some casual shoes and simple makeup/nail polish, like Felicity. The skirt, glasses, and shirt here also represent the "sexy librarian" look that she went for at her first college party (lol).
---
Giveaway!
Finished Copy of Finding Felicity
Click the button to see the rest of the tour stops! 
Related Posts