I received this book for free (hey, thanks!) in exchange for an honest review. I promise that this does NOT affect my opinion of the book or the content of my review. For real.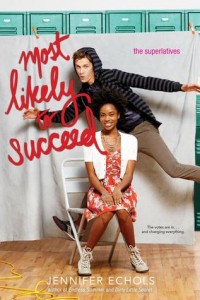 Most Likely to Succeed
by
Jennifer Echols
Series:
Superlatives #3
Genres:
Young Adult
,
Contemporary
Published by
Simon and Schuster
on August 4th 2015
Also by this author:
Biggest Flirts
,
Perfect Couple
Format:
eARC
(352 pages) •
Source:
Publisher
Goodreads
•
Amazon
•
Barnes & Noble
In this sexy conclusion to The Superlatives trilogy from Endless Summer author Jennifer Echols, Sawyer and Kaye might just be perfect for each other—if only they could admit it.

As vice president of Student Council, Kaye knows the importance of keeping order. Not only in school, but in her personal life. Which is why she and her boyfriend, Aidan, already have their lives mapped out: attend Columbia University together, pursue banking careers, and eventually get married. Everything Kaye has accomplished in high school—student government, cheerleading, stellar grades—has been in preparation for that future.

To his entire class, Sawyer is an irreverent bad boy. His antics on the field as school mascot and his love of partying have earned him total slacker status. But while he and Kaye appear to be opposites on every level, fate—and their friends—keep conspiring to throw them together. Perhaps the seniors see the simmering attraction Kaye and Sawyer are unwilling to acknowledge to themselves…

As the year unfolds, Kaye begins to realize her ideal life is not what she thought. And Sawyer decides it's finally time to let down the facade and show everyone who he really is. Is a relationship between them most likely to succeed—or will it be their favorite mistake?
There aren't a lot of YA books that make me feel old. This is definitely a book that I would have probably LOVED in high school, but the drama was very tiring for a 24 year old to read. This was the book in the trilogy I was most looking forward to; there was a lot of build-up between Sawyer and Kaye throughout the book and their plotline was carried through the first two. I LOVE Sawyer – he's so goofy, fun, and sweet.
The first half of the book got on my nerves a lot. Kaye was kind of a huge idiot when it came to just about everything. I know that she only stayed with Aidan because of the whole "powerful couple" thing, but he infuriated me. I would have dumped his pompous ass in the first book of the series! She was stupid about him and then stupid about Sawyer. He CLEARLY liked her and she kept going back and forth about if he did. Everything was right in front of her eyes and she was fucking annoying. If the book stayed like this, it would have been about 3 stars for me.
Then, it improved! A lot of the drama happened during the second half, but I enjoyed it a bit more overall. Kaye finally came to terms with her feelings (and realized he felt the same way, DUH), so there was some major shipping on my end. The second half would have been 4 stars.
I like that Kaye slowly started sticking up for herself to her mother. She was HORRIBLE to her daughter throughout most of her life – expecting too much and micromanaging everything – and really needed to be taken down a million pegs. Her dad is kind of awesome though. I've always been the kind of person to not take shit from my parents; I've always stuck up for myself if they did something that pissed me off. It's hard for me to read about characters who aren't like that! (To be fair, though, my parents are kind of amazing and I didn't have to do it that much.)
Overall, this book kind of averaged itself out to a 3.5 star read – just like the other two books in the series. I think that this book MAY be my favorite? But that could just be because I don't remember much about the other two books. I liked the first book a lot too.


I received this book for free (hey, thanks!) in exchange for an honest review. I promise that this does NOT affect my opinion of the book or the content of my review. For real.
Anne & Henry
by
Dawn Ius
Genres:
Young Adult
,
Retelling
Published by
Simon and Schuster
on September 1st 2015
Format:
eARC
(304 pages) •
Source:
Publisher
Goodreads
•
Amazon
•
Barnes & Noble

In this wonderfully creative retelling of the infamous—and torrid—love affair between Anne Boleyn and King Henry VIII, history collides with the present when a sizzling romance ignites in a modern-day high school.

Henry Tudor's life has been mapped out since the day he was born: student body president, valedictorian, Harvard Law School, and a stunning political career just like his father's. But ever since the death of his brother, the pressure for Henry to be perfect has doubled. And now he's trapped: forbidden from pursuing a life as an artist or dating any girl who isn't Tudor-approved.

Then Anne Boleyn crashes into his life.

Wild, brash, and outspoken, Anne is everything Henry isn't allowed to be—or want. But soon Anne is all he can think about. His mother, his friends, and even his girlfriend warn him away, but his desire for Anne consumes him.

Henry is willing to do anything to be with her, but once they're together, will their romance destroy them both?
There was a great sandwich shop up in Maine called Henry VIII that had a lot of history about him and appropriately named and delicious sandwiches. I wish it was still open because that food was good but I'm totally getting off topic before I even start.
The real rating for this is 4.25 stars, but that's just me being too picky. I don't know too much about Henry Tudor and Anne Boleyn, aside from the general outline of their story from history, but I wish I knew more! I don't know exactly how many plot points of this story line up with their lives. I've seen some reviews claiming that it just kind of scratched the surface, while others thought it was almost perfectly spot-on. I really enjoyed it overall though!
Henry was a lame coward most of the time whose favorite line was "fuck me" whenever he thought about Anne or she walked into a room. I could tell why he liked her, but not why she liked him. She was bold and brazen and awesome, but he dulled her shine after a while. I knew what their relationship was destined for… but that didn't stop me from wishing that Henry would grow up and realize what his feelings were. I hate when family expectations get in the way of happiness (of course I've never been put in that situation myself, so I'm sure its harder than I'm making it seem). I wish things worked out better for Anne but I suppose that wouldn't have been true to history.
The story overall was an incredibly fast and addicting read. I raced to the end and was eager to see how everything unfolded, and how closely aligned the history would be with the way Anne and Henry's story ended in the book. Some of it felt kind of cheesy towards the end, but I liked the last sentence and the overall feel of the ending. I think it was perfect.
It's hard for me to even come up with things to say because I read this SO quickly. It's making me wish I knew more about the Tudors!
Related Posts