Five on Friday displays the the top five things that have been on my mind this week! It could be book-related, but it may be music, movies, TV, personal life, food, etc. Previous posts can be found here!
MEEP. The last one of these was done in June, and the previous one was in March. Clearly I'm not on top of things… which is fine. I resolved to do at least two or three of these for September and October, since I have MANY exciting things happening and they deserve to be talked about more than just a paragraph in my monthly wrap-up.
---
LABOR DAY WEEKEND
I had a really fantastic weekend with friends over Labor Day. My birthday (Wednesday the 9th) gave us a good excuse to all get together finally. Two of my college roommates live only 20 minutes away and we still manage to never see each other! Another lives in New Jersey and her boyfriend (also from my college friend group) lives in Rhode Island. We all got together for some bowling and drinks at this fun alley nearby. We had dinner at the lane and spent some time outside on the patio bar playing Kanjam and cornhole. It was a lot of fun and I'm really glad they pressured me to have a birthday gathering. I generally don't like celebrating my birthday before or after the actual day; I like doing something only on my actual birthday. Overall, it was a great night. We had the two friends who live farther away stay over that night, so we all went to the Woodstock Fair the next day. It was ridiculously hot and I felt nauseous all day, but we still managed to have fun. On Monday, Chris and I went swimming at his parent's pool and relaxed. Such a great weekend!
MY BIRTHDAY
Wooo! I turned 24 years old on Wednesday the 9th. It's weird though, how birthdays don't FEEL like birthdays anymore. Am I the only one? I took the day off from work and did a lot of things, but it still felt off. Maybe I just miss the good ol' college birthdays. My birthday took place during the craziest weekend on campus, where you travel to senior townhouses and take different shots everywhere (lol). I had SO many people – complete strangers especially – shouting Happy Birthday when they saw me, because I always wore a tiara or sash or something. It just felt like a birthday, ya know? Anyways, this year was a GREAT day.
I woke up early, read my book on the front porch, and watched some of the Lego Brickumentary. I had a phone interview at 11 that I think went really well! A bit rambly, maybe, but great overall.  After that, my mom took me to lunch where we had lobster rolls and stuffed bacon-wrapped jalapenos. SO good. I went and picked my sister up from school (she has to WALK home from school, 2 miles away, in the 95 degree weather? No thanks.) and hung out with her for a bit. I went home and watched Friends for two hours (the BEST way to spend my birthday) before Chris got home from work. We went to Dave & Busters for dinner and games with two of my friends, then came home! It was a fantastic day and I feel like a weenie for feeling so MEH about it because it really was a great birthday. I guess I just miss the days where birthdays really feel like birthdays and you have fun presents to unwrap. (Chris accidentally used our old address on my birthday gift so we're still waiting for it to be forwarded…). I went back to work yesterday and we had a little lunch and cake celebration, and I'm going out to dinner with my dad and family tonight at our favorite BBQ place. SO, the birthday celebrations will continue anyways!
LEGO THINGS
We have a lot of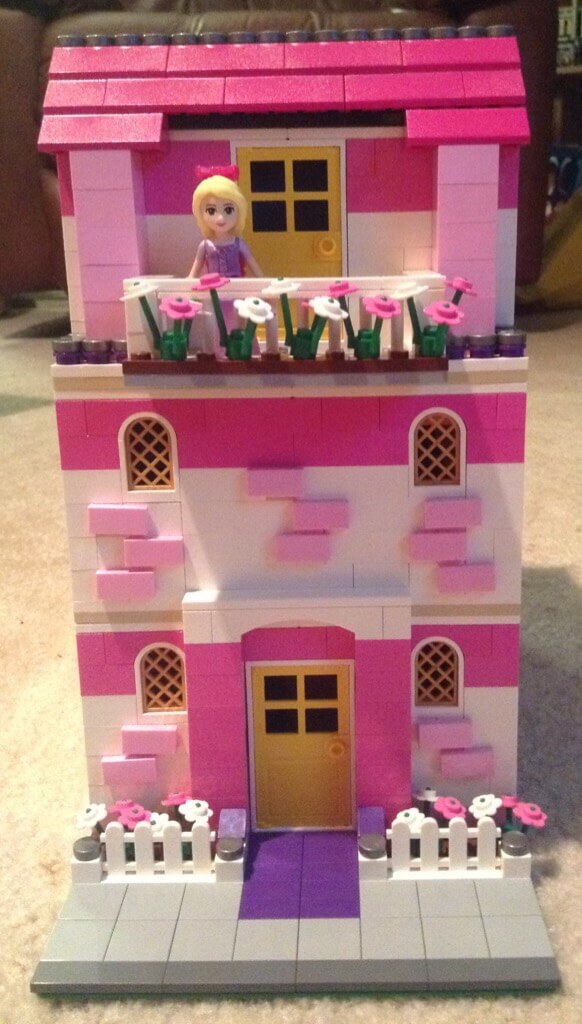 fun Lego things coming up! There's a Comic Con in a couple of weeks in Hartford that our group will have a table at. This basically means that any comic book or superhero character Lego builds we have can be displayed. Chris is working on a town layout with a bunch of Marvel and DC heros and villains doing various things. It's coming out really awesome. I took it i
n a little different of a direction by building something I've been thinking about for a while: a Disney Princess apartment building! As you can see, I used a lot of pink colors and designed the whole thing myself. I'm really impressed, to be honest, because Chris is a much better builder than I am. I've been getting better but I usually just help him with his stuff, instead of doing my own. This is my first big build and I absolutely love the way it came out. The inside has different bedroom areas for each princess that matches their personalities. I also built a little beach scene with Olaf from Frozen for last month's meeting. We had a competition for a small beach scene and I decided to build that one. Lego can be a very, very time-consuming hobby… but it's a lot of fun.
PLANNING OUR TRIP TO CHARLOTTE
YAY. We're headed to Charlotte at the end of the month! Everything is booked as of right now, except for the actual tickets to the game. Whoops. Regardless, we're so e
xcited. The flight leaves early in the morning on a Thursday and we co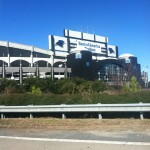 me home Monday. We also took the following day of so we can relax at home without having to deal with work right away. It's goingto be awesome. Honestly, we don't have many actual plans for the weekend besides the game. We want to explore the city, see some museums, try some restaurants… all of the touristy stuff! Since we stayed with my friend's parents last time, we did a lot of things with them, but didn't really explore. Our hotel for this time is right in the center of the city, so there should be plenty to see and do! If you live in the Charlotte area and have some recommendations for us, PLEASE let me know! Restaurants, attractions, other places to see – anything. We'd love to hear of some good spots. We're going to have plenty of time on the other four days of our trip so we want to load it up with everything fun. [Photos on the left are from our first visit back in 2013]
FALL & FOOTBALL
Oh yes, I saved the best for last. That's right, football is ranked higher in my mind than any of the things I talked about above… including my birthday. God, I love it so much. SO
MUCH. I'm like twitching as I write this because of how utterly obsessed I am with the fact that REAL FOOTBALL IS H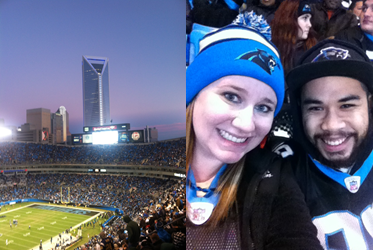 ERE. I've talked about it so many times (free agency,  the draft, preseason, etc.) but it's finally here. The first game happened this week and my Panthers are playing on Sunday. EEK! I love autumn for so many reasons, but football is certainly the number one. I have so many amazing memories of watching games with my parents, showing Chris the football ropes, and overall screaming at the television. I'm sure I'll write a big football-inspired post at some point on here (just so I can reference it repeatedly instead of shouting the same things each time I talk about it). Otherwise, fall means pumpkin spice coffee, pumpkin beer, apple and pumpkin picking, and eating candy. It's the best season and you can't tell me otherwise.
---
How was your week? Are you excited for football like me?
How was your Labor Day weekend? Talk to me!
Related Posts