What's Up Wendesday is a linkup with The Larson Lingo, Sheaffer Told Me To, and Mix & Match Mama the last Wednesday of each month, in order to catch up on what's new with you from the past month and upcoming month. The prompts can be found on their blogs or answered below by me!
---
November 2018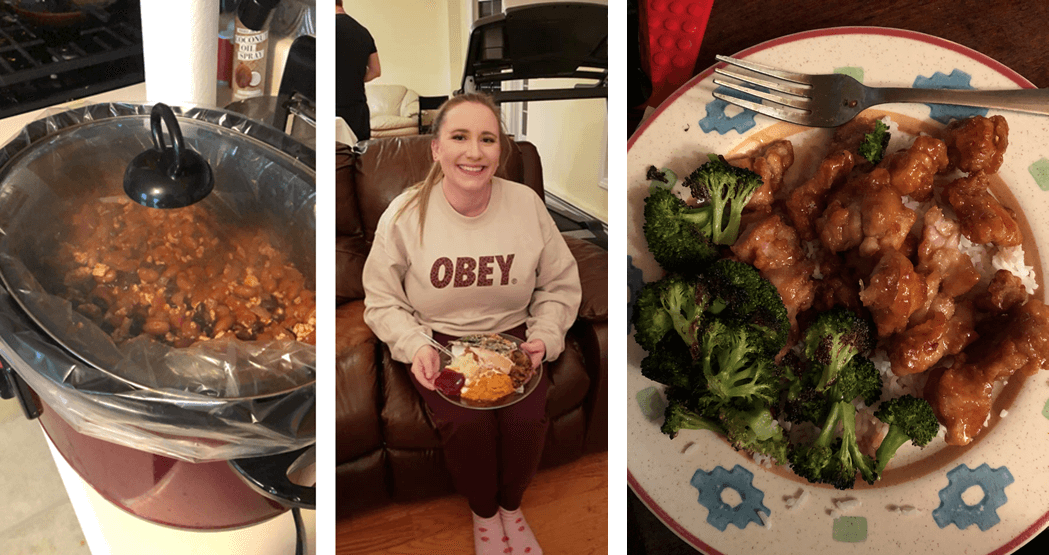 What I'm eating this week
Sunday: Zero Point Chili, Thanksgiving leftovers
One of my favorite WW recipes is this chili that's worth ZERO points. All of the ingredients are beans, tomato sauce, veggies, seasoning, and super lean ground turkey… which makes the whole pot worth about 2 points (and therefore individual servings are zero). It's great for days I plan to eat a lot more and need one free meal. Otherwise, lots of Thanksgiving leftovers this weekend!
Monday: Out to dinner with an old favorite teacher!
I recently learned that one of my HS teachers is now a principal at a school near my house, so I reached out to meet up for dinner. It was really great to see her and catch up on everything. We went to an Irish pub because the place we originally picked closes early on Mondays apparently. I got a cajun chicken flatbread that was pretty decent.
Tuesday: Sausage, broccoli, and mac and cheese
One of my go-to easy meals is sliced up sausage links + various veggies mixed in olive oil and seasoning, cooked on a sheet pan in the oven. You can also add potatoes if you're looking for a starch too. I didn't make my typical sausage sheet pan with everything mixed together this time (blame my lack of veggie options right now), but just cooked the TJ's sausage links on a pan with some broccoli. I made Annie's mac and cheese for another side too.
Wednesday: Band award ceremony potluck
My sister is having her award ceremony thing for band tonight and there's a potluck beforehand. A bunch of the band parents and other people bring food for everyone to have before the awards, so we'll just be filling up on snack food for dinner tonight. Not a problem for me!
Thursday: Broccoli cheddar soup and bread
I bought two Bear Creek soup mixes on sale at Christmas Tree Shops last week and will probably make one for dinner on Thursday night. You literally just add water to the mix and cook it for 10 minutes on the stove. My plan is to hit Trader Joe's on my way home from work to get some crusty French bread to enjoy with it.
Friday: Chicken lettuce wraps
I make this copycat PF Chang's Lettuce Wraps recipe quite a bit, with extra water chestnuts and no mushrooms. I prefer to use romaine lettuce but ended up having to get a different kind at the store this week, since to that whole recall thing… They're still great and so easy!
Saturday/weekend: Some groceries from Trader Joe's, TBD!
My boss gave me a Trader Joe's gift card for Thanksgiving and it came at a great time. All of their seasonal items look so good, and I'm due for an after-work trip to get frozen stuff too. (They have some of the BEST frozen foods!) I always do research on some Trader Joe's fan Instagram accounts before shopping there because people highlight the new stuff. I'm not 100% sure what I'll be making in the second half of the week because I'm shopping tonight. I'm guessing some kind of frozen pizza crust, maybe some premade meals like the delicious Mandarin Orange Chicken (pictured way above from last time)…
What I'm reminiscing about
Old times with friends | I met up with two of my best friends from high school on Black Friday for lunch and drinks. We always have such a good time catching up and reminiscing on old times. We did a lot of wild things back in the day and we make sure to remember everything embarrassing haha.
Lego-building days | While our spare room is dedicated to Lego (storage and workspace), we haven't really done anything Lego-y in a while. We've been sidetracked with moving and haven't even been to the club in about a year. We took turns building the Brickheadz turkey for Thanksgiving and will move on to the Mr. and Mrs. Claus builds in a few weeks. It was fun to get back into it and hope we can continue soon.
What I'm loving / what I've been up to
Decorating for Christmas and enjoying the lights! We put up all of our Christmas decorations last week because I had a half day before Thanksgiving. We got our tree over the weekend and put up all of our ornaments. We had a fake tree last year because we were in a huge apartment building in the city, plus we didn't bring any of our classic ornaments. We finally pulled a full collection together with our old ones and new ones on a real tree! We supported Small Business Saturday by going to a local farm stand with pre-cut trees. We also picked out the cute s'more ornament up in the tree there. [I combined these two prompts because they're basically the same for me!]
What I'm dreading
Paying for all those presents | I have a timely commission check coming in that I've been waiting for because I really want to do all of my shopping in one chunk basically! I know exactly what I'm getting 80% of my people, Secret Santas included, but I just have to actually BUY all the things now.
What I'm working on
Christmas cards! I ordered our cards last week using some good coupon codes and they already came in – super quick! I used Snapfish because I like their designs more than any other site this year. Our picture highlights include: a day trip to a new Maine beach, two shots from Acadia National Park, two pictures from two of the four weddings we went to this year, and the Panthers game from September. (Sorry to the friends who just got spoiled on our Christmas card before we sent them out! hehe)
What I'm excited about
The start of my new planner | I made the random mistake of getting a planner that started in November last year and went until November of this year. No, I have no idea why I didn't add an extra month so I'd have December. It's a customizable planner too! Ugh. Anyways, I worked on my Happy Planner a few months ago to set up all of the month views (including December 2018) and am now ready to dive in to December next week.
What I'm watching
Hallmark Christmas movies | I've been watching before work while I get ready and it's perfect! The movies don't need my undivided attention, so it's perfect for when I'm putting makeup on and getting myself ready. I usually get an hour or more done in the morning and can finish the movie while cooking dinner.
Harry Potter movies | We watched Sorcerer's Stone over the weekend for some random reason and I'm hoping we continue. I don't watch very many movies multiple times, so we'll see how often we fit these in.
The Office Christmas episodes | On Sunday, we sat down and watched all of the Christmas episodes of The Office in a row. I was in the mood to watch the show in general so we decided it would be the best way to knock out some episodes AND get Christmas vibes!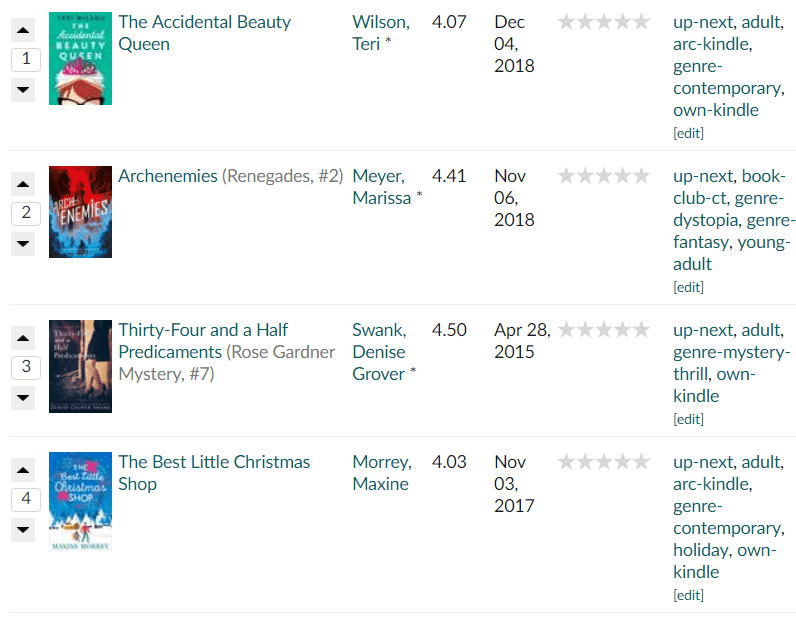 What I'm reading
Finishing up challenges and blog tours | I'm reading Last Seen now as an ebook from Hoopla because I'm dying to see how this series will end. There's also an audiobook up on Scribd but I don't think I'll end up needing it… I'm listening to The Towering Sky, but I'll talk more about that later. The Accidental Beauty Queen is for a blog tour next week and I have both the paperback and egalley version depending on my mood. I'll definitely finish a few of these by the end of the week (and month), so my total should be 11-12 books in November! The other books shown above are coming up to get started on Christmas and my book club meeting for December.
What I'm listening to
Christmas music, my usual podcasts, and The Towering Sky audiobook | While I'm working, I usually have Christmas music on in the background. Sometimes I do my curated playlist on Spotify (above) and sometimes I use the Christmas New and Old Pandora station. I have my WrestleRamble podcasts each week (I've been avoiding everyone else because of audiobook thing too). I'm in the middle of listening to The Towering Sky, which is a 13 hour audiobook. I know it's not THAT long but it's been a while since I've listened to one that's more than 8-9 hours! I'm just chugging along, hoping to finish by the last day of the month but maybe won't in time.
What I'm wearing
Casual outfits at work?? My office randomly has adopted a more casual atmosphere, without us really noticing? My boss sometimes wears leggings, boots, and a long sweater, so we've started doing the same thing. I feel so comfortable but underdressed all  the time! She hasn't said yes or no to wearing these outfits, but we've been doing it for a few months at this point…
Stretchy work jeggings | I've lost quite a bit of weight so I got some new cheap jeggings from Walmart to hold me over this winter, until I reach my goal weight and see if I need to buy more. I just got one black and one khaki, so I can rotate them throughout the work week (plus jeans on Friday, leggings other days, etc.).
What I'm doing this weekend
Nothing yet… Yeah, we don't really have plans yet! I'm so glad about it. We've been wanting to get out and explore a bit more and this is looking like a great weekend to see some of the local holiday markets and festivals. I've marked "interested" for a few on Facebook so we'll probably pick one or two to check out in the coming weeks, but I know there are some happening this weekend.
What I'm looking forward to next month
It's obvious by now – Christmas! As you've seen through every other response here, I'm so excited for the month of December. I start celebrating the holiday on Halloween basically (because until they give me Thanksgiving songs and movies, I'll continue to "skip over it" with my Christmas festivities! Don't get me wrong – the food and family is great, but there isn't the same level of decorating and celebrating, sorryyyy). Our tree is all set up and the decorations are mostly done; I still need to decorate the outside with some lights and garland.
What else is new
#AllHaleXmasWishes Read-a-long: Christmas Wishes and Mistletoe Kisses! I'm hosting this read-a-long for one of my favorite Jenny Hale Christmas books next week, from December 3rd through 7th. I'm working with Forever Romance, who just published the paperback version. You can learn more details here and check out the kick-off post on Monday! There's even a giveaway involved 😉
Related Posts