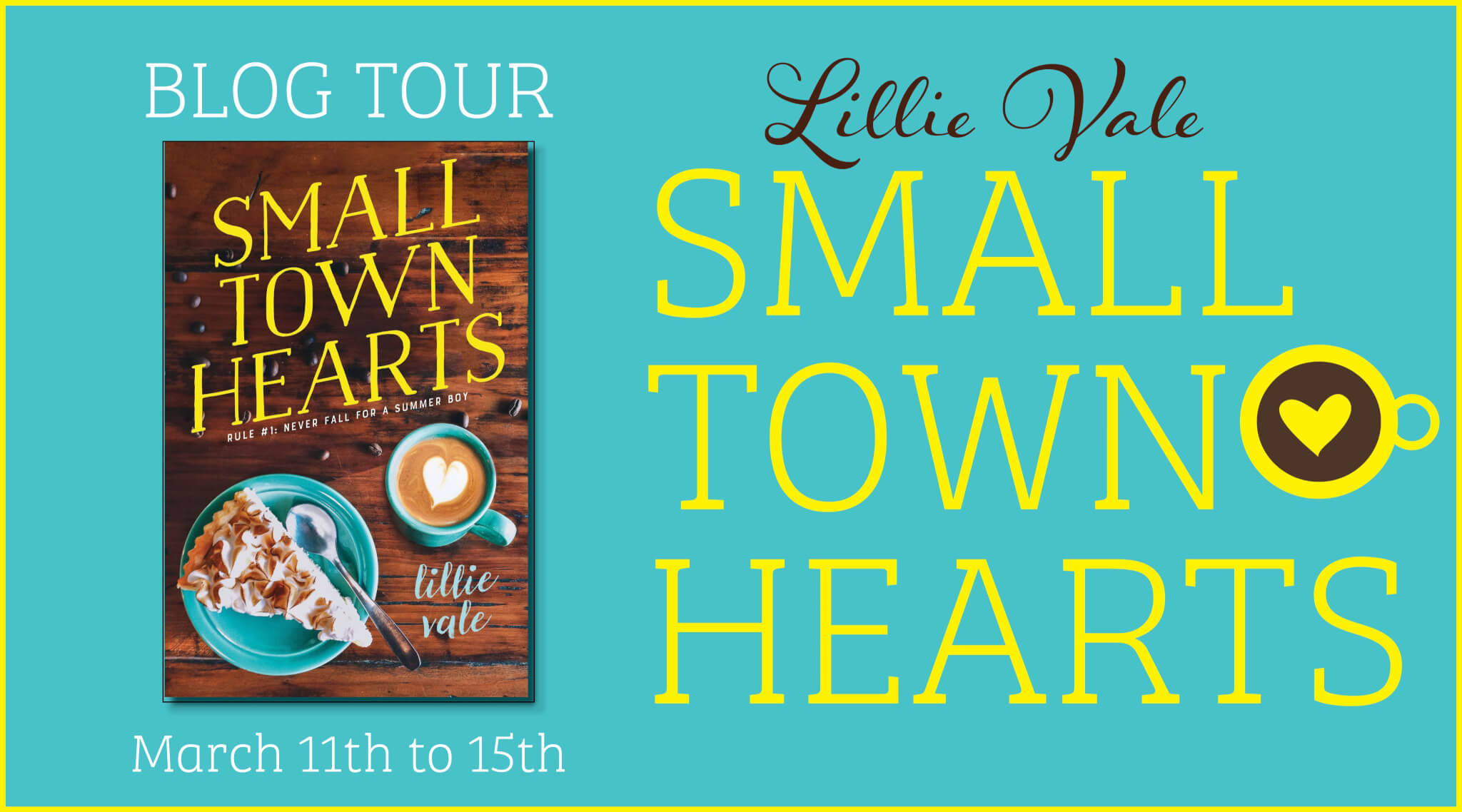 I received this book for free (hey, thanks!) in exchange for an honest review. I promise that this does NOT affect my opinion of the book or the content of my review. For real.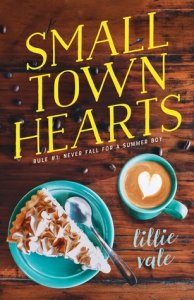 Small Town Hearts
by
Lillie Vale
Genres:
Contemporary
,
Young Adult
Published by
Macmillan
on March 19, 2019
Format:
eARC
(336 pages) •
Source:
Author
Goodreads
•
Amazon
•
Barnes & Noble
Rule #1 - Never fall for a summer boy.

Fresh out of high school, Babe Vogel should be thrilled to have the whole summer at her fingertips. She loves living in her lighthouse home in the sleepy Maine beach town of Oar's Rest and being a barista at the Busy Bean, but she's totally freaking out about how her life will change when her two best friends go to college in the fall. And when a reckless kiss causes all three of them to break up, she may lose them a lot sooner. On top of that, her ex-girlfriend is back in town, bringing with her a slew of memories, both good and bad.

And then there's Levi Keller, the cute artist who's spending all his free time at the coffee shop where she works. Levi's from out of town, and even though Babe knows better than to fall for a tourist who will leave when summer ends, she can't stop herself from wanting to know him. Can Babe keep her distance, or will she break the one rule she's always had - to never fall for a summer boy?
Book Review
The title "Small Town Hearts" and the synopsis promising a sleepy coastal Maine town were enough for me to add this to my TBR! The cute cover, bisexual main character, and coffeeshop workplace were other excellent selling points. I had high hopes for this one as a result!
The story surrounds one summer, the one after graduation, where Babe encounters some ~issues~ with her friends and falls for a summer boy, while somewhat pining over an ex-girlfriend. I loved reading about her experiences with friendship and how friendships can change over the years… sometimes without you even realizing it. Her growing relationship with Lucy, her coworker, was nice to read as she learned the people who would support her and be there. (It also didn't hurt that Lucy hated ketchup as much as I do!)
Beginnings could be scary, and there was always a chance that the ending wouldn't be pretty, but the middle was what made it all worth it… People weren't meant to be preserved in amber. Maybe there were no happily ever afters. But there could be happiness, if I was brave enough to go for it. (ARC pg 194)
Some elements of the story felt a little unlikely or uncommon, like both Babe and her friend Penny living by themselves in lighthouses and houseboats (just because they're on coastal Maine doesn't mean that would happen, on top of the fact that they JUST graduated high school lol)… but it honestly made the book a bit more whimsical and charming for me? I loved picturing Babe in her lighthouse-house!
There was a good mix of realism too – Babe and her friends talked about smoking or drinking, which a lot of people do in high school. The two main storylines in this book were the friend breakup with Penny and Chad, and the romance with Levi the summer boy. The friend breakup made a lot of sense to me, but good lord – I wanted to punch Penny. It was the classic example of someone forgiving the boyfriend and not the best friend for a mistake. View Spoiler »CHAD KISSED BABE. It's not like she initiated it. Why would Penny forgive Chad and not Babe???? IT MAKES NO SENSE. I HATE IT. « Hide Spoiler As for the romance: it was so great. I liked how cute and (mostly) open their relationship was. They were pretty honest with each other about everything, which I appreciated so much.The book was relatively low-drama as a result, and the dreaded "black moment" in the romance was not nearly as bad as it could have been.
My biggest regret with this one is that I couldn't or didn't wait to read it in the summertime! It's the perfect kind of book that I'll read in June, July, or August, to get the vacation feels I know and love. The town of Oar's Rest was my favorite part of the book, easily, and I would read SO many other stories from teens set here!
---
Cover Colors
Cover Colors is a feature here on Bookmark Lit where I highlight gorgeous colors and develop mood boards to match! There will usually be commonalities between the outfit, the cover, and the book/characters themselves.
Summery books are some of my very favorites to highlight on here! I thought it was so fun to mix in coffee shop elements, like some things she may wear to work, along with beachwear for afterwards. The coastal Maine setting was amazing; I felt like I was there!
There are a few baking-related and coffeehouse details to match Babe's character. She loved baking and put her skills on display with treats at the shop. I tried to keep the outfit summertime appropriate (there were no green aprons on the app I used, so I had to leave out the full uniform!) but also work-related, with the Keds and coffee-related tank top. There's a beachy bag, sandals, and matching towel to bring around after work. The makeup and beauty products were inspired by the "highlighter yellow nail polish" she wore and other pretty summer colors! The cuff bracelet and sand dollar earrings appear within the story (wait and see!) so I had to include them here. It was an extra bonus that the earrings matched the plate on the book cover 😉 The picnic blanket and wildlowers on the top right also line up with a scene from the story.
---
About the Author
Lillie Vale, upon discovering she could not be one of Santa's elves or attend Hogwarts, decided to become a writer to create a little magic of her own. Enjoying the romantic and eerie in equal measure, she's probably always writing a book where the main characters kiss or kill. Born in Mumbai, she has lived in many U.S. states, and now resides in an Indiana college town where the corn whispers and no one has a clue that she is actually the long-lost caps lock queen. She can be reached on Twitter @LillieLabyrinth and Instagram @labyrinthspine. Small Town Hearts is her debut novel.
Related Posts