I'm a big proponent of Google's document services and other apps. I love that I can sync everything up on my phone or computer instead of having things in one place, like when I use Microsoft Office. I've talked a lot about how I organize my bookish life with Google Sheets, but I figured I'd share some of my Google Keep love today! If you don't know, it's an app and website service from Google that essentially makes various sticky notes on a board. They can be lists, plain text, drawings, and more. I use the checklist option the most because I frequently use it for groceries and weekly to-dos. I know there are more sophisticated planning apps that use calendars and such, but this one really works for me for now. Here's how I use it.
Pinned Notes – Priorities
When you make a note, you have a bunch of color and style options, as well as the ability to pin it to the top. I like this for my priority items for the week. As you can see below, I have different grocery shopping lists for each store I frequent. I also have a list of meal plans for the week. Sometimes the meal planning note lists out each meal for each day (like below) and other times it's just a list of ideas for dinner based on groceries I have on hand. The pinned ones below show the weekly meals, priority shopping list for Target the day before Chris's birthday, other general groceries, and Trader Joe's groceries. As you can see, I have different priority buys depending on the store. On 10/18, I needed to go to Target for Chris's birthday gift and a wedding card for that weekend. There were also a few meal-related items I needed before the weekend. The Target/Other Groceries list is for when I have household items and other groceries I wouldn't buy at Trader Joe's, but didn't need to buy specifically on 10/18. The last list is for the items I wanted to get at Trader Joe's, since that's a very specific shopping experience. I have a lot of go-to items there and some things are just better quality. For example, the Teeny Tiny Avocados at TJ's are my favorite, so I get them there instead of somewhere general like Stop & Shop or Target.
Other Notes, Lists, and Ideas
The items below include non-priority items, including general lists and ideas for later. Going through the ones below, it starts with the most recent note: my Happy Planner themes. I got a seasonal sticker book for my 2019 planner so I wanted to plot out which stickers would go in which monthly layout. The next note is for Christmas ideas, primarily for Chris and other family members. I ALWAYS come up with good ideas throughout the year and forget them by Christmas, so this helps for planning whenever inspiration strikes. The next ones are more shopping lists but they're definitely not priority. I have one for non-groceries, like household organizational stuff and storage options, and another for makeup/beauty-related things I want to buy at some point. I watch a lot of YouTube videos about makeup and such, so if someone reviews something and it strikes my fancy, I add it to this list to check out the next time I'm in the market for something new at Ulta or Sephora. The start of the next row includes some bulleted or numbered lists for certain things. I took notes on some beauty processes because I've taken more care of my skin this past year and used to forget the order I needed to apply serums, moisturizers, oils, etc. I have my Movies A-Z list for my 101 in 1001 challenge, where I hope to watch a movie starting with every letter of the alphabet. I've made some good progress on that so far and it's easy to track them right in this app.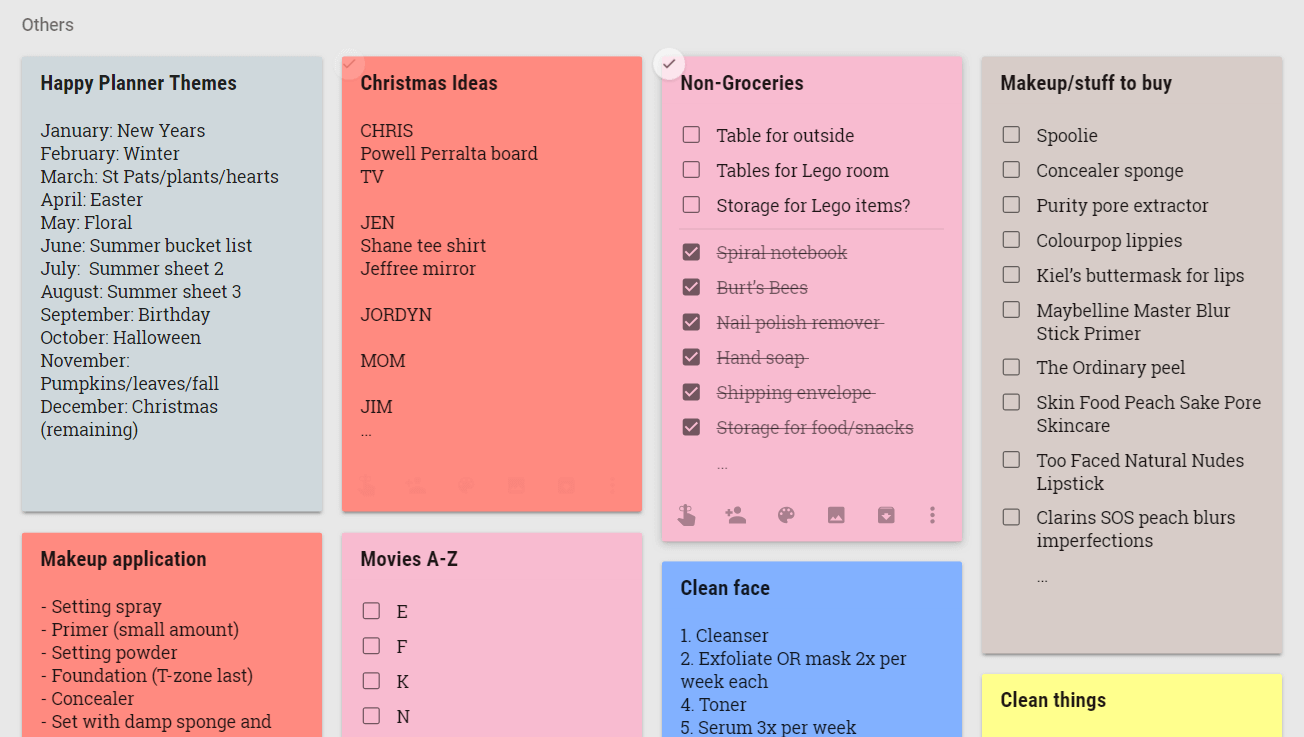 Related Posts