If you told me a few years ago that I would spend roughly 6-7 or more hours per week watching wrestling (sometimes closer to 10-12 if there's a pay-per-view), I would have laughed at you. Seriously. I was never super interested in WWE or wrestling in general, and was one of those buttholes who completely wrote it off as "fake." I remember watching on and off with my cousins throughout my childhood (late 90s/early 00s) and had a few classic wrestlers I loved at the time. My interest waned over time and I didn't really get it.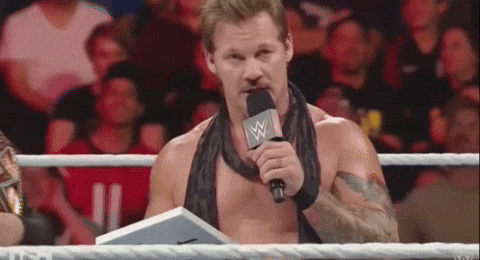 When we learned that some friends of ours liked wrestling, Chris decided to pick up watching RAW on Monday and Smackdown on Tuesday, just VERY occasionally. He played the WWE 2k15 games with the guys and enjoyed it. I barely glanced at the TV (usually just to scoff like a jerk sometimes) and would read a book while he watched and built Lego. I sloooowly started to turn my attention toward the TV a little bit more. I saw Morgan's post (which is truly one of my favorite posts ever and I've read it a million times; check out her new blog here!) and became more intrigued by it all. I'm going to quote her post here because she makes the best points about this:
"Wrestling is fake."
I'll be the first person to tell you, wrestling fans know that WWE is scripted. And we don't care. That's different from fake by the way 😉 Do you know what else is choreographed and scripted? Movie fight scenes. Broadway dance numbers. Reality tv. It's no different from any of those. Just because the outcome is predetermined doesn't mean the action is fake. These athletes train 24/7 to stay in the best shape and to continually learn the business of wrestling. They go through continuous athletic training, public speaking, and acting classes; they hone their craft in a myriad of ways and put their bodies through so much.
I even commented on her blog post at the time with the following:
I didn't focus on anything though and couldn't even tell you if I had any favorite wrestlers back then. I think there were people I hated more than anything though… that's all a part of the fun! Again, highly recommend Morgan's post on this because she really outlines why it is such a fun and entertaining hobby. I'll let her convince you. And Ron Funches (it's less than 2 minutes, don't worry).
Halloween Monday Night RAW in Hartford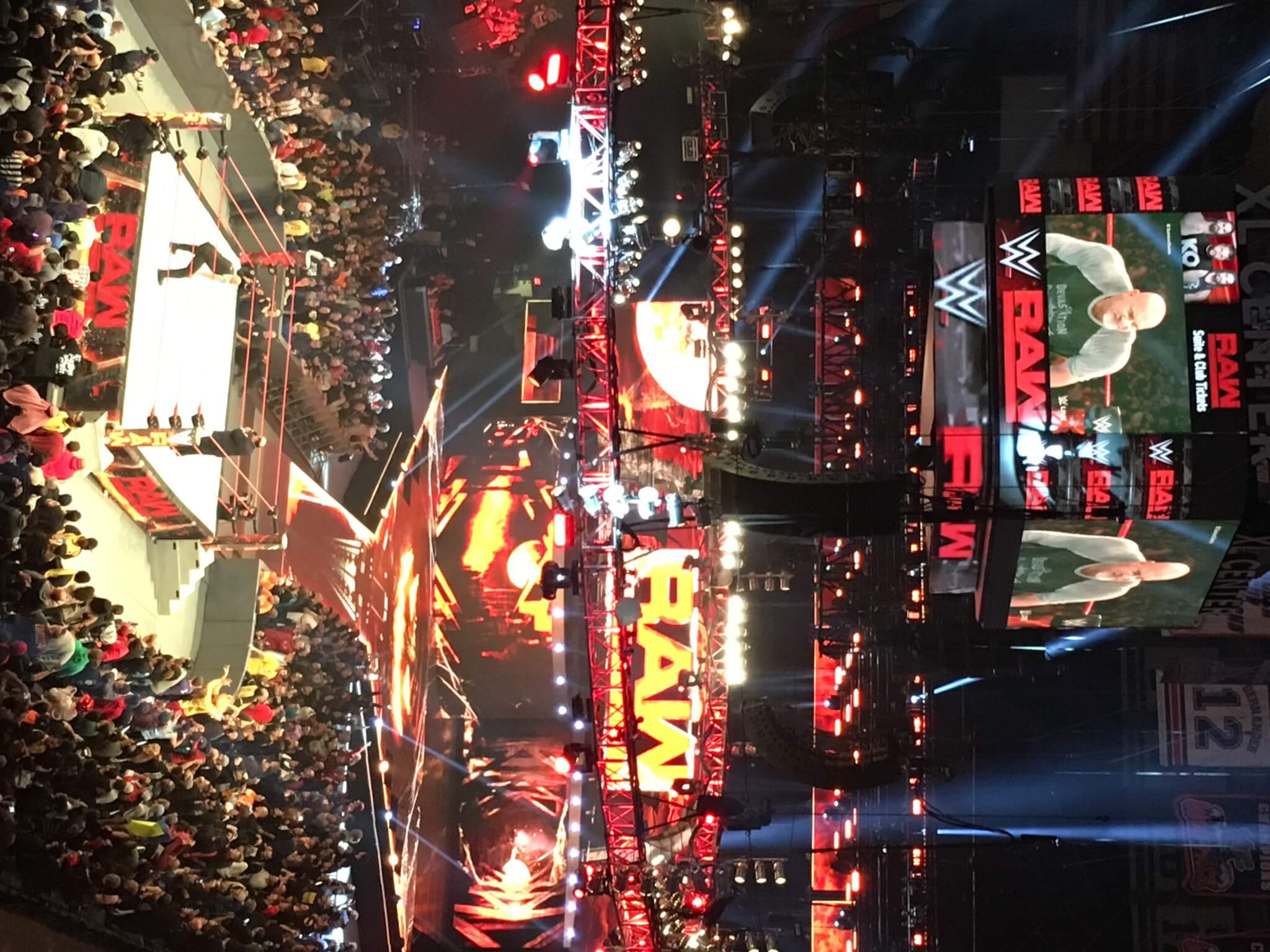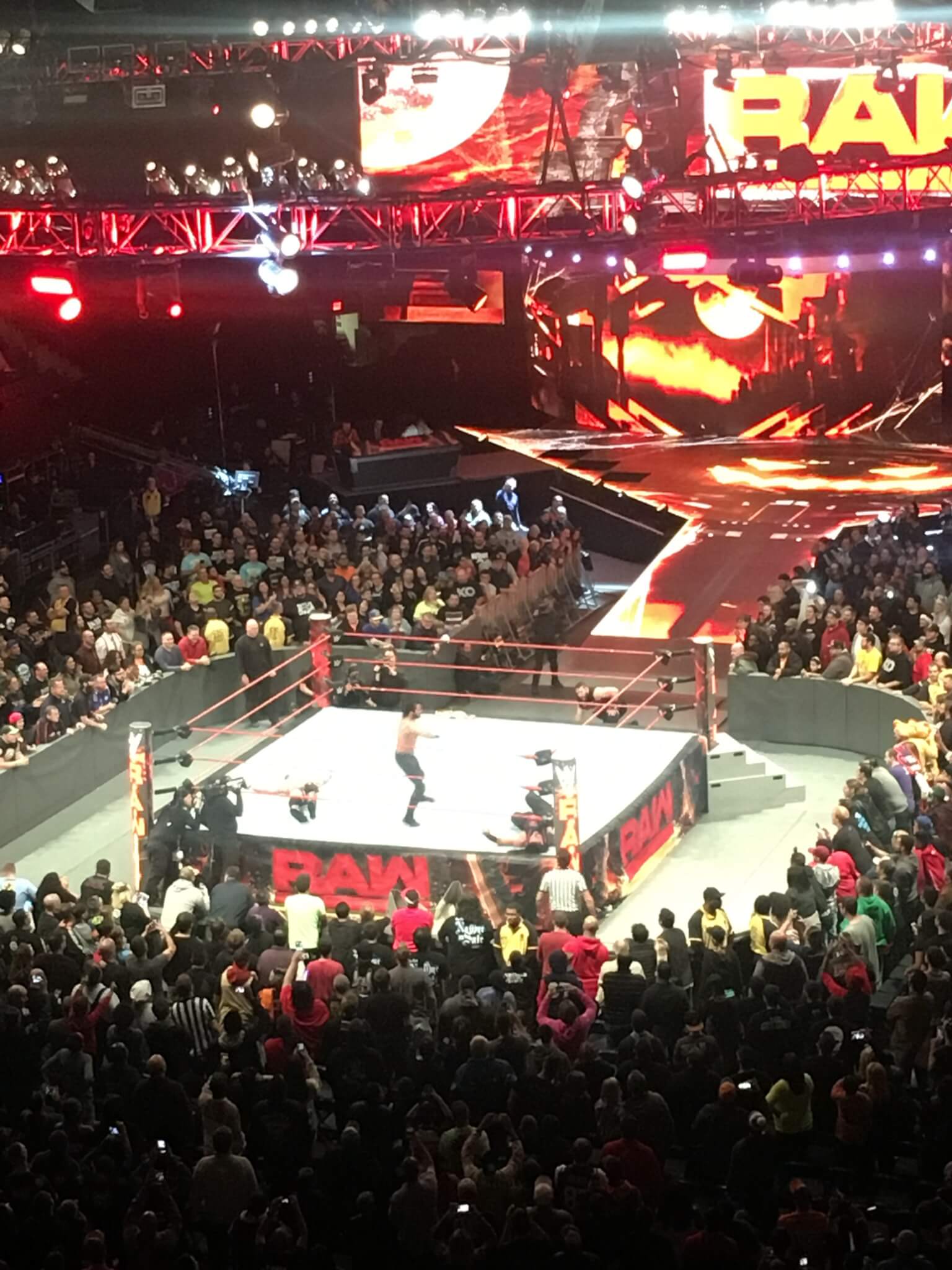 Chris was watching RAW and Smackdown more frequently in the second half of 2015. When the two guys that got Chris into wrestling (Andy and Rahul, two friends from college/my friends'/roommates significant others) invited us along to Monday night RAW on Halloween in Hartford, we decided to go for it. We didn't have any wrestling attire yet at that point, so Chris bought the New Day's Halloween Booty-O's shirt (this was one group I had fallen in love with already). I borrowed a Ricky "The Dragon" Steamboat shirt from Andy.
This was a really fun period of time in WWE because Kevin Owens (hated) and Jericho (loved) were best friends and it was right before their Festival of Friendship when crazy shit happened. We also saw the return of Goldberg (!!!!) which was huge because he was a wrestler I remembered/enjoyed from my minimal WWE childhood watching. I don't remember much else that happened during the show because my memory is shit but I talked about it briefly here.
After watching the show in person, I started to see even more of the fun. Cassie was getting into it and Alaina fell asleep, but that balanced out 😉 Chris went fulllll steam ahead in watching each week and again, I slowly got into it a little more. I still wasn't watching super religiously but Andy had told us that the months leading up to WrestleMania were some of the best to pay attention to.
I didn't really consider myself an actual fan of WWE until right before WrestleMania got going. We actually didn't even get our WWE Network subscription until right before Mania. You get a free trial (that we have absolutely decided to keep of course) and with it you can watch a huuuuuge catalog of old matches, original shows, and every PPV is included in the membership. So, yes, for $10 a month, you can watch a lot of wrestling-style Netflix.
WrestleMania 33 and "RAW After Mania"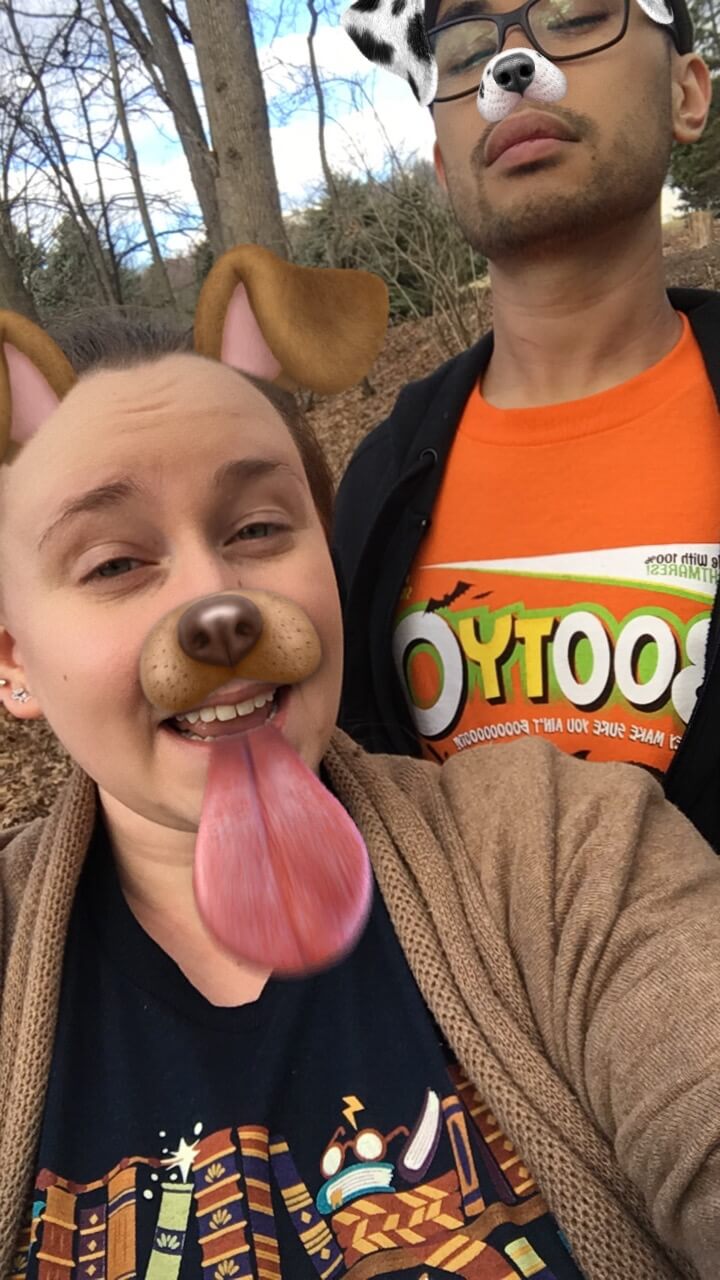 With our new subscription in hand, we were ready for our first Mania. We went for a nice hike in the morning (Chris representing New Day, of course!) and had alllll the food set up afterwards (including beer and buffalo shrimp). It's basically the Super Bowl of wrestling so we went all out with food and preparations like we would for the big game.
I have to say, it was pretty awesome… and holy shit SO LONG. I talked about it here but the biggest thing was Undertaker (sort of?) retiring. He was my actual favorite as a kid when I was watching a bit, so I got incredibly emotional at the end of his match. I thought the show started strong and got a little weaker as the night went on, but it was awesome to see New Day host! They're so fun and hilarious. Some other favorite parts was the feud between John Cena/Nikki Bella and Miz/Maryse come to a head… and turn into a real-life proposal from John to Nikki! He was so emotional and shaking and the crying and ugh it was sooooo perfect. They're one of my favorite couples (but more on them later). Overall, it really got me engaged with (haha!) WWE.
The thing about WrestleMania is that it's essentially New Year's Eve – everything from the previous year (more like previous few months, in terms of storytelling, but still) culminates there with a big celebration. The next day, New Year's Day, is when it all begins anew. Feuds start to get put to bed and new ones are created. The RAW show after WrestleMania is considered the best episode of the year for good reason. It's a segue into new things and out of old ones. There are usually a bunch of surprises, returns, and new people being called up from NXT (the developmental division). For this particular episode, my wrestling life was changed by the return of Finn Balor. He is THE BEST AND SO ATTRACTIVE AND SO CUTE and I can't handle myself. *deep breath* Chris was a fan of Finn for a looong because he loves Lego, is an amazing wrestler, and has a really cool demon persona (the Demon King) in addition to his normal WWE self. Finn got injured at the previous SummerSlam when he won the Universal Title (first ever winner, babe), and made his surprise return at the RAW after Mania 33. AND IT WAS GLORIOUS.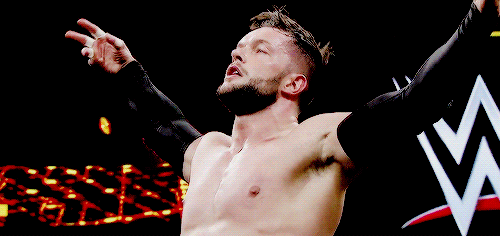 Aside from that, Roman beating the Undertaker (in his rumored last match) led to a chorus of boos for at least 5 minutes. The audience did not let him speak and it was amazing. The Hardy Boyz returned to WWE during Mania, after years away, and die-hard fans were so excited to see them again on RAW too.
Total Divas and Bellas
As I mentioned before, I love John and Nikki as a couple. They're so funny and silly with each other; you can tell they are seriously in love. The same goes for Nikki's twin sister, Brie, and her husband, Daniel Bryan (really Brian Danielson). They're all wrestlers and fell in love doing what they do. It's awesome. I'm getting ahead of myself a little bit, but this is really just to talk about Total Divas and Total Bellas. They're both reality shows on E! that feature some WWE women's wrestlers. It's a really fun show even if you don't like wrestling. It gives insight about the business but also just focuses on some amazing ladies and their crazy schedules. The first season involved Nikki and Brie Bella, Natalya, Naomi, Cameron, Eva Marie, and JoJo. The Bellas, Natalya, and Naomi are the only ones who have been there from the first season (even though Naomi had a reduced role one year). A lot of people have come and gone from the show; the newest season had a cast of the Bellas, Natalya, Naomi, Lana, Alexa Bliss, Carmella, Nia Jax, and Maryse.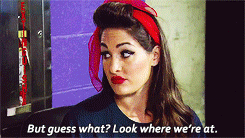 The Bellas got their own spin-off show, which is pretty good but not AS good because it's more about other family members I don't care about as much. In any case, more time with those two and their spouses is welcome. I have loved watching the girls and getting to know everyone; it makes me more engaged with their matches and understanding what they're going through backstage. Overall, these shows definitely made me appreciate and fall in love with the women's division so much more. They go through SO much just to get TV time and be considered "as good as the guys." I was excited when I finally caught up on the shows to match up to things Chris and I had recently seen on TV; I binged all the episodes of both shows over a couple of months.
Women's Revolution → Evolution
This is the best time to watch WWE as a female fan because the Women's Revolution (now Evolution) has given them so many historic matches. I'll talk more about the specific matches later in some situations, but in the last few months there has been: the first ever women's Money in the Bank Ladder Match, Royal Rumble, and Elimination Chamber matches. It's been awesome to see these HUGE moments for some really great wrestlers. The Royal Rumble was especially amazing because it had sooooo many legends return. Trish Stratus, Lita, Michelle McCool, the Bellas (who are still kinda sorta with WWE and might be wrestling again soon)… amazing! It was really a great nostalgic match that essentially rewarded women wrestling fans for the BS they've dealt with over the years.
The one hiccup was the Money in the Bank Ladder Match though. Carmella's valet, Ellsworth, climbed the ladder and got the briefcase contract for her. How is that a historic match for women, if a man gets to go up and achieve it?! IT WAS SO ANNOYING AND HORRIBLE. I can't believe they let that happen. They ended up doing a rematch the next night and the girl won for herself but whatever Carmella is lame. Anyways, that hiccup aside, it's been really fun to see things progress for them… finally!
SmackDown in Providence and SummerSlam
We had the opportunity to go see the last episode of SmackDown Live before SummerSlam, when it came to Providence in August. We met Rahul there and carpooled with Andy from Connecticut. It was a really great one to attend because it was the "go-home show," which is what they call the final episode before the PPV happens.
At the end of the show, Baron Corbin tried to cash in his MITB contract… and got completely screwed out of it. I think fans were mad about how they handled the whole deal, but seeing it in person was AMAZING and SO SO funny. We couldn't stop laughing like jerks at his misfortune.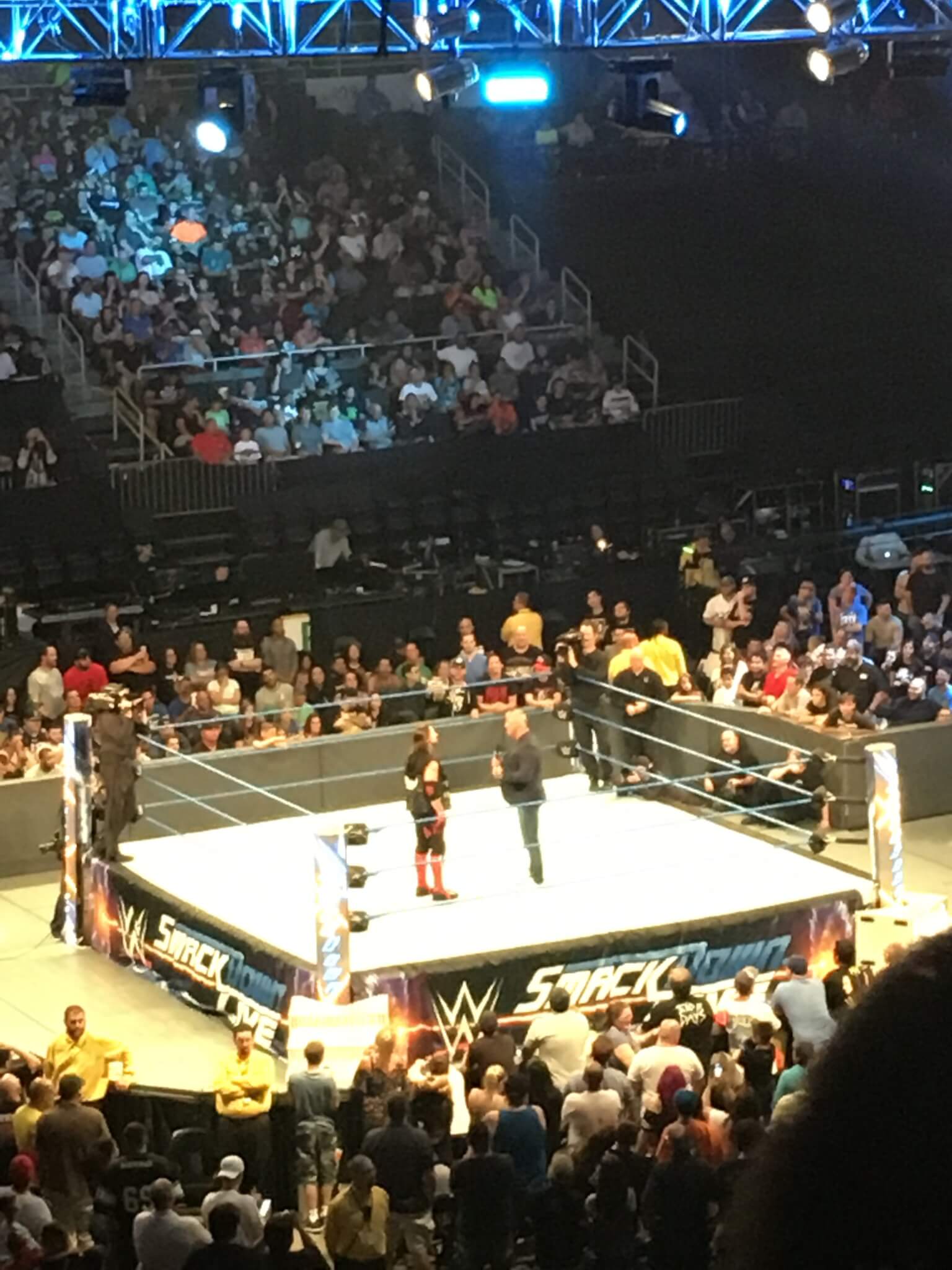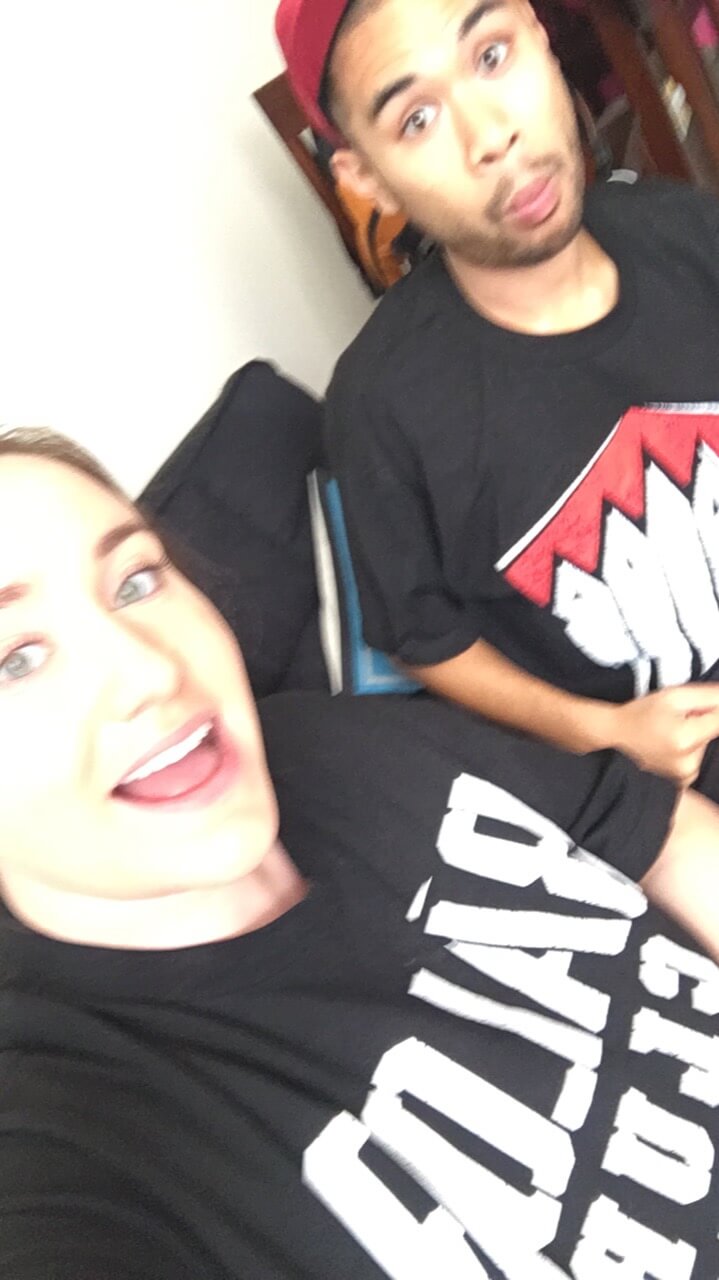 Sunday brought us SummerSlam, which was pretty good. I don't remember much about it (noticing a pattern here? Watch enough wrestling and it blends together apparently) but we also went all-out with Super Bowl food and dressing in our wrestling clothes. Clearly we've expanded beyond just the Booty O's shirt from Halloween! We both are wearing Finn Balor shirts here.
This PPV is the second biggest of the year, obviously after Mania, so it was fun to keep everything going. At this point, we were religiously watching both SmackDown and RAW each week and were highly invested in a loooot of people. I'll talk more about my favorites later.
WWE Live in Portland
Aside from the shows that are broadcast live on TV, there are other WWE events that happen on various nights of the week. These wrestlers seriously TRAVEL like nobody's business. We saw that WWE Live was coming to Portland in December, so we had to make it a point to go. It was a SmackDown branded show, meaning that those were the superstars coming around, so we were pumped to see a lot of favorites.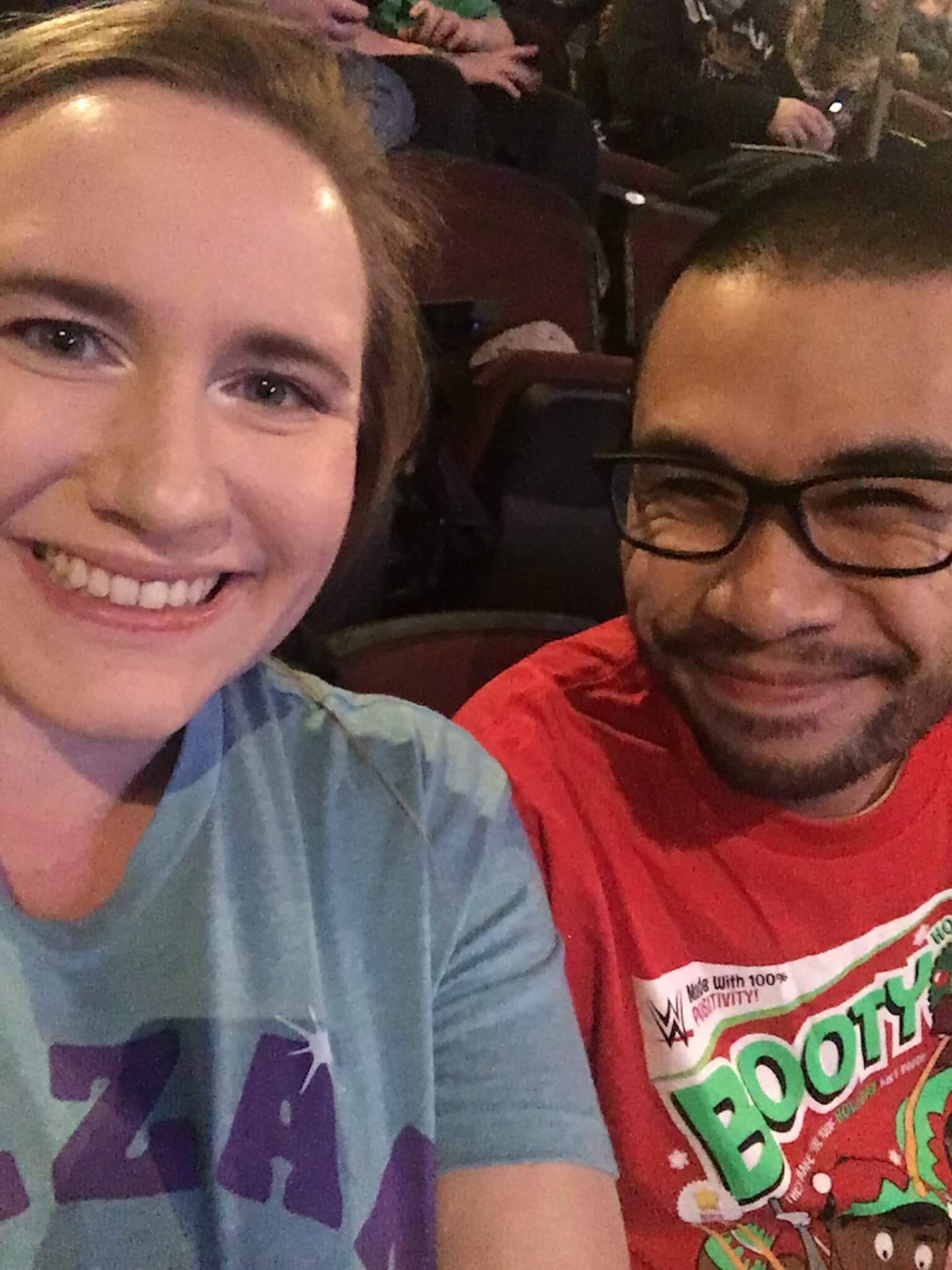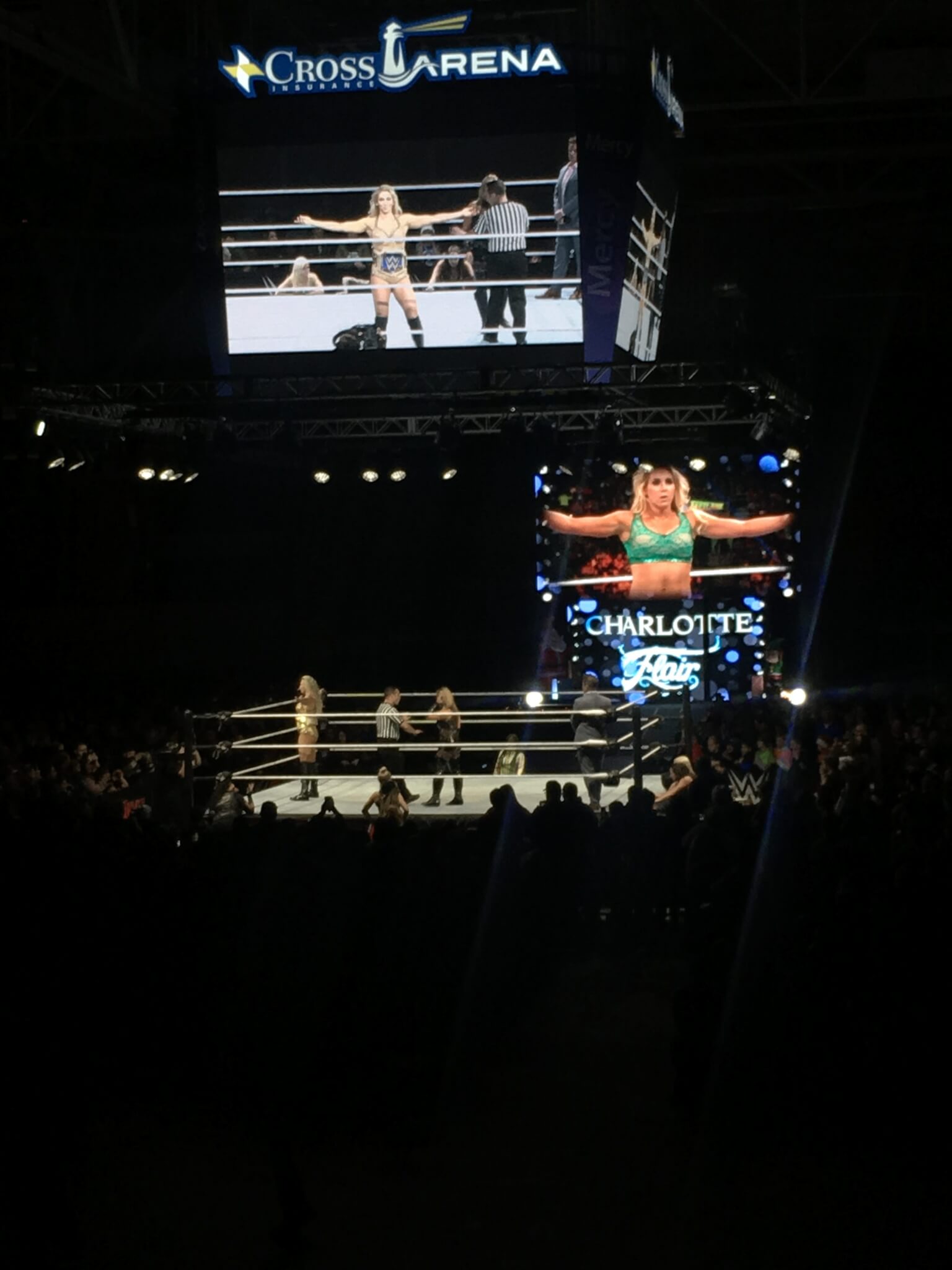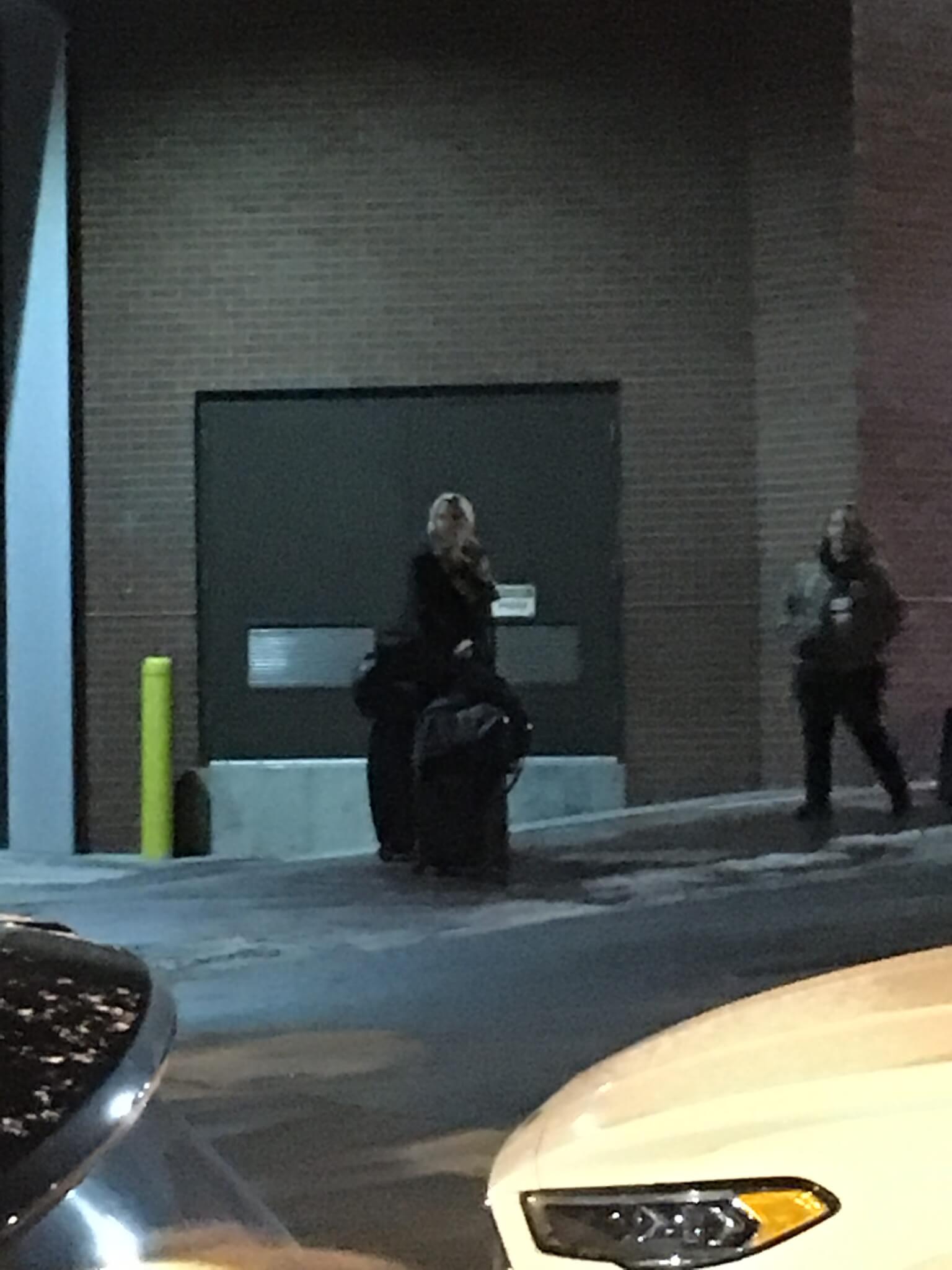 I wore my Breezango shirt and Chris got an early Christmas present to wear his holiday New Day Booty O's shirt. Above you can see Charlotte Flair (Ric Flair's daughter) in the ring… and outside the arena! Her and AJ Styles were outside getting ready to continue traveling. We hung out outside after the event to see people and we did see some – obviously Charlotte and AJ, but we also saw Jinder Mahal and the Singh Brothers. It made standing in the Maine December air worth it! We also kept up the coldness by walking to get pizza downtown lol. (I wrote more about it here!) I also sent a recap of the event to Dave Meltzer of the Wrestling Observer, which is huge. My name was featured as a contributor!
Venturing out of WWE: NJPW, the Elite, RoH
A lot of wrestling diehards expand beyond WWE, which has been the latest obsession for us. Don't get me wrong… we still love WWE and will watch each week. There's just something very different and magical about watching other promotions. Some of the very best wrestling in the world happens in New Japan (where Finn and many others in WWE started out) and Ring of Honor. The two promotions have crossover matches a lot and the wrestlers are a lot more free to work between independent shows/promotions.
Bullet Club – without getting too much into it – was created by Finn Balor when he was known as Prince Devitt in New Japan. It was a heel (bad guy) stable that developed some of the best wrestlers out there. AJ Styles, Karl Anderson, and Luke Gallows were all members and now wrestle for WWE (to name a few). Now, new people like The Young Bucks (a tag team consisting of brothers Matt and Nick Jackson), Kenny Omega (arguably one of the best wrestlers ever, currently, etc.), Cody Rhodes (who left WWE for Ring of Honor – very successfully, I might add), Hangman Page (looooove), Marty Scurll (also looooove)… and more are in it.
It started with Andy, who was obsessed with NJPW and the YouTube channel "Being the Elite," created by the Young Bucks. Kenny Omega and those two created "the Elite" because they're amazing and flawless humans. The show is funny and sad and pokes fun at kayfabe (the fake wrestling world/stories), and has done nothing but get better since it started. Chris and I binge-watched all 95+ episodes in… a very short amount of time. Kenny is a NJPW guy and the Young Bucks do both RoH and NJPW, so the matches are incredibly fun. There's CRAZY stuff happening with them lately, including many altercations and cease and desist letters from WWE (womp) that led to some great stories. They've killed off characters (Adam Cole, because you now see him in WWE), come up with absurdly amazing catchphrases (#FTRR), and traveled to their favorite Authentic Japanese restaurant™ TGI Fridays (and a loooot of Cracker Barrel).
Related to those guys is a tag team called the Golden Lovers, which basically involves two men who love each other and wrestle like a flawless duo. There is a lot of history here but it's pretty amazing that there are two guys on a team together called the GOLDEN LOVERS and Kenny has alluded to (and basically said) that it's true that lovers = exactly what you think it means. Here are two tweets with threads and videos about them. It's PURE and AMAZING and a story TEN YEARS IN THE MAKING. Neither Kenny nor Kota Ibushi talk about it much, if at all, but it is implied and/or speculated that they are bisexual or gay. I'm not here to claim that as 100% fact or project anything that isn't true, but do some research and you'll see what has been said by them!
I can't for the life of me imagine WWE creating this kind of storyline and allowing it to be pure and real and perfect. The best thing about watching non-WWE wrestling is the kind of freedom they all have. They are some of the best wrestlers in the world and their stories are so free and fun. WWE will be something I always watch and love, but my current obsession is a bit elsewhere 😉 We're attending a Ring of Honor / New Japan combination show in May that we are PUMPED about. The guys are putting together a HUGE indie show in Chicago in September, which (if it sells out) will be the largest non-WWE show in the country in a loooong time. What they're doing for the wrestling world right now is unparalleled, even if their current storylines are BREAKING MY HEART.
WrestleTalk and More
Other forms of wrestling media we enjoy are podcasts and YouTube channels. Our favorite is WrestleTalk (YouTube) and their related WrestleRamble podcast. Luke and Oli are SO FUNNY and I could listen to them talk about anything… which I have… they sometimes talk about spoons.
To me, the most fun part of wrestling is coming up with theories and predictions about what might happen, as well as following the rumor mill about signings, releases, matches, etc.! WrestleTalk and other accounts (on YouTube, Twitter, websites, etc.). Chris and I always predict match outcomes on sticky notes during PPVs and see who gets more correct. We also follow the rumors to try to guess who will be facing who, or what stories are coming up next. It's just so fun to get into things and talk. We've spent hours discussing wrestling, including a lot of rides to and from Maine!
Mania Weekend: Wrestlemania 34,
Supercard of Honor XII, etc.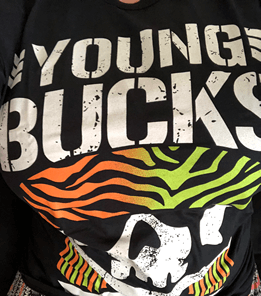 Yesterday was Mania 34, which marks essentially a year since I really started caring about wrestling. We had Supercard of Honor and Mania to watch, so it was bound to be a great weekend. Supercard of Honor was somewhat disappointing though? Cody vs. Kenny had a great story but the wrestling was just good, not great. I loved the ladder match with the Young Bucks, as well as Kota vs. Hangman. Otherwise, so-so matches that I wasn't overly into.
Mania itself was wonderful in terms of wrestling and how they progressed certain storylines (the Battle Royals, Shinsuke's heel turn, etc.). My biggest complain is that the vast majority of the match results were not my favorite. I liked a few of the swerves because I was genuinely surprised but many winners were disappointing too. Here are my thoughts on each match, in card order.
Andre the Giant Battle Royal – good storytelling for a quick "match"… interested to see what they do with Woken Wyatt now
Cedric vs. Mustafa – LOVED, these two are wonderful… Cedric deserved the win!
Women's Battle Royal – this was fine… good story for Sasha, Bayley, and Naomi with the surprise fun win that keeps Bayley/Sasha on equal footing
Seth vs. Finn vs. Miz – SIGH FUCK THAT RESULT (great wrestling as usual though)… I was peeved that Seth won but if it means Finn gets a bigger push for the Universal title (aka what he deserves), so be it
Charlotte vs. Asuka – really unbelievable match; the wrestling was wonderful… I'm not sure how I feel about Asuka's streak ending (seriously, I go back and forth on this too much) even though I think it makes sense in the long run, and allows me to personally feel more invested in her matches because now there's a CHANCE she won't win them (instead of assuming she will and thus not caring)
Jinder vs. Rusev vs. Bobby vs. Randy – mehhhh, horrible result, bland match… get Jinder out of the title picture immediately, please
Ronda and Kurt vs. Steph and HHH – oh god sometimes having low expectations pays off, good lord… I was not into Ronda and don't care about Steph/HHH, but this match was unbelievably entertaining and fun. Ronda was wonderful and I'm so pleasantly surprised
Bludgeon Brothers vs Usos vs. New Day – should have been longer and better, given the teams involved… unsurprising result
Undertaker vs. Cena – FUCK YEAH this was played out perfectly and that's all I have to say
DB and Shane vs. KO and Sami – this match could not disappoint purely because of DB… too much Shane, for sure, but otherwise I am so happy DB is back to wrestling!
Nia vs. Alexa – so happy for Nia and a really good match! Women killed it this Mania, for sure
AJ vs. Shinsuke – any fans that expected something spotty and fast clearly don't understand these two wrestlers… it was a great, slow, technical match and the crowd was annoyingly dead. I can see wanting something bigger and more of a typical "dream match" but I enjoyed it. and YES HEEL SHINSUKE = the best
Braun and Nicholas vs. The Bar – many people hated this but I thought it was funny; I just don't care that much about keeping the titles sacred, I guess?
Brock vs. Roman – this was an absolute shocker because we all were completely swerved… I felt bad for Roman (definitely the goal here) and was completely trolled by this. Can't wait to see tonight's RAW!
I am so happy to have this new hobby, especially because I share it with Chris. As I mentioned, the best thing is being able to fangirl/boy together about something. We already had Lego, we like skiing and snowboarding, we watch some TV shows together… but this is my favorite thing to bond over. Chris surprised me with TWO new shirts for our wrestling-anniversary: the Young Bucks one with orange zebra print and the John Cena PBR-style shirt (because it's my fave cheap beer and I love Cena, sorry not sorry).
Fun Stuff and Favorites!
Now that all this time has passed, here's a quick list of my favorite wrestlers and other things related to this fandom over the past year or so. I give you major props if you actually read all of this and your name isn't Morgan. I put it in a scroll box because it's a lot of lists most people won't understand lol.
Favorite & Least Favorite Wrestlers
WWE Favorites
Finn Balor
Shinsuke Nakamura
New Day
Alexa Bliss
Rusev (because of Rusev Day – his wrestling is good though)
AJ Styles (purely like his wrestling, not his personality or ring persona hahaha)
Apollo (great wrestler but he needs a real good push/persona)
Breezango
Paige (wahhhh)
Bella Twins
Natalya (she is the best on Divas, such a goon!)
Charlotte Flair (just for wrestling – otherwise not a huge fan of her)
Jericho
Tye Dillinger
Ricochet (amazing wrestler outside of WWE, recently signed to NXT)
Non-WWE Wrestlers
Young Bucks
Kenny Omega
Cody Rhodes
Okay fine everyone on Being the Elite
Kazuchika Okada
Will Ospreay
Flip Gordon
Other Thoughts
Miz is a fantastic heel but I HATE HIM (I know that's the point, he enrages me just as much as he's supposed to)
Dean Ambrose is interesting but I really loathe his wrestling style
Give Gallows and Anderson a puuuuush, make Balor Club real!
BREEZANGO NEEDS THE BIGGEST PUSH
Asuka is a wonderful wrestler but I'm very bored with what they've done with her so far
Shirts and Other Things
WWE Tee Shirts
Finn Balor – Demon King
Finn Balor – Balor Club
Finn Balor – Forever
Shinsuke Nakamura – Strong Style
New Day – New Day Rocks
New Day – Halloween Booty O's
New Day – Christmas Booty O's
Rusev – Happy Rusev Day
Breezango – Fashion Police
John Cena – PBR
Non-WWE Tee Shirts
Being the Elite – Dreamteam
Young Bucks – Superkick Party (Lego style)
Young Bucks – Zebra Print
NJPW – Lion Logo
Decorations/Merch
Demon Finn plush keychain
Demon Finn Funko Pop
John Cena gingerbread tree ornament
Finn Balor gingerbread tree ornament
Braun Strowman gingerbread tree ornament
Tables, Ladders, and Chairs tree ornaments (TLC)
Related Posts