I've read a few books at the end of last year (that didn't really involve the holiday season) and just wanted to share some quick thoughts, so we're here today with mini reviews (part two!).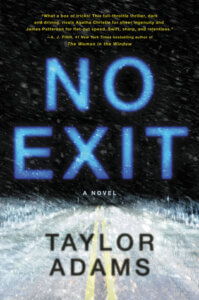 No Exit
by
Taylor Adams
Genres:
Adult
,
Mystery/Thriller
Published by
Penguin Random House
on January 15, 2019
Also by this author:
The Last Word
Format:
Audio/Physical
(336 pages) •
Source:
Book of the Month
,
Scribd
Goodreads
•
Amazon
•
Barnes & Noble
A thriller about four strangers, a blizzard, a kidnapped child, and a determined young woman desperate to unmask and outwit a vicious psychopath

A kidnapped little girl locked in a stranger's van. No help for miles. What would you do?

On her way to Utah to see her dying mother, college student Darby Thorne gets caught in a fierce blizzard in the mountains of Colorado. With the roads impassable, she's forced to wait out the storm at a remote highway rest stop. Inside are some vending machines, a coffee maker, and four complete strangers.

Desperate to find a signal to call home, Darby goes back out into the storm . . . and makes a horrifying discovery. In the back of the van parked next to her car, a little girl is locked in an animal crate.

Who is the child? Why has she been taken? And how can Darby save her?

There is no cell phone reception, no telephone, and no way out. One of her fellow travelers is a kidnapper. But which one?

Trapped in an increasingly dangerous situation, with a child's life and her own on the line, Darby must find a way to break the girl out of the van and escape.

But who can she trust?
NO EXIT was a wild ride. Lots of people have recommended it for a super addicting thriller that you can't put down, which is exactly what I needed at the time, so I finally decided to give it a go. I picked it up from BOTM and hopefully will be able to watch the movie soon to finish up the overall ~experience.~ As I was reading I kept wondering how it was possible that this book could go on and on based on the promise – I had no idea what could possibly happen…and I really just kept reading until I found out.
I think I expected something else in some ways? But it was overall quite a thrilling read. Like many others, I won't share any details to spoil it. Just know that there are more twists and turns than you could imagine possible. Very creepy, good book to read in the dead of winter!

Stay Awake
by
Megan Goldin
Genres:
Adult
,
Mystery/Thriller
Published by
Macmillan
on August 9, 2022
Also by this author:
The Night Swim
,
The Escape Room
,
Dark Corners
Format:
Audio/Physical
(340 pages) •
Source:
Library
,
Scribd
Goodreads
•
Amazon
•
Barnes & Noble

Liv Reese wakes up in the back of a taxi with no idea where she is or how she got there. When she's dropped off at the door of her brownstone, a stranger answers―a stranger who now lives in her apartment and forces her out in the cold. She reaches for her phone to call for help, only to discover it's missing, and in its place is a bloodstained knife. That's when she sees that her hands are covered in black pen, scribbled messages like graffiti on her skin: STAY AWAKE.

Two years ago, Liv was living with her best friend, dating a new man, and thriving as a successful writer for a trendy magazine. Now, she's lost and disoriented in a New York City that looks nothing like what she remembers. Catching a glimpse of the local news, she's horrified to see reports of a crime scene where the victim's blood has been used to scrawl a message across a window, the same message that's inked on her hands. What did she do last night? And why does she remember nothing from the past two years? Liv finds herself on the run for a crime she doesn't remember committing as she tries to piece together the fragments of her life. But there's someone who does know exactly what she did, and they'll do anything to make her forget―permanently.

In the vein of SJ Watson's Before I Go to Sleep and Christopher Nolan's cult classic Memento, Megan Goldin's Stay Awake is an electrifying novel that plays with memory and murder.
I didn't realize when I first added this book to my TBR that Megan Goldin wrote one of my recent fave mystery books (THE NIGHT SWIM). Such a pleasant surprise that her second book STAY AWAKE was just as fun of a read. The premise was unlike any other mystery/suspense book I've read before. The main character has amnesia where everything from the past two years gets wiped from her memory every time she falls asleep. When she wakes up lost and confused one morning with a bloody knife on her, she races to figure out if she's the murderer NYC is freaking out about.
I loved the pace and timing of the POV changes. The story goes between Liv in present day (the MC who has memory issues), a detective working the murder case, and Liv from two years ago before she lost her memory. The story races between all perspectives as the reader and Liv figure out what's going on with her. The audiobook was excellent thanks to January Lavoy (the second narrator was fine). Highly recommend this one if you liked her first book and want something unique!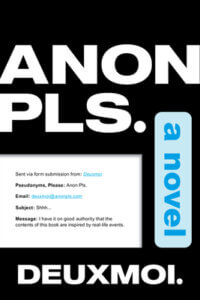 Anon Pls.
by
DeuxMoi
Genres:
Adult
,
Contemporary
Published by
Harlequin
Format:
Audio/Physical
(288 pages) •
Source:
Purchased
,
Scribd
Goodreads
•
Amazon
•
Barnes & Noble

From the creator behind @DeuxMoi, the popular - and infamous - celebrity gossip Instagram account, comes a fun, charming debut novel that's a perfect combination of Devil Wears Prada, Gossip Girl, and Smile and Look Pretty. Anon Pls. is for those looking for a fun escape and anyone who wonders, "What's it really like to be DeuxMoi?"

When Cricket Lopez, assistant to one of the most notorious celebrity stylists, revamps her old style Instagram account and turns it into a celebrity gossip blog on a drunken whim, she never thinks it will become anything. It's just a way to blow off steam after a terrible, terrible day at work where her nightmarish boss screams at her and blames her for some 18-year-old influencer's screw-up. But when the account grows overnight and, even wilder, when she starts getting gossip from fans - juicy gossip - she has to face facts: her Instagram is now famous. She is now famous.

Though no one knows that she is behind the account, its newfound success is affecting her real life. Her boss wonders why she's disappearing on the job, her friends are increasingly irritated by her dedication to the account, and she has celebrities, investors, and journalists approaching her with bright-eyed interest. Plus, there's a steamy new love interest who she meets through her online persona--except she has no idea if she can truly trust his motives. But as the account grows and becomes more and more famous, she has to wonder: is it - the fame, the insider access, the escape from real life - really worth losing everything she has?
This was a really fun one to end the year with! Very Gossip Girl – and I mean that in both the good and bad ways 😉 haha. I loved getting a peek at what MAY have happened behind the scenes of the real-life account. I only recently started following and thought the book would be just as fun as reading the account. Definitely reminds me of the old-school YA books where there's lots of drama and text messages/internet clippings on the page, all packed into a short, easy-to-read book.
The romance angle and sex scenes felt incredibly out of place IMO but they were fine. I think the book could have been just fine with her Cricket dealing with friend and work drama while trying to figure out how to manage her life and anonymous account. Overall, quick and easy!
Related Posts