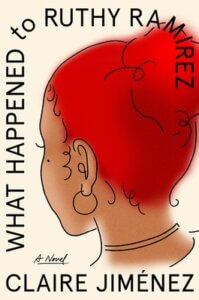 What Happened to Ruthy Ramirez
by
Claire Jiménez
Genres:
Adult
,
Literary Fiction
,
Mystery/Thriller
Published by
Hachette
on March 7, 2023
Format:
Hardcover
(240 pages) •
Source:
Library
Goodreads
•
Amazon
•
Barnes & Noble
A deeply powerful, raw debut novel of a Puerto Rican family in Staten Island who discovers their long‑missing sister is potentially alive and cast on a reality TV show, and they set out to bring her home.

The Ramirez women of Staten Island orbit around absence. When thirteen‑year‑old middle child Ruthy disappeared after track practice without a trace, it left the family scarred and scrambling. One night, twelve years later, oldest sister Jessica spots a woman on her TV screen in Catfight, a raunchy reality show. She rushes to tell her younger sister, Nina: This woman's hair is dyed red, and she calls herself Ruby, but the beauty mark under her left eye is instantly recognizable. Could it be Ruthy, after all this time?

The years since Ruthy's disappearance haven't been easy on the Ramirez family. It's 2008, and their mother, Dolores, still struggles with the loss, Jessica juggles a newborn baby with her hospital job, and Nina, after four successful years at college, has returned home to medical school rejections and is forced to work in the mall folding tiny bedazzled thongs at the lingerie store.

After seeing maybe‑Ruthy on their screen, Jessica and Nina hatch a plan to drive to where the show is filmed in search of their long‑lost sister. When Dolores catches wind of their scheme, she insists on joining, along with her pot-stirring holy roller best friend, Irene. What follows is a family road trip and reckoning that will force the Ramirez women to finally face the past and look toward a future—with or without Ruthy in it.

What Happened to Ruthy Ramirez is a vivid family portrait, in all its shattered reality, exploring the familial bonds between women and cycles of generational violence, colonialism, race, and silence, replete with snark, resentment, tenderness, and, of course, love.
This book was lowkey one of my most anticipated for the year. It just seemed like such an intriguing premise! Ruth Ramirez went missing after track practice when she was a kid and her family hasn't been the same since. When one of her sisters sees "Ruthy" on a reality TV show, they are convinced that it's really her. The synopsis reveals a bit more information that doesn't even happen until the end of the book, so I'll cut it off there.
The story alternates between the three remaining members of the Ramirez family (with a few chapters from Ruthy's POV sprinkled in): Jessica, Nina, and Dolores (their mom). It's really a portrait of a grieving family and a story about where their lives went in the years since Ruthy went missing. The father of the family died soonafter and the rest had to carry on. It's more "slice of life" despite the premise sounding a bit more meaty. I appreciated how real and raw it felt but it lacked a bit of depth. It kind of showed them going about their daily lives without going down one more level. The family's Puerto Rican heritage was front and center throughout the story, which I definitely enjoyed reading about. The synopsis includes that it's a "vivid family portrait, in all its shattered reality, exploring the familial bonds between women and cycles of generational violence, colonialism, race, and silence, replete with snark, resentment, tenderness, and, of course, love." – All of these things were totally touched on but briefly and not as in-depth as I would have liked.
This is certainly more of a literary mystery – very little emphasis on the "mystery" part. I enjoyed how this took the perspective of the family left behind rather than making the missing person the center of the story, if that makes sense. It's not a mystery/thriller where the family is busy investigating the crime and trying to find her. It's more literary fiction about this family specifically, which was a good format/genre to tell this story.
I don't want to spoil the ending but I think it was unsatisfying in general. The book is so short and really could have benefited from 50-100 more pages of depth and intrigue. It's very slow, which I actually enjoyed, but I still couldn't put it down. I'd cautiously recommend this one but definitely adjust your expectations – view it as a literary fiction book about a family with a hint of mystery, and don't expect a page-turner in the traditional sense.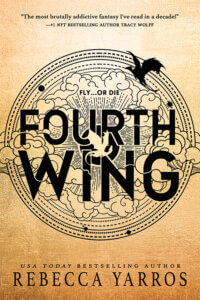 Fourth Wing
by
Rebecca Yarros
Series:
The Empyrean #1
Genres:
Adult
,
New Adult
,
Fantasy
Published by
Entangled Publishing
on May 2, 2023
Format:
Audio/eBook
(512 pages) •
Source:
Library
Goodreads
•
Amazon
•
Barnes & Noble
Enter the brutal and elite world of a war college for dragon riders from USA Today bestselling author Rebecca Yarros

Twenty-year-old Violet Sorrengail was supposed to enter the Scribe Quadrant, living a quiet life among books and history. Now, the commanding general—also known as her tough-as-talons mother—has ordered Violet to join the hundreds of candidates striving to become the elite of Navarre: dragon riders.

But when you're smaller than everyone else and your body is brittle, death is only a heartbeat away...because dragons don't bond to "fragile" humans. They incinerate them.

With fewer dragons willing to bond than cadets, most would kill Violet to better their own chances of success. The rest would kill her just for being her mother's daughter—like Xaden Riorson, the most powerful and ruthless wingleader in the Riders Quadrant.

She'll need every edge her wits can give her just to see the next sunrise.

Yet, with every day that passes, the war outside grows more deadly, the kingdom's protective wards are failing, and the death toll continues to rise. Even worse, Violet begins to suspect leadership is hiding a terrible secret.

Friends, enemies, lovers. Everyone at Basgiath War College has an agenda—because once you enter, there are only two ways out: graduate or die.
Yes, I fell victim to the hype for this one. I don't even know why! Fantasy is not something I jump on unless it's a favorite author but I added this to my TBR and requested it from the library immediately. I decided to read it in May after finishing QOS and before jumping into the TOD/EOS tandem read.
It centers around Violet as she heads off to the extremely dangerous military academy where should literally die easily at any point of her training. Her mom and sister have solid reputations within their… area? region? I don't really know… so she has high expectations while also being super weak and frail. She wanted to go into the archives and basically train to be a librarian like her father but her mom says NAH time to get a dragon and get going, I don't care if you die. There are a couple of interesting boys (smell a love triangle? Because I did) and girls that she becomes friends with (and plenty more that hate her and also try to kill her).
The story is super addicting and engaging for reasons I can't really put my finger on. I would compare the writing style to Freida McFadden in The Housmaid's Secret – I didn't think the writing was really GOOD or super well-developed, but it kept me wanting to read and was very accessible maybe? It could use more polish but generally got the job done.
The coolest part of the book IMO is that each human can end up bonding with a dragon. The dragon picks them and then the human gets whatever powers are appropriate for them or have laid dormant for their whole lives. You get people who can do stuff with water or create protective shields or read people's last memory in full detail. It's hard to say much else without spoiling the plot points that come later but I'll just say that it's quite cool.
There are absolutely some cringey moments that I didn't enjoy (View Spoiler »dragon sex in her head???? « Hide Spoiler) but the author manages to reel me back in and keep me interested. I heard that the final 50-100 pages of the book were utter chaos and unpredictable so I also just kept waiting to hit that point. The majority of the book I was like okay, I can see why people like this, and *I* like it, but I don't get the excessive amount of hype yet. The wild end didn't really change that opinion for me. I totally predicted one major element of the ending but at least it has me intrigued to read the next book?
I didn't love the romance or writing but I did like the dragons, magic, and story arc. This is very much a book I'd see on booktok and say "not for me" (and be generally correct) but I'm glad I gave it a try.

The Last Word
by
Taylor Adams
Genres:
Adult
,
Mystery/Thriller
Published by
William Morrow
on April 25, 2023
Also by this author:
No Exit
Format:
Audio/Physical
(340 pages) •
Source:
Purchased
,
Scribd
Goodreads
•
Amazon
•
Barnes & Noble

After posting a negative book review, a woman living in a remote location begins to wonder if the author is a little touchy—or very, very dangerous—in this pulse-pounding novel of psychological suspense and terror from the critically acclaimed author of No Exit and Hairpin Bridge.

Emma Carpenter lives in isolation with her golden retriever Laika, house-sitting an old beachfront home on the rainy Washington coast. Her only human contact is her enigmatic old neighbor, Deek, and (via text) the house's owner, Jules.

One day, she reads a poorly written—but gruesome—horror novel by the author H. G. Kane, and posts a one-star review that drags her into an online argument with none other than the author himself. Soon after, disturbing incidents start to occur at night. To Emma, this can't just be a coincidence. It was strange enough for this author to bicker with her online about a lousy review; could he be stalking her, too?

As Emma digs into Kane's life and work, she learns he has published sixteen other novels, all similarly sadistic tales of stalking and murder. But who is he? How did he find her? And what else is he capable of?
Taylor Adams writes books you just have to finish in one sitting. I've never thought I liked the "isolated" thrillers like this but I'm getting proven wrong again and again. I enjoyed this more than NO EXIT (I think mostly because of hype), but both are really twisty thrillers with a lot to offer.
This story centers around Emma, a house sitter at a remote beach house who leaves a one-star review of a crappy book and soon has the author threatening her. It quickly goes beyond internet threats and emails.
I always find myself around the halfway part of his books wondering how he can find more things to add to the story and he still does it. This book (and NO EXIT) are extremely isolated so the list of suspects can be a bit limited. This doesn't stop him from writing fast-paced, unputdownable thrillers.
I sat on my porch on Memorial Day and read this in one sitting. I loved the format (alternating between the main character and manuscript pages about what's happening) and found it impossible to stop reading. Like I said, I enjoyed this more than NO EXIT, but they're very similar in overall setup. I think THE LAST WORD had more twists of all kinds (I won't spoil what that means) but I wasn't ever able to figure out what was happening or what would come next for Emma.
Related Posts