I received this book for free (hey, thanks!) in exchange for an honest review. I promise that this does NOT affect my opinion of the book or the content of my review. For real.
Begin Again
by
Emma Lord
Genres:
Young Adult
,
Contemporary
Published by
Wednesday Books
on January 24, 2023
Also by this author:
Tweet Cute
,
You Have a Match
,
When You Get the Chance
Format:
eARC
(352 pages) •
Source:
Publisher
Goodreads
•
Amazon
•
Barnes & Noble

As usual, Andie Rose has a plan: Transfer from community college to the hyper competitive Blue Ridge State, major in psychology, and maintain her lifelong goal of becoming an iconic self-help figure despite the nerves that have recently thrown her for a loop. All it will take is ruthless organization, hard work, and her trademark unrelenting enthusiasm to pull it all together.

But the moment Andie arrives, the rest of her plans go off the rails. Her rocky relationship with her boyfriend Connor only gets more complicated when she discovers he transferred out of Blue Ridge to her community college. Her roommate Shay needs a major, and despite Andie's impressive track record of being The Fixer, she's stumped on how to help. And Milo, her coffee-guzzling grump of an R.A. with seafoam green eyes, is somehow disrupting all her ideas about love and relationships one sleep-deprived wisecrack at a time.

But sometimes, when all your plans are in rubble at your feet, you find out what you're made of. And when Andie starts to find the power of her voice as the anonymous Squire on the school's legendary pirate radio station–the same one her mom founded, years before she passed away–Andie learns that not all the best laid plans are necessarily the right ones.

Filled with a friend group that feels like family, an empowering journey of finding your own way, and a Just Kiss Already! romance, Begin Again is an unforgettable novel of love and starting again.
It's been well-established that I'll read everything Emma Lord writes, even if YA is lower on my list overall these days. I've never been disappointed by one of her books (even the ones that maybe don't sound like my favorite premise) – and luckily BEGIN AGAIN was no exception to this rule! To be fair, it was probably my "least favorite" of her books (which seems dumb with a 4+ star rating)… but I don't fully know why.
I liked that this was a slice of life story set in college (let's make a petition to get more YA books set during that time period) and the characters were really enjoyable. I liked that there was a solid mix of new friendships taking off, romantic relationships and crushes, and tons of family feels. The whole premise was good but the ~love triangle~ vibes were a bit drawn out IMO. My jaw dropped at a very unexpected twist that made for some intrigue for a few chapters, but I kind of with the dual love interest situation was wrapped up earlier.
The main character, Andie, and her friends had their ups, downs, and flaws, which were all well-explored. I really liked that there wasn't any major drama and miscommunication – the vast majority of the time, all of the characters said how they felt (within reason) and forgave each other for certain issues. It was definitely refreshing to read!
I'm now craving a very fancy bagel and ridiculous flavored cream cheese.

The Housemaid
by
Freida McFadden
Series:
The Housemaid #1
Genres:
Adult
,
Mystery/Thriller
Published by
Grand Central Publishing
on August 23, 2022
Format:
eBook
(336 pages) •
Source:
Kindle Unlimited
Goodreads
•
Amazon
•
Barnes & Noble

"Welcome to the family," Nina Winchester says as I shake her elegant, manicured hand. I smile politely, gazing around the marble hallway. Working here is my last chance to start fresh. I can pretend to be whoever I like. But I'll soon learn that the Winchesters' secrets are far more dangerous than my own…

Every day I clean the Winchesters' beautiful house top to bottom. I collect their daughter from school. And I cook a delicious meal for the whole family before heading up to eat alone in my tiny room on the top floor.

I try to ignore how Nina makes a mess just to watch me clean it up. How she tells strange lies about her own daughter. And how her husband Andrew seems more broken every day. But as I look into Andrew's handsome brown eyes, so full of pain, it's hard not to imagine what it would be like to live Nina's life. The walk-in closet, the fancy car, the perfect husband.

I only try on one of Nina's pristine white dresses once. Just to see what it's like. But she soon finds out… and by the time I realize my attic bedroom door only locks from the outside, it's far too late.

But I reassure myself: the Winchesters don't know who I really am.

They don't know what I'm capable of…

An unbelievably twisty read that will have you glued to the pages late into the night. Anyone who loves The Woman in the Window, The Wife Between Us and The Girl on the Train won't be able to put this down!
Whew, that was a ride! I'd seen mostly good things about this book and watched its overall hype increase over the past few months. I was tentatively thinking I'd give it a try because I'm on a kick of reading more "popular" books this year to see how things go for me. THE HOUSEMAID was available on Kindle Unlimited so I was able to read it before my trial expired.
I couldn't put this one down and ended up reading it in one sitting. Now, I've learned from my experience reading and hating VERITY that just because a book is addicting, does not mean it's good. I think that is still somewhat true here. The writing wasn't my favorite (especially in the first 30-50%) but it grew on me and improved overall throughout the story. It also just had some VERITY vibes in general with the whole random person coming to live with a family and work for them (plus other spoiler things I won't get into).
I predicted a couple of twists but there were plenty more that I didn't see coming. I really enjoyed the shift in the story over the halfway point – again, don't want to spoil anything, but damn. I think some of the reveals happened and I didn't understand the motivation behind how people acted and it could have been fleshed out a tiny bit more.
Overall, really love how this one wrapped up and the setup for a sequel. I knew there was a second book before I started this one so I was curious the whole time about how it would be possible, but I like how it's been set up! This was not a perfect book but it was such a fast read and totally worth the one-sitting blaze through.

I received this book for free (hey, thanks!) in exchange for an honest review. I promise that this does NOT affect my opinion of the book or the content of my review. For real.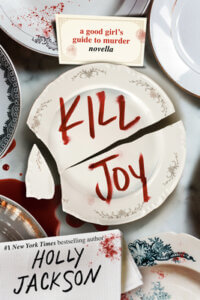 Kill Joy
by
Holly Jackson
Series:
A Good Girl's Guide to Murder #0.5
Genres:
Young Adult
,
Mystery/Thriller
Published by
Delacorte Press
on February 28, 2023
Also by this author:
A Good Girl's Guide to Murder
,
Good Girl, Bad Blood
,
As Good As Dead
Format:
eARC
(208 pages) •
Source:
Publisher
Goodreads
•
Amazon
•
Barnes & Noble

Welcome to the murder mystery party of the year! Fans of the hit series A Good Girl's Guide to Murder will love Pip's final detective case in this mystery novella from #1 New York Times bestselling author Holly Jackson.

Six suspects. Three hours. One murder...

Pip is not in the mood for her friend's murder mystery party. Especially one that involves 1920's fancy dress and pretending that their town is an island called Joy. But when the game begins, Pip finds herself drawn into the make-believe world of intrigue, deception and murder.

But as Pip plays detective, teasing out the identity of the killer clue-by-clue, the murder of the fictional Reginald Remy isn't the only case on her mind ...
I saw one of my friends mention this book and was so excited to learn about this little novella! Many thanks to the publisher for approving me to review it, since I requested it the moment I saw it 😉 This is set before the events of the GOOD GIRL'S GUIDE books as a prequel novella. Pip's group of friends gather for a murder mystery party and from there, Pip's interest in the Andie Bell case is sparked. It was cool to see how those two things connect for Pip and inspire her capstone project.
It was nice to be back in this series for a little bit! I really enjoyed the overall premise and following along with the murder mystery they worked to solve. It was interesting to read about this group of characters, especially Pip and a couple of others, now that I've completed the series and seen how everyone's story ends.
Overall, this was a fun little read that GGGTM fans should enjoy. Jackson tried to make it more interesting with some spooky things and cliffhangers for the chapters to make the reader think something more might be going on beyond the party/case.
Now I need to look into how to host my own murder mystery party…
Related Posts