BUY THE BOOK HERE!
I received this book for free (hey, thanks!) in exchange for an honest review. I promise that this does NOT affect my opinion of the book or the content of my review. For real.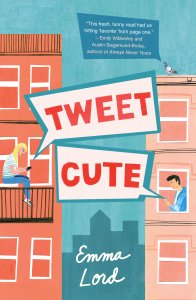 Tweet Cute
by
Emma Lord
Genres:
Contemporary
,
Young Adult
Published by
Macmillan
on January 21, 2020
Also by this author:
You Have a Match
,
When You Get the Chance
,
Begin Again
Format:
eARC
(368 pages) •
Source:
Publisher
Goodreads
•
Amazon
•
Barnes & Noble

A fresh, irresistible rom-com from debut author Emma Lord about the chances we take, the paths life can lead us on, and how love can be found in the opposite place you expected.
Meet Pepper, swim team captain, chronic overachiever, and all-around perfectionist. Her family may be falling apart, but their massive fast-food chain is booming ― mainly thanks to Pepper, who is barely managing to juggle real life while secretly running Big League Burger's massive Twitter account.
Enter Jack, class clown and constant thorn in Pepper's side. When he isn't trying to duck out of his obscenely popular twin's shadow, he's busy working in his family's deli. His relationship with the business that holds his future might be love/hate, but when Big League Burger steals his grandma's iconic grilled cheese recipe, he'll do whatever it takes to take them down, one tweet at a time.
All's fair in love and cheese ― that is, until Pepper and Jack's spat turns into a viral Twitter war. Little do they know, while they're publicly duking it out with snarky memes and retweet battles, they're also falling for each other in real life ― on an anonymous chat app Jack built.
As their relationship deepens and their online shenanigans escalate ― people on the internet are shipping them?? ― their battle gets more and more personal, until even these two rivals can't ignore they were destined for the most unexpected, awkward, all-the-feels romance that neither of them expected.
Book Review
I was so excited when I was asked to join the TWEET CUTE blog tour! I've been looking forward to this book ever since it was first announced, and the early glowing reviews from friends only furthered my interest. Needless to say, I had high hopes and expectations… so luckily this book delivered.
The story follows a few different elements involving our lead pair getting to know each other, so try to keep up. Big League Burger is a rising star in the fast food business now, but Pepper remembers when it was just a family-owned burger joint in Nashville, owned and operated by her parents. When business takes off and they start franchising, competing with the likes of McDonalds and Burger King, she moves to NYC with her now-divorced mom to run the show. She's often responsible for the lighthearted, witty tweets and jabs from the company on social media. Enter Jack, the son of family-owned NYC deli Girl Cheesing. It's been in the family for generations and he's due to take over (not his twin Ethan, but that's a whole other thing!). When he discovers the Big League Burger has not only stolen their grandma's NYC-famous grilled cheese recipe, they've also stolen the name of it too, he starts an unexpected Twitter war with the burger company… and therefore Pepper… in the process. Meanwhile, the two are unknowingly chatting it up anonymously on an app that Jack developed for their private school. AND on top of that, they're forced to work together IRL on the swim/dive team fundraising.
Honestly, it sounds like a lot going on, and it did feel like it at first. After the book gets going and some things are on the table (like their identities when it comes to the food Twitter war), it doesn't feel as busy. It was so nice to see them get to know each other and realize feelings in real life and on the app at the same time. They both had fully fleshed out family lives, personalities, hopes and dreams for the future, and issues to deal with. I loved being able to read both of their perspectives. It was also refreshing to read a romance where, despite the initial secrecy and dramatics, the author didn't rely on miscommunication to further the narrative. It's done way too often in YA novels especially, where you just want to yell "STOP ASSUMING THE WORST" at the characters. There was at least one opportunity where Lord could have introduced lack of communication as a cheap way of including more conflict, and she deftly avoided it. I loved it!
There were a lot of great side characters that frankly deserve their own books. I loved the glimpses of her dad (and him wanting to stay true to his past when BLB was small) and sister. Her mom was absolutely punch-worthy most of the time and unfortunately she was around the most! Pooja and Paul are characters that definitely deserve spin-offs… PLEASE.
As I alluded to a little bit earlier, there were a lot of different places that these two were falling for each other and/or talking, so it felt like too many elements at first. This declined over time and felt pretty seamless because the Twitter war took over in their real lives, while the chat aspect was completely separate. It was fun to see the hints of them almost revealing things to each other, which obviously would have saved them a lot of time, but would have been way less of a book. 😉 My only other issue is that, with most contemporary books based around the internet and social media, you wonder how it may hold up over time. If you think of You Got Mail and other anonymous pen pal stories and how THEY have held up, I think you'll agree that this is probably a universal trope that will take on new life as new technology and means of communication crop up over the years. I love topical books and hope that this element works well in the future!
Overall, this was such a shiptastic story. I'm a huge fan of hate-to-love and the anonymous pen pal tropes, which is why I was drawn to this one in the first place. It completely hit everything I look for in those books and I highly recommend reading it when it comes out tomorrow!
---
About Emma Lord
Emma Lord is a digital media editor and writer living in New York City, where she spends whatever time she isn't writing either running or belting show tunes in community theater. She graduated from the University of Virginia with a major in psychology and a minor in how to tilt your computer screen so nobody will notice you updating your fan fiction from the back row. She was raised on glitter, grilled cheese, and a whole lot of love. Her sun sign is Hufflepuff, but she is a Gryffindor rising. TWEET CUTE is her debut novel. You can find her geeking out online at @dilemmalord on Twitter.
"Tweet Cute delivers in every possible way: a perfect enemies-to-lovers romance, a whip-smart plotline, and endearingly real characters. I devoured it." – Francesca Zappia, author of Eliza and Her Monsters

"Sweet and fun! An adorable debut that updates a classic romantic trope with a buzzy twist." – Jenn Bennett, author of Alex, Approximately and Serious Moonlight

"A witty rom-com reinvention for the Twitter age, Tweet Cute pairs delicious online rivalry with deeply relatable insights on family pressure and growing up. This fresh, funny read had us hitting 'favorite' from page one." – Emily Wibberley and Austin Siegemund-Broka, authors of Always Never Yours and If I'm Being Honest
Related Posts