I received this book for free (hey, thanks!) in exchange for an honest review. I promise that this does NOT affect my opinion of the book or the content of my review. For real.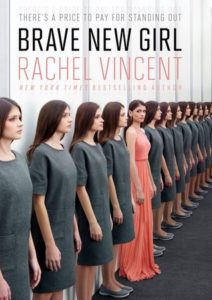 Brave New Girl
by
Rachel Vincent
Series:
Brave New Girl #1
on May 9th 2017
Also by this author:
Strange New World
(272 pages) •
Goodreads
•
Amazon
•
Barnes & Noble

We have brown hair. Brown eyes. Fair skin.
We are healthy and strong and smart.
But only one of us has ever had a secret.

Dahlia 16 sees her face in every crowd. She's nothing special—just one of five thousand girls created from a single genome to work for the greater good of the city.

Meeting Trigger 17 changes everything. He thinks she's interesting. Beautiful. Unique. Which means he must be flawed. When Dahlia can't stop thinking about him—when she can't resist looking for him, even though that means breaking the rules—she realizes she's flawed, too. But if she's flawed, then so are all her identicals. And any genome found to be flawed will be recalled.

Destroyed.

Getting caught with Trigger would seal not only Dahlia's fate, but that of all five thousand girls who share her face. But what if Trigger is right? What if Dahlia is different?

Suddenly the girl who always follows the rules is breaking them, one by one by one. . . .
Initial Excitement
I went into this book with really no expectations. When I read the description on the ARC tour website, I just kind of went with it. I don't read a lot of sci-fi or light-sci-fi books, so I thought it'd be fun to take a leap into something a little different. I'm so glad I did! It actually reminded me a lot of Replica, which was a good thing.
Quick Summary
Dahlia 16 is one of many. In their world, babies aren't born through two parents coming together. Geneticists create children in a lab and there are thousands of each person created. They all look identical and have names corresponding to their future career (Dahlia = flower = gardening/growing produce) and the number signifies their age. When Dahlia meets Trigger 17, she is instantly feeling things she hasn't ever felt before. She feels different… but being different means your entire group is recalled, aka euthanized. She can't risk everyone's life for a chance at something with Trigger, but she's still pulled that way. She soon realizes the world isn't as it seems.
Storytelling, Setting, and Feels
The first half of this book involved a lot of setup and it took me a little while to figure out how everything worked. I liked getting a feel for the environment Dahlia grew up in but I think it dragged with not a lot of action. Even when she met Trigger, there was just constant internal dialogue, wondering if she should go meet with him. The sneaking around did create a sense of urgency, but I don't think it was enough action.
In any case, things totally picked up in the second half of the book. I don't want to give anything away, but there was a lot of action, conflict, close calls, and realizations. As you can imagine in a dystopian science fiction book, things aren't always as the people think they are. I'll leave it at that! The setting itself, as a result of that, was really interesting. I don't read many books in either genre, so it was fun to read about.
Characters
It was interesting being inside Dahlia's head, especially as she learned more about the world. She was kept in such a small area, learning about limited things, and only seeing certain things as "history." She was essentially alone with her thoughts and a few friends that she shared a room with. Once she met Trigger, she finally had someone to talk to and essentially ask questions about the outside world. His experience working in the military side of their "town" was valuable; they learned different rules than everyone else. Even though the military is usually more strict, they had some lax regulations about relationships and learning about the "wild." I liked seeing Dahlia's eyes become more open to the world around her.
Negative Stuff
As I mentioned, the book started off kind of slow. It was fun to read about Dahlia and Trigger as they snuck around, but it wasn't anything to write home about. On top of that, it reminded me a bit of Replica. Obviously the story itself is different, but the element of a genetically engineered/clone-type person escaping from an institute or some kind is prettttty similar. I read that book too recently, I guess.
Ending Feels
CLIFFHANGER CITY. Ugh I can't believe I have to wait over a year for the next book in this series. I kept watching the amount of pages left go down and down, wondering what kind of ending I'd be left with. It was actually a really solid ending though. I was totally surprised with every twist and turn. We learned just enough information to wonder what will happen next, with plenty more questions to be answered.
TL;DR?
I really enjoyed this one! I think I enjoyed it even more than my rating implies, but I had trouble connecting with the book in the first half. The second half, though, was a whirlwind of cool information and running around. I loved the cliffhanger and hated it at the same time. If you like a little sci-fi and dystopia mix in your books, I'd highly recommend checking this one out. There's a LOT left in this world to explore in the next book, so you bet I'm ready to dive in ASAP in like a year.
Thoughts in a Gif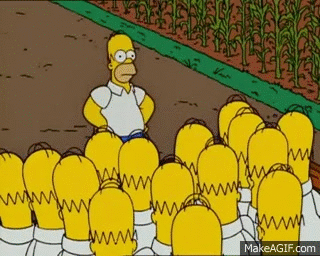 Rating Breakdown
| | |
| --- | --- |
| Plot & Premise | |
| Characters | |
| Writing Style | |
| Pacing & Flow | |
| Feels or Swoons | |
| Addiction Level | |
| Overall: | 4.1 |
Related Posts