I received this book for free (hey, thanks!) in exchange for an honest review. I promise that this does NOT affect my opinion of the book or the content of my review. For real.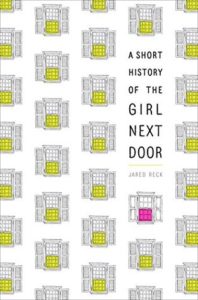 A Short History of the Girl Next Door
by
Jared Reck
on September 26th 2017
(272 pages) •
Goodreads
•
Amazon
•
Barnes & Noble

The unrequited love of the girl next door is the centerpiece of this fiercely funny, yet heart-breaking debut novel.

Fifteen-year-old Matt Wainwright is in turmoil. He can't tell his lifelong best friend, Tabby, how he really feels about her; his promising basketball skills are being overshadowed by his attitude on the court, and the only place he feels normal is in English class, where he can express his inner thoughts in quirky poems and essays. Matt is desperately hoping that Tabby will reciprocate his feelings; but then Tabby starts dating Liam Branson, senior basketball star and all-around great guy. Losing Tabby to Branson is bad enough; but, as Matt soon discovers, he's close to losing everything that matters most to him.

Humorous and heart-wrenching, A Short History of the Girl Next Door is perfect for readers who fell in love with All the Bright Places' Finch or Stargirl's Leo.
Initial Excitement & Summary
This book was added to my TBR the minute Laura announced it. I loved the premise and then, of course, the cover once it was released. Best-friends-to-more (especially if they were childhood friends and neighbors) is one of my favorite tropes. I was even more excited when I got approved on NetGalley for it and didn't waste much time. (I read this back in July!)
The synopsis shares that Matt has recently realized he's in love with his best friend and neighbor, Tabby. This, of course, coincides with the time she finds an upperclassmen boyfriend instead. Matt's still grappling with her new relationship and essentially pines after her for most of the novel. I can't say much more, because spoiler city.
Storytelling & Characters
I wasn't sure what to expect from this one, because you assume the book may go two ways. Is there a happily-ever-after, where she realizes that Matt is the one for her? Or does he move on and this book isn't considered ~romance~ at all? Well, I can't really answer that question because spoilers. But let me tell you, it was a rough ride to get there. I did not see anything coming. And that's all I'll say on that.
I really liked Matt as a character. I feel like everyone's been in his shoes before, pining over someone who isn't interested in you. He was really honest too; being in his head was refreshing. He would think of something fucked up and then hate himself for it. We all do that. There was a lot of basketball involved that I sometimes found myself rushing through. His life was pretty much 50% thinking about Tabby and 50% thinking about basketball. He had the BEST family, with his super nice parents and adorable little brother. I wanted to group-hug them all so hard. I felt for Matt SO MUCH in the second half of the book too – View Spoiler »When everyone was out there pretending how much they knew her, he was just sitting there knowing how close they were. I understand everyone was heartbroken but he really did know her better than anyone else did. I was so pissed when HE got somewhat kicked off the basketball team when HE got punched by Liam. Fuck right off with that. How did people not realize what he was going through? « Hide Spoiler I was bitter, jealous, and angry right along with him.
There were a few things that should have tipped me off that heartbreak was on the way. First of all, the synopsis literally has the word "heartbreaking" in it. Why did I expect some kind of cute, friends-to-more tropey goodness? That word does not equate to those feelings, Lauren. Second, View Spoiler »the fact that the title says "short history" should imply exactly that… her history is short. UGH. « Hide Spoiler
Negatives
I think part of my issue with this one is that I set my expectations at a totally different place. I don't know what they were, exactly, but I wasn't in the mood for something sad when I started reading. I feel betrayed by this book because I'm a dummy who didn't really read into the synopsis as much as I should have. I can really only blame myself, but it was hard to grasp what was happening once I realized what I signed myself up for.
TL;DR?
This book is a seriously impressive debut novel! I'm so proud of Laura for agenting the shit out of this one and bringing this story into my life. It's a quick read, but it packs an emotional punch throughout. Between the pining and the other THINGS, it's not easy being in Matt's head.
Rating Breakdown
| | |
| --- | --- |
| Plot & Premise | |
| Characters | |
| Writing Style | |
| Pacing & Flow | |
| Feels or Swoons | |
| Addiction Level | |
| Overall: | 4.3 |
Related Posts