Top Books on my Fall TBR
Top Ten Tuesdays are hosted by The Broke and the Bookish, where we make lists of our top ten books (or something else!) based on that week's prompt. The topics are provided ahead of time and can be found here. Book links bring you to Goodreads or my review.
I love TBR posts. Can't help it. I feel like I've made 10 in the last month alone, for various reasons, but I'm always happy to bring another one around. There are PLENTY of books I've been pushing off for no reason, plus the excellent new fall releases to start at some point. (I loved Cristina's post the other day about falling into fantasy books because I do the same thing with fantasy in the autumn! You'll see some "heavier" books here now that summer is over.) Here are ten-ish books on my fall TBR that I must read.
See also: September TBR, Fall Bingo TBR, and End of Summer Reading Plans
I'm definitely a seasonal reader – I prefer my heavier, fantasy, or somewhat-spooky reads to happen in the fall. I keep things much lighter in the summer for the beach, so you can bet that my fall feels happen the minute September starts. I hope to read some spookier books, like What Waits in the Woods and What Waits in the Water by Kieran Scott (second not pictured) and There's Someone Inside Your House by Stephanie Perkins. I think that Haunting the Deep by Adriana Mather will be more atmospheric than spooky, if her first book is any indication of how this one will be, but I'm excited to read it. Both the Perkins and Mather books come out this fall as well. And finally, I've been thinking a lot about A Discovery of Witches by Deborah Harkness because the TV show is coming out and I'd love to make progress on this series! I started this one back in college but never finished because of finals then graduation then work (you know the story).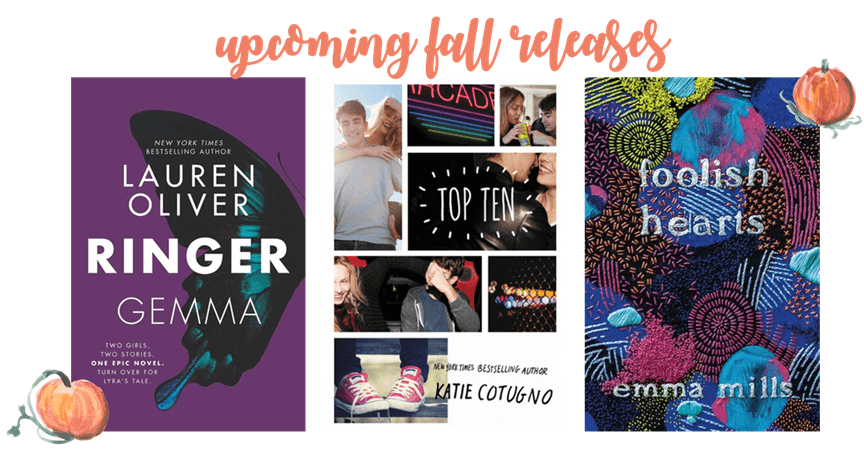 I've been really excited for these three for a while! I have a feeling I'll read them right when they come out. I need to refresh my memory on the first book before I start Ringer by Lauren Oliver, but I'm pumped to see what happens next in this unique series. The other two authors are also some of my favorites, so I'm eagerly anticipating Top Ten by Katie Cotugno and Foolish Hearts by Emma Mills as well.
I have a good amount of ARCs (mostly egalleys) to work through this fall as well. Some are publishing sooner than others, but I'm trying to keep up on my requests. A Taxonomy of Love by Rachael Allen was borrowed from Madalyn and I hope to get to it soon. The other three are egalleys that are generally in my plans over the next few months: As You Wish by Chelsea Sedoti, The Nowhere Girls by Amy Reed, and A Dangerous Year by Kes Trester. I think they all may fit into my Fall bingo card but I don't remember. [NOTE: I realized later the same day of making this post that THE NOWHERE GIRLS was going to expire on my iPad so I ended up reading it ASAP instead lol.]
Related Posts