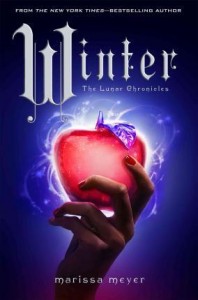 Winter
by
Marissa Meyer
Series:
The Lunar Chronicles #4
on November 10th 2015
Also by this author:
Cinder
,
Scarlet
,
Cress
,
Fairest
,
Stars Above
,
Heartless
,
Wires and Nerve
,
Gone Rogue
,
Renegades
,
Archenemies
,
Supernova
(827 pages) •
Goodreads
•
Amazon
•
Barnes & Noble

Princess Winter is admired by the Lunar people for her grace and kindness, and despite the scars that mar her face, her beauty is said to be even more breathtaking than that of her stepmother, Queen Levana.

Winter despises her stepmother, and knows Levana won't approve of her feelings for her childhood friend—the handsome palace guard, Jacin. But Winter isn't as weak as Levana believes her to be and she's been undermining her stepmother's wishes for years. Together with the cyborg mechanic, Cinder, and her allies, Winter might even have the power to launch a revolution and win a war that's been raging for far too long.

Can Cinder, Scarlet, Cress, and Winter defeat Levana and find their happily ever afters?
Well well well, Marissa Meyer. I see what you did there. You made each book get increasingly better than the last until I finally said holy SHIT this is one of my favorite series. When I finished Cinder, I wasn't totally convinced. When I finished Scarlet, I said "that was very good, not fantastic" yet again.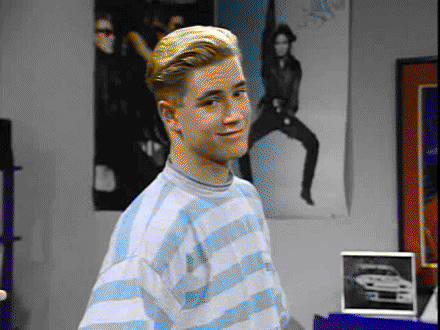 When I finished Cress, I thought she was headed towards something excellent. I loved being introduced to more and more characters who were special and important in their own ways. With the introduction of the ultimate bae Carswell Thorne, I was pretty sold in general… but I knew that the final book would have to blow me away to make up for my this-is-great-but-not-a-favorite feelings that I was working with from the first two books. AND THEN SHE DID IT.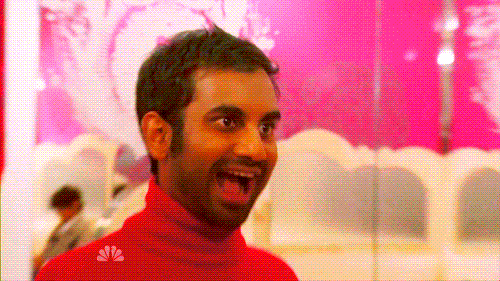 There are so many wonderful things about this book and about the whole series that come to a head in this finale. I would venture to say that it's my favorite series-ender ever. (This may be because I haven't finished a lot of series like this, but seriously it's gotta be top three at least!)
How do I love thee? Let me count the ways…
1. SQUAD GOALS
Has there ever been a group of people this perfect before? Prob not. As each book progressed, we were introduced to more and more characters to make up the final crew of saviors. Book one brought us Cinder and Kai, the smart cyborg and the emperor. Book two introduced us to Scarlet and Wolf, the farmgirl and the Queen's former minion. Book three showed my favorite people: Cress and Thorne, the tech genius and the thief. Book four finally put the full crew together with Winter and Jacin, the princess and the palace guard. They each brought their own strengths (and weaknesses) to the table and somehow the group just completely worked. I loved the banter between everyone – not just between the four main ships. There was one scene with Kai and Thorne having a bro-talk about girls and I DIED. I literally love them all SO much and can't fully explain how fucking #SquadGoals they are. If I could hang out with the eight of them for like a day, I would be so happy. I loved getting to know each and every character, seeing them grow as individuals and as a team. I will completely miss these characters for the rest of my reading days.
2. So. Many. Ships.
As I said, with each book we were introduced to a new couple to ship. That means four glorious ships that were all special in their own ways. It never felt like the same romance tropes just four different times throughout the series. They all had special reasons for being together and being perfect for each other. Here's my ranking of favorite to least favorite and why, but let me tell you I love them ALL regardless of where they fall.
Cress and Thorne | SO MUCH TENSION. I wanted them to be together from the moment Cress talked about loving him from afar. I definitely wish they were able to be around each other more in Winter, but I'm not complaining overall! I love her innocence mixed with his experience; it just seems like he genuinely loves her even though he's known for his sarcasm and sketchiness. Truthfully, I think I ship them the most because I'm the one who wants to be with Thorne and Cress is the second best option.
Cinder and Kai | I felt the chemistry in the first book but wasn't head over heels for Kai myself. Their feelings throughout the series only grew stronger, especially noticeable when they were apart, and I love them for it. I started to love Kai more and more as well. I want them to be happy together forever and ever.
Winter and Jacin | There's something just so sweet about them that makes me love them so much. Even though Jacin is a bit overprotective for my tastes, I love how much he loves her and wants to protect her. She needs a lot of care (because she's kinda crazy and all), so I do get it. I loved the feels from the two of them and how strong their bond was, since childhood! You all know that the best-friend-turned-boyfriend trope is one of my all-time faves, so they definitely are perfect for my feelsy heart.
Scarlet and Wolf | I DO love these two, I promise. The whole wolf-alpha-protectiveness thing is, again, not something I generally go for. I think they have a strong relationship and it's amazing to see her love him no matter what. (I won't spoil anything, but let's just say it gets a bit crazy towards the end.) I consider them to really be on the same ship level as Winter and Jacin, but they're beat out a bit because of what I said previously. Don't worry guys, I still love you though.
Overall, every single ship in this book is a wonderful addition to the storyline. All of the bonds between the couples are so incredibly strong, even when they're tested throughout this final book. Various people were separated from each other on and off but they all had the same goals and focus. I loved it all. Gimme all of them forever.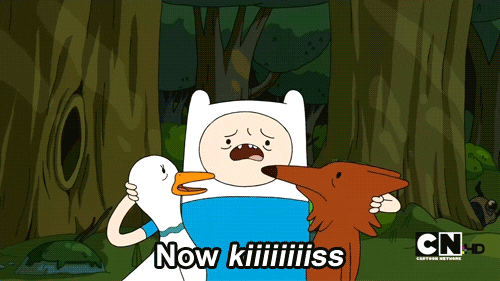 3. Nonstop action
Seriously, in a book that's over 800 pages, how does one manage to keep the action rolling continuously? MEYER IS A WIZARD. I was on the edge of my seat literally throughout the entire story. It helped that there were multiple storylines happening as each character completed their missions around Luna, but still… how, girl? HOW. I was really nervous because I haven't read a book this long since my Harry Potter days. I was nervous it would be dragging on and full of unneeded information. Nope. All pertinent info, all relevant storylines. I never wanted it to end. (Also, a bit of a fun fact: this is the second longest book I've ever read.)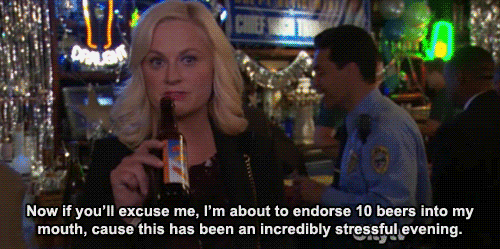 4. Retelling vibes
To be honest, I would have to remind myself that these books were retellings in the previous ones. I was searching for the fairy tale connections and it took me a while to get them. I liked the loose retelling aspect (and looking back, I probably missed a lot of things…) but this one was STRONG Snow White feels. I won't get into it too much for the sake of spoilers, but you know the story.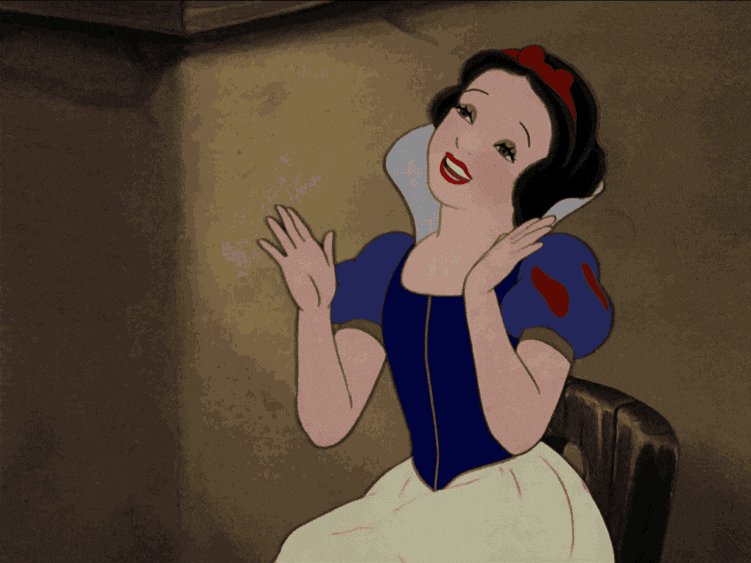 5. So many points of view… done right
I'm pretty sure we were allowed inside the heads of almost every single character on multiple occasions. That's something I really enjoyed in the previous books, because it gives you a full picture about what's going on. I know it's not possible to really tell the story without including everyone's POV (because there are multiple storylines with people in various places), but she just does it so well. I was never confused about who I was reading (of course it helps that it's in third person). Being able to catch a glimpse into what each character was doing was crucial to the plot and I'm so glad she managed everyone's points of view perfectly.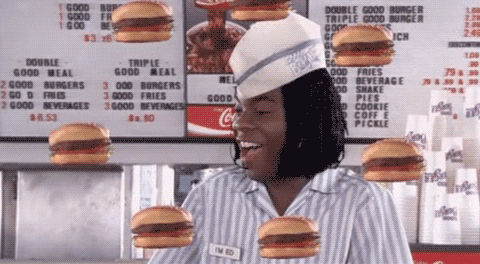 Any qualms? I mean, not really. I have a horrible bookish memory so I can already barely remember what happened throughout the book, but that's my own fault. I think the previous books had a good number of OMG WTF NO WAY moments, where the reader learned a secret or twist. I was hoping for a bit more "reveals" like that, but it did not damper my enjoyment in any way.
I loved this book so much and this series is officially a favorite. In case you're curious, here are some highlights from my reading progress: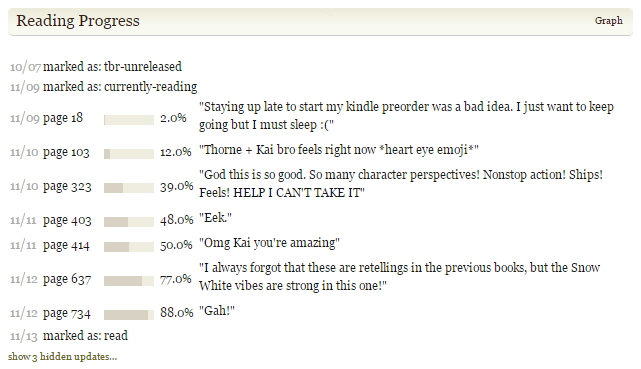 Related Posts