I received this book for free (hey, thanks!) in exchange for an honest review. I promise that this does NOT affect my opinion of the book or the content of my review. For real.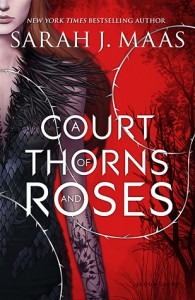 A Court of Thorns and Roses
by
Sarah J. Maas
Series:
A Court of Thorns and Roses #1
Genres:
Fairytale Retelling
,
Fantasy
,
New Adult
,
Young Adult
Published by
Bloomsbury
on May 5th 2015
Also by this author:
A Court of Mist and Fury
,
Throne of Glass
,
The Assassin's Blade
,
Crown of Midnight
,
A Court of Wings and Ruin
,
A Court of Frost and Starlight
,
A ​Court of Silver Flames
Format:
ARC
(432 pages) •
Source:
Borrowed
Goodreads
•
Amazon
•
Barnes & Noble

When nineteen-year-old huntress Feyre kills a wolf in the woods, a beast-like creature arrives to demand retribution for it. Dragged to a treacherous magical land she only knows about from legends, Feyre discovers that her captor is not an animal, but Tamlin-one of the lethal, immortal faeries who once ruled their world. As she dwells on his estate, her feelings for Tamlin transform from icy hostility into a fiery passion that burns through every lie and warning she's been told about the beautiful, dangerous world of the Fae. But an ancient, wicked shadow over the faerie lands is growing, and Feyre must find a way to stop it . . . or doom Tamlin-and his world-forever.

Perfect for fans of Kristen Cashore and George R. R. Martin, this first book in a sexy and action-packed new series is impossible to put down!
This review was written immediately upon finishing the book (February 13th), so pardon any nonsensical flailing (AKA the whole review. Okay bye.)
MY THOUGHTS? WHAT ARE MY THOUGHTS, STUPID REVIEW GRAPHIC???? I DON'T KNOW HOW TO MAKE WORDS.
This was my first Sarah J. Maas novel (don't yell at me) and I can certainly now see what all the fuss is about. I decided to approach this one before Throne of Glass because honestly the synopsis of ToG didn't appeal to me NEARLY as much as this one did. I love faeries! Love, love, love. Always have. When the lovely Andi lent me her ARC, I started reading it immediately because I was just so in the mood for it. I finished it in three days, which is a little longer than usual for me… BUT not that long considering it was over 400 pages and I pretty much read it in a few loooong sittings. I could not stop reading, folks. Even when there wasn't much happening as far as plot-moving action, I couldn't stop. So damn engrossing. Fantasy books can be very hit or miss with me; for some reason they don't hold my attention as much as contemporaries do. I find myself getting distracted. Nope. Not with this book.
I was drawn in immediately as I learned about Feyre, her family, and their history. I despised her sisters right off the bat and was hoping that there'd be some redeeming qualities eventually. No matter how poorly her family members treated her, she was loyal to them and put their needs above literally everything else. (They didn't deserve it, but she did it anyways.) I'm not going to get into all of that because this review will focus on FEEEEELS and not plot summaries. Anyways, Feyre becomes a captive of Tamlin (with very unclear reasons that are supposedly laid out in the treaty between humans and faerie) because she kills a faerie in wolf form while hunting. This is where the Beauty and the Beast feels come in. It doesn't feel like a retelling the whole time because there are SO many other people and elements to differentiate between the two, but you can see where it draws some (excellent) inspiration from. Feyre and Tamlin are in this kind of weird captor-captive relationship while he's able to shape-shift from beast/wolf/thing to human.
Feyre was such an interesting and complex heroine without really feeling like one, if that makes sense? She was loyal, often lonely, stubborn, and sarcastic. There wasn't a lot of characterization that went into her in some ways, but it's mostly because her life was very uncomplicated up to that point. She hunted, fed her family, traded her goods, and did it all over again the next day. Everything she knew, she taught herself. Through her days at Tamlin's palace, she was able to spend time on herself and explore her own interests. This section of the book through the middle was the "slowest" part, but was still so engrossing and interesting that it didn't matter.
The final hundred pages or so of the book pretty much murdered me. I don't want to get into anything spoilery, but finally learning some backstory and what was really going on in the world was SO interesting and took me by surprise. From that point forward, everything just kind of went bananas. I was addicted and racing to see what happened. I really liked the way it ended (which I did not see coming really. Maybe a part of me did??). It left things open enough to make me TOO EXCITED for the rest of the series, but closed enough to not be really pissed about a cliffhanger. In other worst, literally perfect.
If I could think of ANY small baby-sized issues, I can really only think that there were a few times Tamlin bugged me in how possessive he was at times. Looking back, you can see why.
Overall, in case you couldn't tell, READ THIS BOOK. 
---


ENGROSSING.

fairy wine.

she'd do literally anything for you.


fans of faerie books, retellings, and completely engrossing fantasy stories that will hold your attention through the very end.

Princess of Thorns by Stacey Jay or anything by SJM.
CAN'T THINK OF ANYTHING. READ IT.
---
Related Posts