I was able to attend the ACOMAF tour stop in Warwick, RI, which was moderated by my friend and former Secret Sister Sarah! Both Sarahs were so fun to listen to. Seriously, seeing SJM and hearing her talk about Throne of Glass makes me want to hop on reading those books ASAP! It was also great to see Sarah and catch up about everything. It definitely was worth the 1.5 hour drive! Plus, it was near my old college and I had all the nostalgic feels. Here are a few photos from the event before I kick off my review: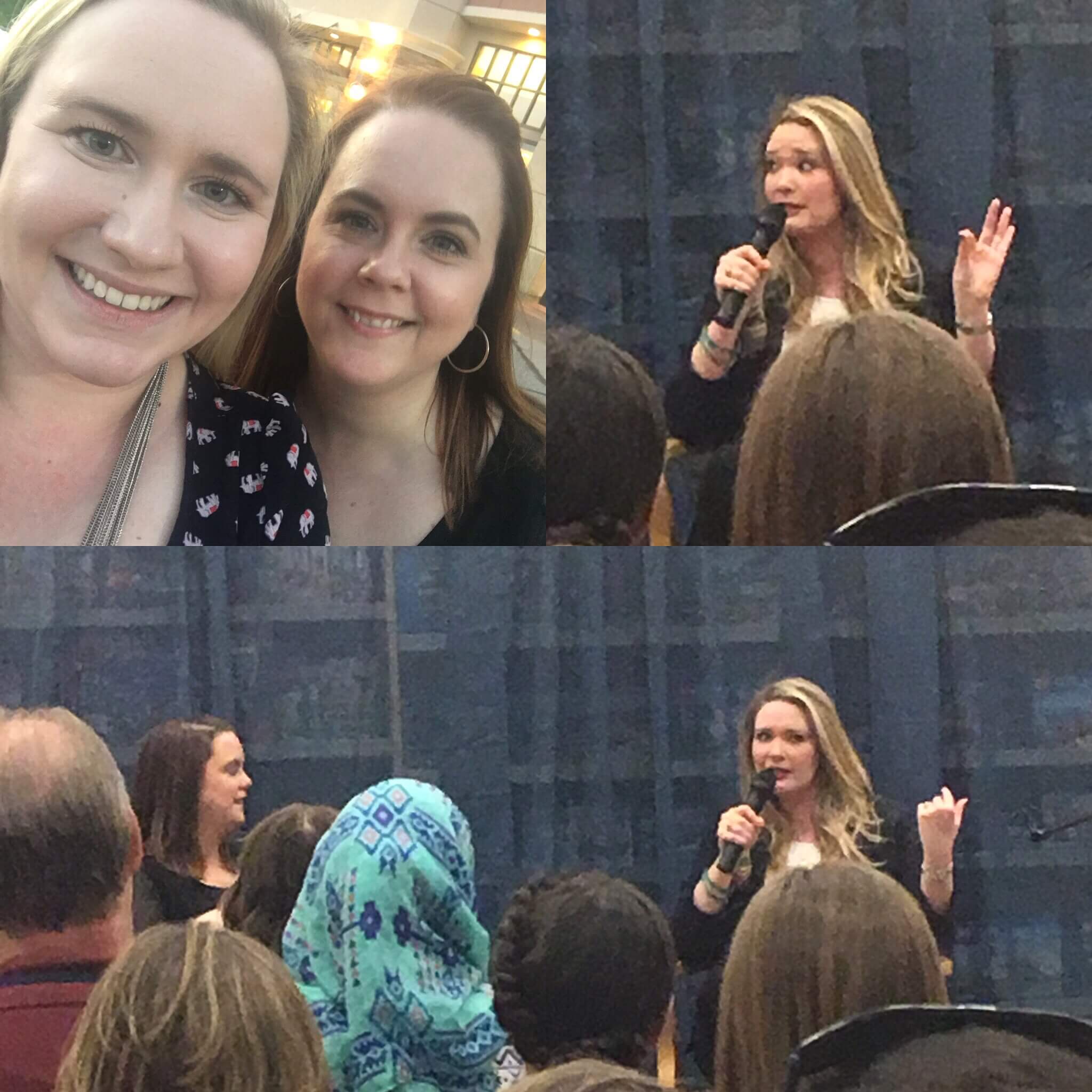 ---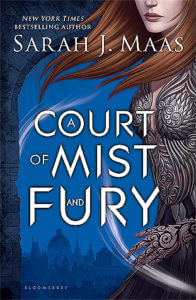 A Court of Mist and Fury
by
Sarah J. Maas
on May 3rd 2016
Also by this author:
A Court of Thorns and Roses
,
Throne of Glass
,
The Assassin's Blade
,
Crown of Midnight
,
A Court of Wings and Ruin
,
A Court of Frost and Starlight
,
A ​Court of Silver Flames
,
Heir of Fire
,
Queen of Shadows
,
Empire of Storms
,
Tower of Dawn
,
Kingdom of Ash
(624 pages) •
Goodreads
•
Amazon
•
Barnes & Noble

Feyre survived Amarantha's clutches to return to the Spring Court—but at a steep cost. Though she now has the powers of the High Fae, her heart remains human, and it can't forget the terrible deeds she performed to save Tamlin's people.

Nor has Feyre forgotten her bargain with Rhysand, High Lord of the feared Night Court. As Feyre navigates its dark web of politics, passion, and dazzling power, a greater evil looms—and she might be key to stopping it. But only if she can harness her harrowing gifts, heal her fractured soul, and decide how she wishes to shape her future—and the future of a world cleaved in two.

With more than a million copies sold of her beloved Throne of Glass series, Sarah J. Maas's masterful storytelling brings this second book in her seductive and action-packed series to new heights.

It took me a very long time to read this book. I have trouble with fantasy sometimes and I remember having the same issue at the beginning of ACOTAR as well. I just needed time to settle into the world, but everything picked up so much after the first couple hundred pages. This makes it sound like those millions of pages were boring or not good. Believe me, that's not the case. I found myself reaching for lighter, faster reads in the middle of ACOMAF because I just needed a break. I know I could have sat and read forever if I had the time, but I just needed to take my time and savor it. ACOTAR was also one of those books I felt slightly disillusioned with over time. The more I thought about Tamlin, the more he bugged me. The ending of ACOTAR was an absolute fucking whirlwind and left me so happy and ready for ACOMAF regardless of those thoughts. Please reference
Cristina's review
for further identical thoughts to my own.
This review is going to be filled with gifs from The Little Rascals because I do what I want and need something ridiculous to match the ridiculous state of mind this book has left me in.
Kind of general spoiler-ish thoughts?? Proceed with caution
The book starts with Feyre dealing with shithead Tamlin, who I had absolutely loved in the previous book. I made a lot of excuses for his behavior but I think his transformation in this one was insane. I wasn't surprised by his turn, but I would have preferred more build-up or something? Did I miss something in book one besides the Beauty and the Beast/stockholm syndrome kind of stuff? At this point I couldn't imagine shipping Rhys and Feyre either.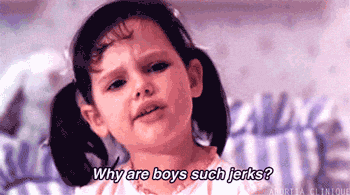 There was a huge moment when Rhys appeared where my opinions almost changed immediately. Like, I couldn't believe how immediately my thoughts about him shifted. It was like BOOM. Here I am.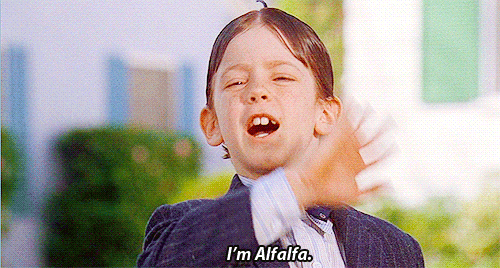 The best part about Rhys, except everything, was what he did when Feyre first got there. From the first book I think we were all expecting that he was going to be terrible and take advantage of her or something. Instead, he taught her how to read and fight. He gave her the freedom and trust she never had with Tamlin.
My shipping of them started happening almost immediately and the fucking sexual tension throughout the entire book was unreal. Every time they got close, they were pulled away. Something always stopped them. There was just so much build-up I don't even understand how it's possible to feel so asdfghjkl *fans self*  All the talk of wingspans totally killed me too, especially after seeing SJM speak the previous week at Barnes & Noble. Rhys is just fucking the best, okay? He's so complicated and is proof that nothing is ever as it seems. He has so much going on beneath his cocky persona, I just can't.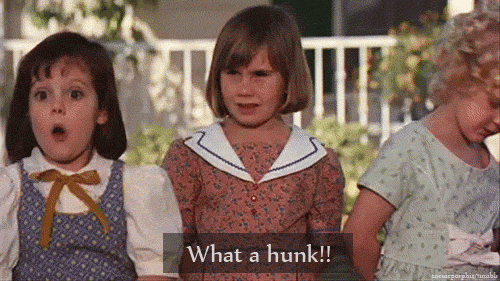 I loved learning more about his background, the Night Court, and Feyre's ~experiences~ with him in the past. Getting his side of the story was so incredibly interesting. It was a major aha! moment for the reader because you realize why he acted the way he did for so long.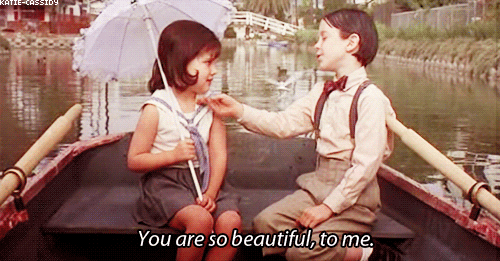 While I was in the middle of my shipping and reading the tension-filled chapters, there was a really interesting piece of information I didn't see coming that tied in with the end of ACOTAR. View Spoiler »(The fact that Rhys and Feyre are mates) « Hide Spoiler GAHHH THE FEELS.
I was constantly blown away by the world-building. When I went to the event, Maas talked about the fact that the map within the book is expanded within each one, as Feyre's worldview is shaped. The first map in ACOTAR was limited because she had no idea what was on the other side of the wall until she got there. Being with Rhys gave her a much bigger understanding of the Fae world. Amazing writing, as expected.
So how'd it end up working out once I finally finished? HOT DAMN! Some of the choices that people made were so terrible and kind of/not surprising at all. I didn't know what to expect when things started happening in the last 10% but I had a feeling it was going to shock and upset me.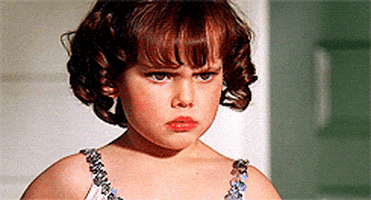 View Spoiler »
Fucking Tamlin, dude. « Hide Spoiler
 I wasn't surprised but I was totally surprised by the ending, ya know? It was one of those things I should have seen coming but I didn't because I'm terrible at seeing things coming most of the time. I was so mad and crazed and sad and ugh.
I was also left with so many badass feelings about what's to come. Much like ACOTAR, the ending was sort of a cliffhanger that left you wanting more. I can't wait to see what happens next and how those BAMFs end up taking care of the business that needs to be taken care of. Does Sarah J. Maas think we can all wait another year for the next installment in this GD series????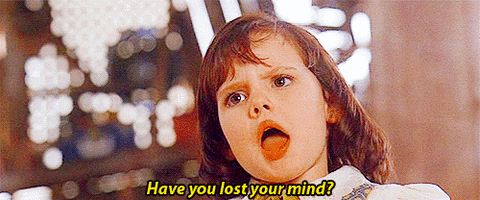 I gave ACOTAR five stars because I was totally swept away and overcome by the ending of that story. It also took me a while to get into, but not as long as ACOMAF. I wasn't fully engaged until halfway through the book and I kept picking up other shorter, fluffier reads in between. I think it's my fault for not connecting because sometimes I just didn't try hard enough. I have to reduce my rating for this one a LITTLE bit… but I know upon a reread (next year before book three), it'll shoot up.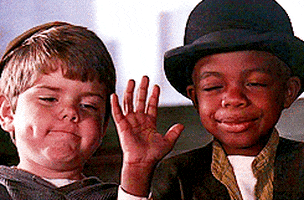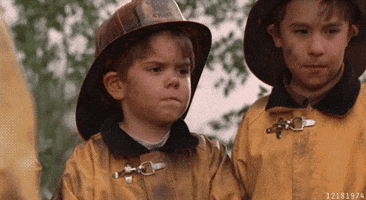 Related Posts