I received this book for free (hey, thanks!) in exchange for an honest review. I promise that this does NOT affect my opinion of the book or the content of my review. For real.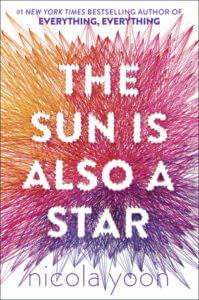 The Sun Is Also a Star
by
Nicola Yoon
on November 1st 2016
Also by this author:
Everything, Everything
,
Meet Cute: Some People Are Destined to Meet
(384 pages) •
Goodreads
•
Amazon
•
Barnes & Noble

Natasha: I'm a girl who believes in science and facts. Not fate. Not destiny. Or dreams that will never come true. I'm definitely not the kind of girl who meets a cute boy on a crowded New York City street and falls in love with him. Not when my family is twelve hours away from being deported to Jamaica. Falling in love with him won't be my story.

Daniel: I've always been the good son, the good student, living up to my parents' high expectations. Never the poet. Or the dreamer. But when I see her, I forget about all that. Something about Natasha makes me think that fate has something much more extraordinary in store—for both of us.
The Universe: Every moment in our lives has brought us to this single moment. A million futures lie before us. Which one will come true?
Initial Excitement
Any book involving fate or destiny in some capacity will immediately make it onto my TBR. Of course, any book by Nicola Yoon was also going to make it onto my TBR right away as well. I loved her debut so incredibly much and remember blazing through it in one afternoon. She became an auto-read author after just one book. So, needless to say, I had high hopes and expectations for this book… and it didn't let me down!
Summary in a Second
Natasha's family is on the verge of being deported back to Jamaica. Daniel is headed to a Yale admissions interview because his Korean parents are forcing him down that particular path. The two meet by chance (or perhaps by fate) and spend a whirlwind day together in New York City. The story has countless instances where destiny brought them together; if certain things didn't happen or happened a few minutes later, their paths never would have crossed. This is something I'm always interested in, but the concept usually is found in my favorite parallel life/universe books instead of straight contemporary stories.
Storytelling & Setting
The story alternates between Natasha, Daniel, and other people and concepts they come across. I loved reading random chapters here and there from other people involved, like the lawyer or their parents. There were even some chapters that were just about certain things, like African American hair care or scientific concepts. It all just worked together so seamlessly. I'll be so sad if Yoon's next book doesn't have something similar, because it was just like her debut but more words (no pictures or short poems usually).
I loved reading about their individual days and lives before they met each other. Honestly, I was hoping that part lasted even longer! I didn't ship them right away for some reason; I just didn't get the vibes that Daniel and (secretly) Natasha were feeling. I did like that the instalove was proven and expanded upon afterwards, so it didn't feel like love at first sight after a while. Overall though, their day together was so perfect.
About those Characters
Natasha and her family are undocumented immigrants from Jamaica who are facing deportation later that night. On her final day in NYC, she is tracking down one more lawyer who can help them stay in the country. Her whole life is based in science and facts; she doesn't believe in God or even love. She was hard for me to relate to at first because she rejected any of the fluffy stuff I love to think about in favor of science.
Daniel's parents moved from Korea to the United States before having their kids. They still abide by the strict "American Dream" philosophy for their kids. Charlie, Daniel's dickhead older brother, rejects their Korean culture and tries to assimilate more than a person should. Daniel, on the other hand, is happy to embrace the culture. He still feels like he's not Korean or American. His day is supposed to involve a meeting with a Yale alum for an admissions interview, even though he doesn't want to go there or be a doctor like his parents want him to do.
All the Feels
Like I said, I didn't feel all the feels for them as a couple right away. Their relationship definitely moved quickly but it grew on me. I love the idea of fate when it comes to love, but I prefer for there to be some build-up. The good thing is that there was plenty of love-related fleshing out to be done after they met.
I can't personally relate to coming from a family of immigrants, but so many of Daniel's family dynamics and feelings are really relevant for my boyfriend. Without getting into his personal story too much, I'll just say that the feelings about being an Asian American, conforming to what your parents want vs. what you want, and assimilation aspects really resonated with me. It's something I think about and discuss on a regular basis. Yoon really nailed it.
Again, I love all of the connections between people. This is another thing, similar to stories of fate, that I always want to read about – people whose lives and decisions are connected without them even realizing it. Some of my favorite books and movies are centered around this topic, so I knew that would hit me in my feels.
So, What's the Problem?
There's something in the back of my head that just prevents this from being a full five stars for me. It may be that the ship took longer to sail than I hoped. It may also have to do with the ending a little bit. I think some of it has to do with the pacing feeling off at times? I'm not 100% sure I can put my finger on anything specific.
About that Ending
While I think the ending was incredibly appropriate for the story, I can't help but feel some opposite emotions about it. View Spoiler »I love that they had one final fateful incident that brought them back together after all those years… but I also totally hate that they had to have all of those years in between! I wish they just got to still be together instead.I also love HOW the ending came together with the security guard from earlier in the book. I knew that was going to tie back in! « Hide Spoiler So yes, I did think the ending was RIGHT for the book but my heart felt differently about some of it. I won't say more because all the spoilery thoughts are in the tag.
TL;DR?
If you find yourself drawn to stories of fate and people's lives connecting in various ways, this book will hit the mark for you. I hope the "meant to be" instalove vibes don't turn anyone off because the payoff is way worth it. Amazing whirlwind romance between two people who sound pretty opposite. So much diversity and fully fleshed out backstories. Overall, highly highly recommend this story.
Thoughts in a Gif
Rating Breakdown
| | |
| --- | --- |
| Plot & Premise | |
| Characters | |
| Writing Style | |
| Pacing & Flow | |
| Feels or Swoons | |
| Addiction Level | |
| Overall: | 4.7 |
Related Posts