I received this book for free (hey, thanks!) in exchange for an honest review. I promise that this does NOT affect my opinion of the book or the content of my review. For real.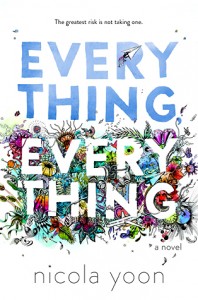 Everything, Everything
by
Nicola Yoon
on September 1st 2015
Also by this author:
The Sun Is Also a Star
,
Meet Cute: Some People Are Destined to Meet
(320 pages) •
Goodreads
•
Amazon
•
Barnes & Noble

This innovative, heartfelt debut novel tells the story of a girl who's literally allergic to the outside world. When a new family moves in next door, she begins a complicated romance that challenges everything she's ever known. The narrative unfolds via vignettes, diary entries, texts, charts, lists, illustrations, and more.

My disease is as rare as it is famous. Basically, I'm allergic to the world. I don't leave my house, have not left my house in seventeen years. The only people I ever see are my mom and my nurse, Carla.

But then one day, a moving truck arrives next door. I look out my window, and I see him. He's tall, lean and wearing all black—black T-shirt, black jeans, black sneakers, and a black knit cap that covers his hair completely. He catches me looking and stares at me. I stare right back. His name is Olly.

Maybe we can't predict the future, but we can predict some things. For example, I am certainly going to fall in love with Olly. It's almost certainly going to be a disaster.

I totally, totally loved this. Is it bad that I spent the entire time thinking about Bubble Boy though? I'm just glad the main character of this book was a little less (okay, a LOT less) weird than Bubble Boy. Otherwise, a looot of the elements were the same…

I absolutely looove books that have emails and images and IM conversations… anything that has that sort of element is going to be a-okay in my book. This was so fast and easy to read, because of the aforementioned elements and the incredibly short chapters. Love me some short chapters. Aside from all that fun stuff, the writing was kind of gorgeous.
"You can't predict the future. It turns out that you can't predict the past either. Time moves in both directions – forward and backward – and what happens here and now changes them both."
The story follows Madeline, a girl with SCID – it basically means she has to live in a bubble-type environment (her completely sterile house) so she doesn't get sick and die quickly. Her mother and her nurse are the only people who see her… until she meets the new neighbor, Olly. Sigh. So cute. The two of them start talking right away and eventually the nurse sneaks him into the house. Their relationship was adorable and heartbreaking, because you wonder if/how it'll ever work.
I loved her nurse, Carla, because she was so supportive of Madeline in everything she did. Even more so than her mother. Olly's family issues were not majorly a part of the book; it was really an internal battle within Madeline. They could have been given a little more attention. Otherwise, this book was pretty perfect for me.
"I was trying so hard to find the single pivotal moment that set my life on its path. The moment that answered the question, 'How did I get here?'
But it's never just one moment. It's a series of them. And your life can branch out from each one in a thousand different ways. Maybe there's a version of your life for all the choices you make and all the choices you don't."
Madeline had such a great attitude about everything. She was pretty okay with her life and the way she had to live until she got a little taste of the world beyond her walls. I was really impressed by her. She felt like she made some reckless decisions in the middle-end, but I fully supported everything she did and felt. I loved it. It was beautiful.
I had a big feeling about the ending, but I don't want to spoil anything. Anyone else who has read it: what did you think of the end? I feel like there could be a mixed bags of reactions for it!

| | |
| --- | --- |
| Plot & Premise | |
| Characters | |
| Writing Style | |
| Pacing & Flow | |
| Feels or Swoons | |
| Addiction Level | |
| Overall: | 4.8 |
Related Posts