Because my reviews are usually posted at least a month after I finish the book, I never really talk about what I'm currently reading or just finished reading. This Reading Recap feature will let you know the the books I just finished reading and listening to, as well as the books I'm currently reading and listening to. Past recaps here!
It's been a while since I've posted one of these! I won't bore you with all of the books I've read, but I've been kind of itching to share some of my reading stats. These posts usually just talk about alllll the books happening in my life. Because my reading challenge is looking wonderful AND I started keeping track of specifics, I want to share some statistics before the end of the year. I just can't wait, okay? September is my birthday month so I'll do whateva I want.
2015 has easily been my best reading year of all time. Before blogging, I would be lucky to read a few books a year. Now? My Goodreads challenge is 11 books ahead with a grand total of 129 books read this year, out of my goal of 175 books. Here's how it's broken down by types of read and how many books per month I've read: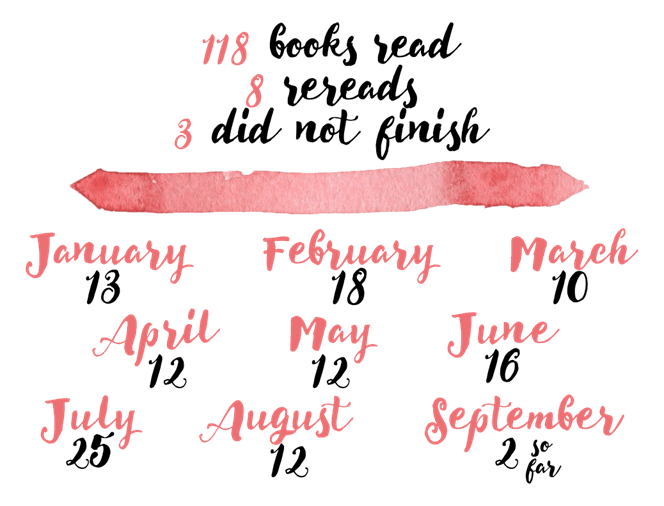 Best month: July with 25 books (holy shit) | Worst month: March with 10 books
Best month by average rating: January, 4.2 | Worst month by average rating: February & April, 3.67
Most pages read in a month: 7,641 in July | Least pages read in a month: 3,773 in April
On average, I've read 177 pages per day, 14.3 books per month, and 4,853 pages per month.
The average amount of pages per book I've read is 338.59 and overall average rating between all of the books I've read so far is 3.92 (I've always skewed higher than most people!)


22 books – 17%                      Physical ARC – 22 books – 17%


26 books – 20%                           eARC – 13 books – 10%


39 books – 30%                         Paperback – 26 books – 20%

20 books – 16%                Hardcover – 21 books – 16%


11 books – 9%                          Audio/Mix – 14 books – 11%

5 books – 4%                                eBook – 12 books – 9%


3 books – 2%                      Novella or Comic – 8 books – 6%


Adult – 9 books – 7%                                     Female – 125 books – 96%
Young Adult – 116 books – 90%                             Male – 5 books – 4%
New Adult – 6 books – 5%                                      Both – 1 book – <1%

Contemporary / Romance – 75 books – 58%           Fantasy or Paranormal – 19 books – 14%
New Adult Romance – 5 books – 4%                                    Mystery / Thriller – 15 books – 12%
Memoir Nonfiction – 1 book – <1%                    Retelling or Fairytale Retelling – 4 books – 3%
General (Uncategorizable) – 4 books – 3%                               Literary Fiction – 1 book – <1%
Science Fiction – 2 books – 2%                                     Graphic Novel/Comics – 2 books – 2%
Dystopia – 2 books – 2%                                        Women's Studies Nonfiction – 1 book – <1%


Started a series –  27 books – 21%                                Advanced copy – 35 books – 27%
Finished a series – 12 books – 9%                               Already published – 73 books – 57%
Middle book in a series – 27 books – 21%                                       Novella – 7 books – 5%
Standalone books – 65 books – 50%                                   Graphic Novel – 1 book – <1%
Of the books I've read this summer (June, July, and August), there have been quite a few really great ones. Since it's been a while since my last recap, I figured I'd share what some of my favorite books of the summer were…
Anne & Henry by Dawn Ius 

 This was a pleasant surprise for me, actually. I had seen a lot of not-so-good reviews for this one and was nervous about it. I truthfully don't know much about the whole history of Anne Boleyn and Henry Tudor, so I think I was able to be more open-minded? I'm not sure how to describe it. I really enjoyed this book nonetheless.
Most Likely to Succeed by Jennifer Echols 
 Meh. The final book in the trilogy got the same exact rating from me: 3.5 stars. Not bad but not great. Kaye didn't have a lot of common sense when it came to certain things, even though she's ridiculously smart. I don't remember much about the book to be completely honest and I just finished it a few days ago.
Broken Homes & Gardens by Rebecca Kelley

 This is a more indie book that I was presented with for a blog tour. I really ended up liking it a lot! The story was quieter and more character-driven, which was fine with me. I related to Joanna, the main character, quite a bit. I think the comparison about "When Harry Met Sally for the millennial generation" actually works, even though I haven't seen the movie… It reads like a rom-com where friends dance around the idea of becoming more.
We All Looked Up by Tommy Wallach

 My IRL book club picked this one for August and I enjoyed it a lot. The biggest issue with book club, for me, is that we kind of pick apart the book a bit more than I would. I loved this book…until we all started talking about it! Some of the characters (okay, most of them) fell flat for me, but the story itself was interesting.
Currently Reading

Upcoming TBR

Related Posts