I received this book for free (hey, thanks!) in exchange for an honest review. I promise that this does NOT affect my opinion of the book or the content of my review. For real.
What to Say Next
by
Julie Buxbaum
Genres:
Young Adult
,
Contemporary
Published by
Random House
on July 11th 2017
Also by this author:
Tell Me Three Things
,
Admission
Format:
ARC
(272 pages) •
Source:
Borrowed
Goodreads
•
Amazon
•
Barnes & Noble

Sometimes a new perspective is all that is needed to make sense of the world.

KIT: I don't know why I decide not to sit with Annie and Violet at lunch. It feels like no one here gets what I'm going through. How could they? I don't even understand.
DAVID: In the 622 days I've attended Mapleview High, Kit Lowell is the first person to sit at my lunch table. I mean, I've never once sat with someone until now. "So your dad is dead," I say to Kit, because this is a fact I've recently learned about her.

When an unlikely friendship is sparked between relatively popular Kit Lowell and socially isolated David Drucker, everyone is surprised, most of all Kit and David. Kit appreciates David's blunt honesty—in fact, she finds it bizarrely refreshing. David welcomes Kit's attention and her inquisitive nature. When she asks for his help figuring out the how and why of her dad's tragic car accident, David is all in. But neither of them can predict what they'll find. Can their friendship survive the truth?
OH MAN, I loved this book. I don't think I have a lot to say about it because I can't put the feelings into words. The setup is that Kit's father died a month ago, so she decides to sit with David at lunch to get away from her friends. The two of them end up talking and she's refreshed by his honesty and bluntness with her, since everyone else has either been tiptoeing around her feelings or acting like she should be behaving normally.
David is on the spectrum and was really interesting to read about. I work with a pediatric neuropsychologist that specializes in testing for ADD, autism, etc. so I'm fairly well-versed in those areas. I liked being able to understand where David was coming from because of that, but I also think he was a character that anyone could really connect with. Buxbaum did an amazing job explaining how he was feeling or why he said certain things.
I loveeeed the family relationships in this book. David is close with his sister Lauren, who was a cool girl in HS that no one messed with her (or him). They had a great relationship and she taught him some everyday "rules" for fitting in with everyone else. His parents were great and supportive too. On Kit's side, she pretty much just had her mom. They were close throughout the grieving process but there were moments of tension in the second half of the book as well. I just really enjoyed that all of the parents and siblings had important roles in the story.
It was a really tough road for Kit and David, as they struggle with mean classmates and bullying (a subject I'm always sad to read about) as well as her father's death. For such a short book, it was really powerful. Definitely a quick read but not an easy one! Highly, highly recommended.

I received this book for free (hey, thanks!) in exchange for an honest review. I promise that this does NOT affect my opinion of the book or the content of my review. For real.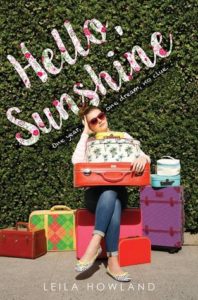 Hello, Sunshine
by
Leila Howland
Genres:
Young Adult
,
Contemporary
Published by
Disney-Hyperion
on July 11th 2017
Also by this author:
Nantucket Blue
,
Nantucket Red
Format:
ARC
(368 pages) •
Source:
Borrowed
Goodreads
•
Amazon
•
Barnes & Noble

A Prep School Girl with a Hollywood Dream

Becca Harrington is a reject. After being rebuffed by every college on her list, she needs a fresh start, so she packs up everything and moves to LA, giving herself one year to land an acting gig or kill herself trying.

Unfortunately, not everything turns out as planned, and after a few grueling months, LA is looking like the worst idea ever. As hard as she tries, Becca can't land an agent, she's running out of cash, and her mom is hounding her to apply to more schools. In an act of desperation, Becca and her friend Marisol start posting short videos online—with the help of their adorable filmmaker neighbor, Raj—and the videos catch the attention of a TV producer. Could this be it? Her big break? Or will she have to move back home with nothing but some bad head shots and a monstrous credit-card bill?

Becca may not get the Hollywood ending she was hoping for, but perhaps she'll learn there's more than one way to achieve her dream.
Readers will love every page of this funny, romantic, aspirational, and ultimately triumphant novel about a girl who just wants to make it on her own.
GUYS. I absolutely couldn't put this book down. I read over 60 pages on my lunch break to start the book and then ended up completely binging it at home after work. I LOVED IT.
In Howland's NANTUCKET series, Cricket was a strong character and driven, but definitely made her fair share of mistakes. She knew what she wanted (to get a job and work on Nantucket) and tried so hard to make it happen. This book was similar – Becca was driven to be an actress and she was on her grind in Hollywood to have her dreams come true. She worked as a waitress, made friends, got over her ex, and started a new romance. She made connections wherever she went and really never quit. Both of Howland's YA characters were real and so goal-oriented.
The Hollywood theme and setting always draws me in. Becca's independence felt a little unrealistic at first because she was fresh out of high school, road tripping across the country with her boyfriend of two years. She somewhat quickly knew how to get an apartment, furnish it, grocery shop, etc. I feel like I would have been so lost at that age! I can't believe her mom let her move away to Hollywood at 18 years old to try her hand at becoming an actress. It's not as "safe" as going away to college, that's for sure. Her mom was incredibly supportive but realistic about the whole "making it big" thing at the same time. Their relationship was awesome and wish it was even more at the forefront.
This book had major friend feels right off the bat, plus a nice slow-burn romance. Becca was getting over her ex for a good portion of the book but was unwittingly falling for someone else at the same time (who was incredibly patient). There were so many times I wanted to yell "NOO don't do that!" but it made her all the more real. She made a lot of teen mistakes that I totally understood and related to. There's a lot to say on the friend front but I don't want to spoil some of what happens late in the book. There were some classic freakouts and miscommunications, but nothing you wouldn't expect in that situation.
Overall, I really think fans of the NANTUCKET series will love this one too. Howland writes fantastic real teens with goals and drive. I loved it so much.
Related Posts