I received this book for free (hey, thanks!) in exchange for an honest review. I promise that this does NOT affect my opinion of the book or the content of my review. For real.
Super Adjacent
by
Crystal Cestari
Genres:
Young Adult
,
Contemporary
Published by
Disney-Hyperion
on March 17, 2020
Also by this author:
The Best Kind of Magic
,
The Sweetest Kind of Fate
,
The Fairest Kind of Love
Format:
eARC
(304 pages) •
Source:
Publisher
Goodreads
•
Amazon
•
Barnes & Noble
Claire has always wanted to work with superheroes, from collecting Warrior Nation cards as a kid to drafting "What to Say to a Hero" speeches in her diary. Now that she's landed a coveted internship with the Chicago branch of Warrior Nation, Claire is ready to prove she belongs, super or not. But complicating plans is the newest WarNat hero, Girl Power (aka Joy), who happens to be egotistical and self-important . . . and pretty adorable.
Bridgette, meanwhile, wants out of WarNat. After years of dating the famous Vaporizer (aka Matt), she's sick of playing second, or third, or five-hundredth fiddle to all the people-in-peril in the city of Chicago. Of course, once Bridgette meets Claire-who's clearly in need of a mentor and wingman-giving up WarNat becomes slightly more complicated. It becomes a lot more complicated when Joy, Matt, and the rest of the heroes go missing, leaving only Claire and Bridgette to save the day.
In this fresh and funny take on the world of supers, author Crystal Cestari spotlights what it's like to be the seemingly non-super half of a dynamic duo with banter-filled romance and bold rescues perfect for readers seeking a great escape.
More purchase links: Bookdepository | iTunes | Kobo | Google Books
Follow the rest of the tour HERE!
Review
I enjoyed Crystal Cestari's last book series so I was excited to see a new book coming out from her! This one is also set in Chicago and has some element of magic or paranormal. In this case, there are characters with superpowers that work for Warrior Nation; they're not in hiding or anything.
Claire has always wanted to work with them and finally lands her dream internship with the organization. A romance blooms between her and the newest recruit, Joy aka Girl Power. The other main character is Bridgette. She has spent years dating Vaporizer and playing second-fiddle to his superpowers, so she's ready to move on from being associated to the organization.
The story centers around these two girls as they have to rally together and save the city when all of the WarNat heroes go missing. This plot point really didn't begin until around the 50% mark so I personally am wondering why it was in the book synopsis? I kept waiting for it to happen in the earlier chapters. Either way, there was some nice buildup of the relationships (how Claire and Bridgette meet, how Claire and Joy spark a relationship, how Bridgette and Matt end their relationship, etc.) before the rest of the novel kicked off.
The ending genuinely surprised me! I got caught up in a red herring for sure, so I didn't see it coming. I also think – without spoiling anything – the very end of the book (where we leave the main characters) surprised me a bit as well. It felt realistic, smart, and right.
Like her Windy City series, I did think that these read a bit young for the age of the MC. I think they're incredibly wholesome and innocent, which is why her books have continued to remind me of Disney Channel shows or original movies. In other words, she's working with the right publisher!
---
About the Author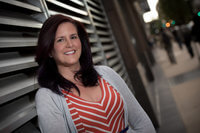 Writing has been my jam since I was very young. In fact, in fifth grade we filled out a profile declaring what we would be doing as adults. I wrote I wanted to be an author because: "I love reading and stories, and want to share that love." My elementary-school self was very wise, because that sentiment holds true today.
I live just outside Chicago with my daughter. My likes include ice cream and bulldogs, and dislikes span from broccoli to wet sneakers on linoleum (the worst). I always carry around a notebook to scribble down ideas. Writing longhand works best for me (even though it's the slowest method ever) because looking at a blank piece of paper is somehow less intimidating than a blank screen. Plus, there are so many pretty notebooks and pens to doodle with!
Website | Goodreads | Twitter | Instagram
---
Giveaway
Related Posts