Five on Friday displays the the top five things that have been on my mind this week! It could be book-related, but it may be music, movies, TV, personal life, food, etc. I'll generally be posting these biweekly and linking up with Friday Favorites (hosted by A Little Bit of Everything, Grace and Love, and Momfessionals). Previous posts can be found here!
---

The Tiger King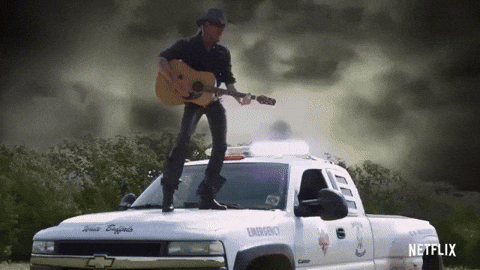 Hope you're in the mood for a TV-based FoF because man that's all I have to share, basically. Like everyone else in the world, we watched The Tiger King on Netflix. WHAT A WILD RIDE. I don't think I've ever watched anything – especially based on a true story – that has this many twists and turns and absurd characters. Everyone in the show is basically terrible and has some major issues going on, but I could not stop watching. We really enjoyed this experience, especially now that we can be hip to all the memes online about it 😉
---

Ozark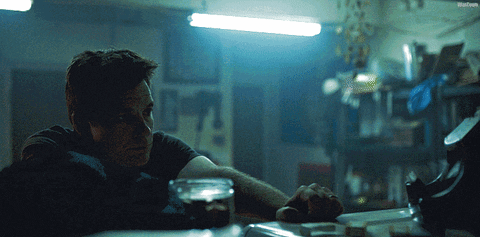 I'm a huge fan of Jason Bateman but the premise for Ozark never fully interested me. With season three coming out and seeing a lot of people excited about it, we decided to take the plunge. We finished season one within a few days so we'll probably just keep cranking through. It's sort of slow but also really interesting? Some parts of the episodes are a little boring for us but we're still enjoying it. Lots of interesting character work and again, Jason Bateman.
---

Mythic Quest: Raven's Banquet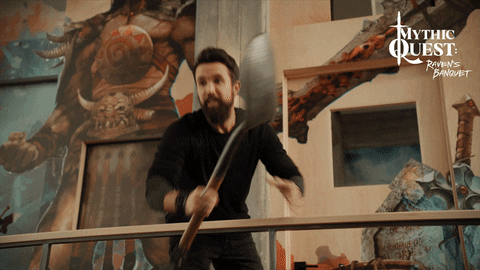 And finally, the other show we recently watched – Mythic Quest: Raven's Banquet on AppleTV. I got a free year-long subscription with my new phone so we were excited to dive into something new with Rob McElhenney. We love It's Always Sunny and all of the cast has had their own shows/projects that we've loved too. This is no exception. It's about a video game company and the interesting people who work there. Just really solid, funny, well-written television.
---

Cooking and Baking
We've been really into cooking lately, as evidenced by some other posts and looots of Instagram stories! We really stocked up on groceries and have so much food around, canned and otherwise. It's been nice to feel prepared in all of this. Anyways, we're definitely doing more baking and fun cooking together as an activity. I won't bore you with every single meal but basically our cast iron skillet has been amazing. We've made everything from buttery steaks to berry crisp. We're still watching a lot of the foodie videos on Epicurious and it keeps inspiring us to make more.
---

Currently
Currently is a monthly link-up hosted by Anne in Residence the first Wednesday of the month.
Sharing // A little too much food on my book insta! I've been debating for a while if I should actually USE my food/celebrity-following Instagram account for my food pictures lately. I'm not a food expert by any means but we've been eating well and creatively, so I like sharing. I usually put things in my bookish account's Instagram stories, but not sure if that's annoying or enjoyable…
Writing // Some good blog posts. I've been inspired lately by this whole quarantine situation to write on the blog a little bit more. Reading is finally picking up for me again but I've been doing a bit of "on demand" blogging because my life is slightly more flexible working from home. I did a Day in the WFH Life post the other day and wrote a random post about how I feel during this whole situation as well. It's nice sometimes to just write and post without all of the planning/scheduling ahead I usually do.
Wishing // For nicer weather and for the world to get better. We've been mostly blessed with decent weather so far, in the 50's, but it's rained a lot the past few days. I had grand plans to read outside, work on my patio, and go for lunch break walks as much as possible, but the rain hindered a lot of that. I put the patio table out there the other day and was able to use it for an hour before three days of rain. The obvious other part to this is that I hope things improve so people aren't dying anymore, infection rates decline more, and we can all go back to normal. Hopefully with a bit more gratefulness!
Investigating // New recipes for our skillet. I know this is repetitive but it's the only thing I can think of for this one right now. We're constantly investigating new ways to use our cast iron skillet lately. I also have been looking further into Instant Pot, Air Fryer, and Crockpot recipes, now that I'm home and able to cook differently.
Buying // Honestly, not much! I've limited my time out of the house to once a week grocery trips (or less) and I haven't been buying a lot of random stuff like I'd usually be doing in this situation. Amazon shipping speeds are slightly back to normal for some ancillary products I've been wanting to buy, but I still haven't hit purchase on things.
Related Posts