I received this book for free (hey, thanks!) in exchange for an honest review. I promise that this does NOT affect my opinion of the book or the content of my review. For real.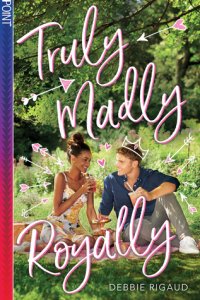 Truly Madly Royally
by
Debbie Rigaud
Genres:
Contemporary
,
Young Adult
Published by
Scholastic
on July 30, 2019
Format:
eARC
(304 pages) •
Source:
Publisher
Goodreads
•
Amazon
•
Barnes & Noble

Fiercely independent and smart, Zora Emerson wants to change the world. She's excited to be attending a prestigious summer program, even if she feels out of place among her privileged, mostly white classmates. So she's definitely not expecting to feel a connection to Owen, who's an actual prince of an island off the coast of England. But Owen is funny, charming...and undeniably cute. Zora can't ignore the chemistry between them. When Owen invites Zora to be his date at his big brother's big royal wedding, Zora is suddenly thrust into the spotlight, along with her family and friends. Everyone is talking about her, in real life and online, and while Owen is used to the scrutiny, Zora's not sure it's something she can live with. Can she maintain her sense of self while moving between two very different worlds? And can her feelings for Owen survive and thrive in the midst of the crazy? Find out in this charming romantic comedy that's like The Princess Diaries for a new generation.
More purchase links: iTunes | Book Depository | Google Books | Kobo
Review
I'm new to royal-related fiction. This is primarily because I don't love the real-life royals, compared to other people, but I HAVE turned a corner on fictional royal romance. I've loooooved a few books/series on the topic and have been opening myself up to them a lot more lately. I thought this blog tour would be the perfect way to keep my momentum and feels going.
This royal romance featured an interracial couple, which was a breath of fresh air. Zora was an extremely passionate and dedicated character, who spent all of her time thinking of ways to improve and showcase her community of Appleton, NJ. When she meets the Prince of Landerel, Owen, she can't deny their chemistry, despite all of their differences.
While Zora was fully developed and vibrant, Owen fell a bit flat for me. He wasn't anything special IMO and it was harder for me, as the reader, to feel their chemistry as a result. The plot moved very quickly and touched on a lot of events in a short amount of time. Therefore, much of the book felt rushed and underdeveloped. That includes her relationship with her father (something that was essentially dropped by the end), the budding romance between her friend and brother, and more.
It was a light and breezy read with little drama, which I certainly appreciated. The synopsis implies that the royal wedding invitation is a major part of the story but it actually doesn't occur until the VERY end of the book.
I think younger YA readers will really enjoy this one. I'm aware that I'm not the audience for it but it skewed a little bit on the younger side of YA. Like Zora witnessing some of the changes an people of color in the royal family throughout the book, I hope that other readers see themselves reflected in this story too. There are a lot of small moments that Zora experiences that will resonate for sure.
Overall, this was a sweet story that I enjoyed reading! It was compulsively readable and addicting when I kept trying to go to sleep 😉
---
About the Author
Website | Goodreads | Twitter | Instagram | Facebook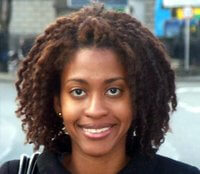 YA author Debbie M. Rigaud began her writing career covering news and entertainment for magazines. She's interviewed celebs, politicians, social figures and "real" girls. Her writing has appeared in Seventeen, CosmoGIRL!, Essence, J-14, Trace, Heart & Soul and Vibe Vixen, to name a few. Her first YA fiction writing was published in the anthology HALLWAY DIARIES (KimaniTru Press/September 2007). Her first standalone YA book–a Simon Pulse romantic comedy titled PERFECT SHOT–is due out in the Fall of 2009.
---
Tour Schedule
Follow the Fantastic Flying Book Club tour HERE!
July 24th
July 25th
July 26th
July 27th
July 28th
July 29th
July 30th
Related Posts