I received this book for free (hey, thanks!) in exchange for an honest review. I promise that this does NOT affect my opinion of the book or the content of my review. For real.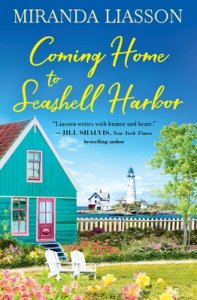 Coming Home to Seashell Harbor
by
Miranda Liasson
Series:
Seashell Harbor #1
Genres:
Adult
,
Contemporary
Published by
Hachette
on May 4th 2021
Format:
eARC
(384 pages) •
Source:
Publisher
Goodreads
•
Amazon
•
Barnes & Noble

An emotional novel about first love, second chances, and what it means to follow your heart from this award-winning author who "writes with humor and heart" (Jill Shalvis, New York Times bestselling author).

Hadley Wells swapped her dreams of saving the planet for the glamour of Hollywood. But when a very public breakup reveals cracks in her not-so-perfect life, she returns to her hometown to reassess what it is she truly wants. Unfortunately, Seashell Harbor has some trouble of its own—including the first man to ever break her heart.

A serious injury forced footballer Tony Cammareri into early retirement—now he's determined to reboot his life with a splashy new restaurant venture. He knows better than to expect a happy reunion with Hadley, but he's determined to make up for the way things ended between them. Yet when Tony and Hadley end up vying for control of the town's future, they find themselves once again on opposing sides.

As their rivalry intensifies, they must decide what's worth fighting for—and what it truly means to be happy.
I read the first book and the last book in the Angel Falls series last year around the holidays and never managed to get the second book read. I hope to get to it in the second half of this year because I actually have a review draft for the whole series that has been SITTING THERE since December of 2019.
Regardless, I was excited for a new book by Liasson – this one is set in Seashell Harbor, which appears to be on the Jersey shore. The setup for this one was extremely fun. It's a second chance romance between two high school sweethearts that return home for the summer. Cam (or Tony) made it big in the NFL as a tight end and had his career come screeching to a halt when he had too many knee injuries to play through. Hadley went out to LA to be a publicist for celebrities and endured a very public breakup when her actor boyfriend left her for a costar. I loved that this was not only a second chance at love for a high school couple, but they both went on to be pretty famous! Coming back to a small, beachside hometown is always something that will appeal to me in books too.
There was a lot of tension between the exes because Hadley's grandmother, after suffering a fall and needing to take time off from Pooch Palace (a dog boarding company), is contemplating retirement. Hadley wants to keep the business alive and stop her grandmother from retiring, while Cam is hoping to buy the building and turn it into a restaurant. The first half of the book involves some classic banter over the business and whose idea will be best for the town. Tension rises until the two can no longer deny their rekindled attraction for one another.
I really enjoyed both characters (and many others in the town – more on that in a second). It was a classic small town romance with all of my favorite tropes, so I really couldn't go wrong! Add in a bunch of dogs and tasty-sounding Italian food, and I was even happier.
One of my favorite things about beginning new companion series is figuring out who will be involved in the next books in the series. It was very clear from this one who would be featured in books two and three. Kit and Darla, Hadley's best friends who are both local to Seashell Harbor, have some inklings of romance in this book that will definitely be fun to read about! I saw my suspicions confirmed at the end of COMING HOME because it indicates who will be the MC for the Summer 2022 book. Definitely bummed I have to wait that long, but I'm sure a review copy will be available for me to hop on! I'm not sure if this will be another trilogy but I would love to see Tony's sister, Lucy, as a leading lady in a fourth book. Just an idea 😉
Overall, this is a promising start to another fun and beachy companion series. It definitely made me want to head down to Point Pleasant Beach for a weekend getaway. I'm excited to see Hadley and Tony in future books too.
Related Posts