In an effort to cut down on posts and burnout, my Review Roundups will feature 2-4 books I've read or listened to recently. Sometimes they're newer releases and sometimes they're all backlist titles. My ARC reviews usually get the solo treatment. Enjoy the mini reviews!
---
I received this book for free (hey, thanks!) in exchange for an honest review. I promise that this does NOT affect my opinion of the book or the content of my review. For real.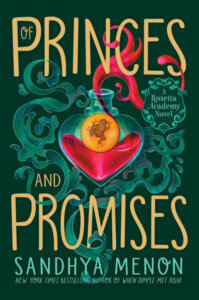 Of Princes and Promises
by
Sandhya Menon
Series:
St. Rosetta's Academy #2
Genres:
Young Adult
,
Contemporary
,
Fairytale Retelling
Published by
Simon and Schuster
on June 8, 2021
Also by this author:
When Dimple Met Rishi
,
From Twinkle, with Love
,
There's Something About Sweetie
,
Hungry Hearts: 13 Tales of Food & Love
,
Of Curses and Kisses
,
10 Things I Hate About Pinky
Format:
Audio/eARC
(320 pages) •
Source:
Publisher, Scribd
Goodreads
•
Amazon
•
Barnes & Noble
From the New York Times bestselling author of When Dimple Met Rishi comes the second installment in a brand-new series set an elite boarding school that's a contemporary spin on fairy tales, this one a delightful, romantic twist on The Frog Prince.

Caterina LaValle is determined to show she's still the queen of St. Rosetta's Academy. Sure, her crown may be slightly askew after her ex-boyfriend, Alaric, cheated on her, but she's a LaValle. She'll find a way to march right back in there, her hands clutching the strings to the whole puppet show. This time, she's going to be untouchable.

Rahul Chopra knows that moment he shared with Caterina LaValle at the winter formal meant something. Surely she feels it, too. He's a little uncertain how someone like him (socially inept to a point way past "adorkable") could fit into her world, but he's loved Caterina for years. He knows they'll find a way.

When Caterina finds out Alaric is taking a supermodel to the upcoming gala, she knows she cannot arrive without the perfect date. But the thought of taking another superficial St. R's boy exhausts her. The solution? Sweet-but-clueless Rahul Chopra and a mysterious pot of hair gel with the power to alter the wearer into whatever his heart desires.

When Rahul tries it, he transforms instantly into RC—debonair, handsome, and charming. But transformation comes with a price: As Rahul enjoys his new social standing, the line between his two personas begins to blur. Will he give up everything, including Caterina, to remain RC? Or will this unlikely pair find their way back to each other?
This series continues to baffle me a little bit. I enjoyed this book a similar amount to the first one. I was really hoping it was the characters from book one that prevented me from loving it but that turned out to not be the case here. If I were to read this without knowing Sandhya Menon wrote it, I'd be shocked to learn that she did. It just does not have the same feel as her other books, like the Dimple/Rishi universe. I think it's mostly because she writes the characters as posh boarding school kids and her writing style feels weird as a result, like she's trying hard to be fancy or something?
In any case, this story followed Catarina and Rahul. She's the pretty rich girl who rules the school and Rahul is the socially awkward kid whose family doesn't even include him in public photos (his cousin stands in). The two of them had a ~moment~ after the school dance and Rahul is dying to capitalize on this. Catarina starts to "train him" to be a prince instead of a frog; she wants to make her cheater-ex-boyfriend jealous at some important events with a transformed Rahul on her arm. They acquire a magical hair gel that transforms Rahul into RC, the suave, attractive, and confident version of himself.
Rahul starts to wish he was permanently RC, despite the fact that Catarina seems to be falling for plain ol' Rahul. There are lots of miscommunications during this part of the story relating to a few other characters coming in to mess everything up. I don't want to spoil it but the ending of this was pretty surprising. It was an interesting surprise that wrapped the book up in an unexpected way.
I think I liked this one a little more than the first just because of the ending, but my feelings about the writing style and characters were the same as book one. I really adore the concept/plot of these though: "fairytale retellings set in a boarding school" is like a dream come true for me. I'll continue to read them and hopefully find the next one even better. Maybe if the characters are less posh rich kids it will be easier to read?
All in all, I still recommend this series, but not necessarily because "if you like Sandhya Menon's books, you'll like these too." It's mostly because the concept is fun and others may not be bothered by the miscommunications and writing style that I'm not a huge fan of.

I received this book for free (hey, thanks!) in exchange for an honest review. I promise that this does NOT affect my opinion of the book or the content of my review. For real.
Reckless Girls
by
Rachel Hawkins
Genres:
Adult
,
Mystery/Thriller
Published by
Macmillan
on January 4, 2022
Also by this author:
Rebel Belle
,
Miss Mayhem
,
Lady Renegades
,
Royals
,
Her Royal Highness
,
The Wife Upstairs
,
The Villa
Format:
Audio/eARC
(320 pages) •
Source:
Publisher, Scribd
Goodreads
•
Amazon
•
Barnes & Noble
From the New York Times bestselling author of The Wife Upstairs comes a deliciously wicked gothic suspense, set on an isolated Pacific island with a dark history, for fans of Lucy Foley and Ruth Ware.

When Lux McAllister and her boyfriend, Nico, are hired to sail two women to a remote island in the South Pacific, it seems like the opportunity of a lifetime. Stuck in a dead-end job in Hawaii, and longing to travel the world after a family tragedy, Lux is eager to climb on board The Susannah and set out on an adventure. She's also quick to bond with their passengers, college best friends Brittany and Amma. The two women say they want to travel off the beaten path. But like Lux, they may have other reasons to be seeking an escape.

Shimmering on the horizon after days at sea, Meroe Island is every bit the paradise the foursome expects, despite a mysterious history of shipwrecks, cannibalism, and even rumors of murder. But what they don't expect is to discover another boat already anchored off Meroe's sandy beaches. The owners of the Azure Sky, Jake and Eliza, are a true golden couple: gorgeous, laidback, and if their sleek catamaran and well-stocked bar are any indication, rich. Now a party of six, the new friends settle in to experience life on an exotic island, and the serenity of being completely off the grid. Lux hasn't felt like she truly belonged anywhere in years, yet here on Meroe, with these fellow free spirits, she finally has a sense of peace.

But with the arrival of a skeevy stranger sailing alone in pursuit of a darker kind of good time, the balance of the group is disrupted. Soon, cracks begin to emerge: it seems that Brittany and Amma haven't been completely honest with Lux about their pasts––and perhaps not even with each other. And though Jake and Eliza seem like the perfect pair, the rocky history of their relationship begins to resurface, and their reasons for sailing to Meroe might not be as innocent as they first appeared.

When it becomes clear that the group is even more cut off from civilization than they initially thought, it starts to feel like the island itself is closing in on them. And when one person goes missing, and another turns up dead, Lux begins to wonder if any of them are going to make it off the island alive.
Rachel Hawkins is really diversifying her writing and I love it. Her YA series have all been wonderful and her adult mystery/thrillers have been really intriguing to read as well. I very quickly requested this one when I saw it announced and planned to dive in right away. I wasn't super compelled to read it in the beginning and it took me longer than I expected for a few reasons, but I ended up cranking through the final half very quickly one night.
Lux and her boyfriend Nico are approached with an offer to bring Brittany and Amma, two random girls traveling the world, to this deserted island on their boat. When they agree and arrive at the island of Meroe, they're surprised to find another boat there containing Jake and Eliza. They're a perfect couple, also out exploring the world, and the crew of them quickly form bonds and enjoy their time in the sun, away from society. This book really doesn't read like a thriller for almost its entirety, but there are some creepy elements on the island. Another random guy seeking adventure shows up and gives everyone the creeps.
Things begin to unravel – I won't spoil it but honestly the synopsis gives it away (when it probably shouldn't). There were lots of twists that I, for some reason, didn't see coming, which made it very intriguing for the final 30% of the book. However… that was also kind of an issue, as most of the action and intrigue really didn't even happen until that portion of the book. The rest was just a bunch of people drinking on an island and hooking up.
I definitely enjoyed her previous adult mystery/domestic thriller more than this one and would recommend it. This one was good enough to read and I don't regret reading it at all… but I'd caution folks to probably go in with different expectations. Maybe don't even read the synopsis haha.
Related Posts