I received this book for free (hey, thanks!) in exchange for an honest review. I promise that this does NOT affect my opinion of the book or the content of my review. For real.
Stealing Home
by
Becky Wallace
Genres:
Young Adult
,
Contemporary
Published by
Macmillan
on July 9, 2019
Format:
eARC
(320 pages) •
Source:
Publisher
Goodreads
•
Amazon
•
Barnes & Noble
Fight for your dreams, even if it means breaking a few rules.

Seventeen-year-old Ryan Russell has life perfectly planned. If she keeps up her hard work, one day she'll take over the family business: owning the Buckley Beavers, a minor league baseball team, and become one of the only female General Managers in the sport.

But when the newest member of the Beavers, child-phenom Sawyer Campbell, shows up, Ryan's carefully laid plans are thrown a major curveball. Sawyer is far more charming than the arrogant jocks she usually manages, his ambition rivals her own workaholic nature—and he's completely out of bounds. Fraternizing is against every rule in the Beaver's handbook.

Then Ryan's divorced parents butt heads over the future of the Beavers, and her mom plans to sell her shares to a business group known for relocating teams. If this happens, Ryan's dreams of becoming GM disappear. In a bid to save her future, she partners with Sawyer to use his star power to draw in sponsors who will keep the team in Buckley. But the more time she spends with him, the more impossible it becomes to play by the Beaver's rules, and she can't afford a strikeout on the path to her dreams.

Full count with two outs, Ryan's one pitch away from losing the whole ball game.
I love a good sports romance. Football is always my favorite but baseball is usually my next best bet. There's something about it that just grabs me (at least from a fictional perspective – watching baseball on TV isn't my favorite but going to games in real life is so fun!). I'm happy to say that the baseball-related elements were large and in charge here.
The main character, Ryan, was super into helping her dad run their minor league team (and wanted to take it over someday); she knew everything about the baseball business. When a top recruit heads to their team, sparks fly between the two. Ryan is a rule-follower though, especially when it comes to her beloved team, so she refuses to allow them to act on their feelings. I'll be honest: I didn't feel quite as much chemistry as I was hoping. For a super-slow-burn romance, I need to FEEL the tension dripping from the page in order for the eventual payoff to be worth it. That was very much not the case here. Sure, I was rooting for them to get together and they were good for each other, but I didn't feel that magnetic pull toward each other like I want in this kind of romance. The ending, for this element of the story, was incredibly rushed and stilted.
Aside from the romance, the other major plot point is that half of the team might get sold, and Ryan is determined to stop that from happening. This brought a frustrating mother-daughter relationship to light and I was so frustrated at her mother's behavior. Unfortunately, this storyline was rushed as well. The end result was logical and probably realistic, which was nice, but… that's about it.
I expected a slow-burn sports-filled summer romance, which was delivered to me. However, the writing and story itself was so repetitive. Her inner thoughts on the forbidden romance just repeated and repeated on each page, after every interaction. The same thing is true about the sale of the team and stopping her mom from screwing her over – very repetitive constant inner thoughts. It made the book drag and feel a bit pointless at times because if all of the duplication was removed, this would be a solid short story. Don't get me wrong, it's a harmless and quick read that I would generally recommend, but there's not a lot of depth and some parts are skim-worthy.
---
I received this book for free (hey, thanks!) in exchange for an honest review. I promise that this does NOT affect my opinion of the book or the content of my review. For real.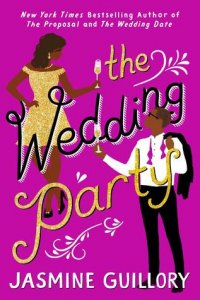 The Wedding Party
by
Jasmine Guillory
Series:
The Wedding Date #3
Genres:
Adult
,
Contemporary
Published by
Penguin
on July 16, 2019
Also by this author:
The Proposal
,
Royal Holiday
Format:
eARC
(320 pages) •
Source:
Publisher
Goodreads
•
Amazon
•
Barnes & Noble
Maddie and Theo have two things in common:

1. Alexa is their best friend

2. They hate each other

After an "Oops, we made a mistake" kiss, neither one can stop thinking about the other. With Alexa's wedding rapidly approaching, Maddie and Theo both share bridal party responsibilities that require more interaction with each other than they're comfortable with. Underneath the sharp barbs they toss at each other is a simmering attraction that won't fade. It builds until they find themselves sneaking off together to release some tension when Alexa isn't looking.

But as with any engagement with a nemesis, there are unspoken rules that must be abided by. First and foremost, don't fall in love.
I was pretty eager to read THE WEDDING PARTY after really enjoying THE PROPOSAL. As I discussed recently, I haven't read THE WEDDING DATE yet and I'm not 100% sure I will go back and read it. When I requested THE PROPOSAL, I didn't realize it was a companion or that these books were a series. (You know how I am about reading companion series in order!) I didn't feel lost or anything when reading it so I thought I'd be good to go for THE WEDDING PARTY.
I enjoyed this one quite a bit! Theo and Maddie had such perfect "opposites attract" chemistry and I loved seeing the different sides of their personalities. It was fun to notice, from the very beginning before they even spoke to each other, what they DID have in common and how their relationship might work. Theo is a bookish, "boring" in Maddie's eyes, guy working in politics, while Maddie is a fiery and fashionable stylist who runs her own business. Their first meeting in the book is when she gets dragged to Theo's birthday party and they – very unexpectedly – hook up afterwards… and a few other times over the next year or so.
I liked most of this story. They were VERY back-and-forth in their feelings, where they would realize they cared more about the other person than they were "allowed" to admit under their friends-with-benefits rules, and then tried to force the feelings back down. Because the two of them were having the exact same thoughts/feelings on everything, it got repetitive to read the same things in each person's chapters.
On the subject of time passing and the companion series easter eggs/crossover – I do, in hindsight, wish I read the first book in this series now that I've read this one. Alexa and Drew are prominently featured and their relationship struggles (?) are heavily referenced throughout. It confused me a little bit because were parts of this book happening simultaneous to the other ones? Some parts seemed to be, since there were a few time jumps in the early chapters. I just wished I read the first book and felt a little lost at times.
Overall, I enjoyed this installment a lot! The back-and-forth of the two of them recognizing (or ignoring) their feelings for each other really didn't bother me until about the 60% mark because I just felt like the black moment needed to happen sooner rather than later. I loved the ending and thought it was pretty great.
Related Posts