(These titles are too long to include in the blog post title.)
I surprised everyone on Threads when I put vampires last on my "fantasy creatures" ranking. Honestly it's because I've basically only read TWILIGHT? I can't think of many other vampire books I've actually read lol. Regardless, the hype was getting to me with this series!
I read the first book on a whim a few days after I checked it out from the library, also on a whim. I wasn't expecting to see it on the shelf! I thought it would be something I'd read on Kindle Unlimited when I did my annual "one month of KU" subscription to read a few things before cancelling. Once Jamie posted about loving it and reading it in 24 hours, I decided to just go for it. Yes, it delayed me finishing the ToG series yet again but it was worth it. I ended up also subscribing to KU so I could read it on the go, and then I figured I'd start the second book while I had the subscription. I was advised to actually read the novella (#1.5) in between the books so I went for that first, and then launched into the official second book.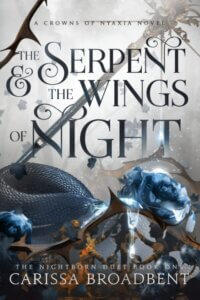 The Serpent and the Wings of Night
by
Carissa Broadbent
Series:
Crowns of Nyaxia #1
Genres:
Adult
,
Fantasy
Published by
Self-Published
on August 30, 2022
Format:
eBook
,
Paperback
(502 pages) •
Source:
Kindle Unlimited
,
Library
Goodreads
•
Amazon
•
Barnes & Noble

Human or vampire, the rules of survival are the same: never trust, never yield, and always – always – guard your heart.


The adopted human daughter of the Nightborn vampire king, Oraya carved her place in a world designed to kill her. Her only chance to become something more than prey is entering the Kejari: a legendary tournament held by the goddess of death herself.

But winning won't be easy amongst the most vicious warriors from all three vampire houses. To survive, Oraya is forced to make an alliance with a mysterious rival.

Everything about Raihn is dangerous. He is a ruthless vampire, an efficient killer, an enemy to her father's crown… and her greatest competition. Yet, what terrifies Oraya most of all is that she finds herself oddly drawn to him.

But there's no room for compassion in the Kejari. War for the House of Night brews, shattering everything that Oraya thought she knew about her home. And Raihn may understand her more than anyone – but their blossoming attraction could be her downfall, in a kingdom where nothing is more deadly than love.

The Serpent and the Wings of Night is the first book in a new series of heart-wrenching romance, dark magic, and bloodthirsty intrigue, perfect for fans of From Blood and Ash and A Court of Thorns and Roses.
I'm sorry in advance for how this review is mostly built around a comparison to FOURTH WING, but hear me out. I basically heard about these books at the same time. Both were popular romantasy series getting SO much hype out of nowhere. Obviously this one centers around vampires while FW is about dragons; they're not the same from a plot perspective. However, I found the reading experience, once I got started, to also be very similar to how I felt about FW: cheesy romance with some good moments, addicting to read, and lack of interest in the main characters. I decided to pick up both of these books on a whim to see if the hype was warranted (IMO – it's not). FW was more addicting for me but the writing and world-building were worse. SERPENT has a better writing style but I did pick it up and put it down more often than FW. I also ended up rating both books the same.
I really expected to be blown away and ended up just enjoying it. I definitely want to continue the series to see what happens from here but I'm bummed that the characters were just meh for me. This book felt unique but also familiar at the same time, which was interesting. Like I said at the top of the post, I really don't read vampire books and this was kind of fun!
I think the comparisons to ACOTAR and HUNGER GAMES that I've seen are pretty valid. Again, I would also add FOURTH WING into the mix for the reasons I listed above. Plot-wise (trials or games of survival) they're more similar to the two other books. I really enjoy books set in some kind of weird competition like that, so it was one of the main selling points to get me to read it. The ending should have set things up to be more interesting but I feel like without the Kejari competition I'm less inclined to enjoy it.
All in all, I'd generally recommend this if you like vampire books and some of the elements discussed here. It has a super high rating on Goodreads so I'm definitely in the minority!
---
Six Scorched Roses
by
Carissa Broadbent
Series:
Crowns of Nyaxia #1.5
Genres:
Adult
,
Fantasy
Published by
Self-Published
on March 21, 2023
Format:
eBook
(204 pages) •
Source:
Kindle Unlimited
Goodreads
•
Amazon
•
Barnes & Noble

Six roses. Six vials of blood. Six visits to a vampire who could be her salvation… or her damnation.

Lilith has been dying since the day she was born. But while she long ago came to terms with her own imminent death, the deaths of everyone she loves is an entirely different matter. As her town slowly withers in the clutches of a mysterious god-cursed illness, she takes matters into her own hands.

Desperate to find a cure, Lilith strikes a bargain with the only thing the gods hate even more than her village: a vampire, Vale. She offers him six roses in exchange for six vials of vampire blood–the one hope for her town's salvation.

But when what begins as a simple transaction gradually becomes something more, Lilith is faced with a terrifying realization: It's dangerous to wander into the clutches of a vampire… and in a place already suffering a god's wrath, more dangerous still to fall in love with one.

Six Scorched Roses is a standalone fantasy romance novella set in the world of the Crowns of Nyaxia series, perfect for those who love dark, romantic tales with bite and fans of Sarah J. Maas or Jennifer L. Armentrout.
I was honestly pleasantly surprised by how much I enjoyed this! This story centers around Lilith and Vale, a human scientist and vampire who are living in the "human world." One of the gods cursed Lilith's village so everyone is dying slowly by shedding their skin (it was gross lol). Her sister, Mina, will likely be among the dead soon, so Lilith is trying to find a way to cure and save her (as well as everyone else in her town). She determines that blood from the vampire has to be the key – she makes an arrangement with him where she gives him one rose each month and in turn he gives her a vial of his blood.
Novellas are always tough because you never know if you're going to get enough information and character development to feel anything about the book and characters. I feel like SIX SCORCHED ROSES did a great job of building on the previous world from book one (but showing the "full" human side) and providing wider context.
Like I mentioned in my intro, I was told by a friend to definitely read this book in between – I had been planning on waiting until after book two because it seemed unrelated, but I understand that Lilith and Vale will be upcoming characters in the second book. Having their backstory will be absolutely key in the next book, I'm sure! I loved getting to know both of them, learning more history, and preparing for them to be swept up in the vampire world next.
There were some good twists and reveals in this one, plus the usual steamy romance elements that I've now come to expect. I think this added a lot to the overall world-building, which was lacking for me (I don't think I paid enough attention in some of the chapters in the first book lol). Overall, this got me more excited to dive into the next story instead of waiting!
---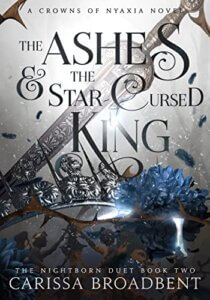 The Ashes and the Star-Cursed King
by
Carissa Broadbent
Series:
Crowns of Nyaxia #2
Genres:
Adult
,
Fantasy
Published by
Self-Published
on April 14, 2023
Format:
eBook
(624 pages) •
Source:
Kindle Unlimited
Goodreads
•
Amazon
•
Barnes & Noble

Love is a sacrifice at the altar of power.

In the wake of the Kejari, everything Oraya once thought to be true has been destroyed. A prisoner in her own kingdom, grieving the only family she ever had, and reeling from a gutting betrayal, she no longer even knows the truth of her own blood. She's left only with one certainty: she cannot trust anyone, least of all Raihn.

The House of Night, too, is surrounded by enemies. Raihn's own nobles are none too eager to accept a Turned king, especially one who was once a slave. And the House of Blood digs their claws into the kingdom, threatening to tear it apart from the inside.
When Raihn offers Oraya a secret alliance, taking the deal is her only chance at reclaiming her kingdom–and gaining her vengeance against the lover who betrayed her. But to do so, she'll need to harness a devastating ancient power, intertwined with her father's greatest secrets.

But with enemies closing in on all sides, nothing is as it seems. As she unravels her past and faces her future, Oraya finds herself forced to choose between the bloody reality of seizing power – and the devastating love that could be her downfall.
Unfortunately this one was a disappointment for me! I was excited to read it ASAP (as you saw in the novella review) because Vale and Lilith were great characters. They were kind of around in book two but I think I expected more from them. Book two alternates between Raihn and Oraya's POVs as they face new challenges after the first book ended.
I don't want to get into spoiler territory so I'll avoid a lot of the overall plot, but what I can tell you is THIS BOOK IS LONG. I know it was pretty much the same length as the first book but this FELT long. I ended up losing interest on and off throughout. I kind of felt like it was a couple of books squished together. I ended up skimming and speed reading through so much of the book, and didn't read any of the sex scenes at all.
I thought the two POVs would help move the story along and provide more insight but I never knew whose head I was in. The two of them basically had the same thoughts and personality. I would sometimes get halfway through a chapter and realize I was actually in Raihn's head instead of Oroya's.
The Kejari concept and trials kept me interested in the first book because I had different things to look forward to. With this story, it was just a basic fantasy book with a lot of war and fighting at the center. Oraya learned a lot about her parentage but a good portion of that plot happened toward the end, which again felt like the third book basically added on.
I like this world and think Broadbent is a good writer overall. I'm glad that the next books will feature a different House (location within this world) at the center, as well as new main characters. Based on the author's note, I think I'm going to like the FMC! I feel like Oraya and Raihn were just bland to me after a while so switching up the plot and main characters in upcoming books is definitely more interesting to me… especially after I really enjoyed the novella in between about different people.
Overall, I'm glad I started this series because romantic fantasy is out of my comfort zone. I definitely won't seek it out in the future but I will continue this series and hopefully will click more with the next characters.
Related Posts