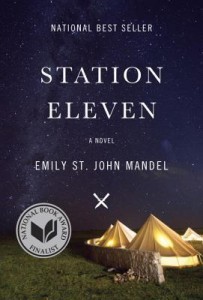 Station Eleven
by
Emily St. John Mandel
Genres:
Adult
,
Dystopia
Published by
Random House
on September 9th 2014
Format:
Hardcover
(333 pages) •
Source:
Library
Goodreads
•
Amazon
•
Barnes & Noble

An audacious, darkly glittering novel set in the eerie days of civilization's collapse, Station Eleven tells the spellbinding story of a Hollywood star, his would-be savior, and a nomadic group of actors roaming the scattered outposts of the Great Lakes region, risking everything for art and humanity.

One snowy night Arthur Leander, a famous actor, has a heart attack onstage during a production of King Lear. Jeevan Chaudhary, a paparazzo-turned-EMT, is in the audience and leaps to his aid. A child actress named Kirsten Raymonde watches in horror as Jeevan performs CPR, pumping Arthur's chest as the curtain drops, but Arthur is dead. That same night, as Jeevan walks home from the theater, a terrible flu begins to spread. Hospitals are flooded and Jeevan and his brother barricade themselves inside an apartment, watching out the window as cars clog the highways, gunshots ring out, and life disintegrates around them.

Fifteen years later, Kirsten is an actress with the Traveling Symphony. Together, this small troupe moves between the settlements of an altered world, performing Shakespeare and music for scattered communities of survivors. Written on their caravan, and tattooed on Kirsten's arm is a line from Star Trek: "Because survival is insufficient." But when they arrive in St. Deborah by the Water, they encounter a violent prophet who digs graves for anyone who dares to leave.

Spanning decades, moving back and forth in time, and vividly depicting life before and after the pandemic, this suspenseful, elegiac novel is rife with beauty. As Arthur falls in and out of love, as Jeevan watches the newscasters say their final good-byes, and as Kirsten finds herself caught in the crosshairs of the prophet, we see the strange twists of fate that connect them all. A novel of art, memory, and ambition, Station Eleventells a story about the relationships that sustain us, the ephemeral nature of fame, and the beauty of the world as we know it.

I'm very glad that I reduced my Goodreads challenge as I was reading this one, because I certainly ended up taking my time with it. It's one of those books, for me, where it takes me a lot of effort to actually pick it up and start reading. I was never really in the mood for it, but it was completely engrossing and interesting once I did pick it up. I had a similar experience with To Kill A Mockingbird, and I ended up loving that one by the time I finished. It's just one of things where the book is kind of hard compared to what you usually read so you want to take your time with it. At least that's how my experience was!
I probably won't be able to say too much on this one because it's really quite hard to explain what this book is about and how I feel about it. I was convinced I was going to be the black sheep and almost DNF'ed it a few times, but those feelings passed once I really got going. I absolutely love books where the stories are all intertwining and the characters don't really know it. In this case, the story spans over time (pre- and post-apocalypse) and covers numerous characters. The cast of characters was so interesting to me because the book was narrated from a third person omniscient point of view. You could get into anyone's head and the chapters and sections of the book alternated around a lot. It was wonderful to jump around and get a full picture of the world, always wondering which characters you'd get in the heads of next.
"I'm talking about these people who've ended up in one life instead of another and they are just so disappointed. Do you know what I mean? They've done what's expected of them. They want to do something different but it's impossible now, there's a mortgage, kids, whatever, they're trapped…"
The premise of the story is that a huge virus swept the world and took down 99% of the population. Between all of the different chapters, the characters are shown before, during, and after the outbreak. They're all seemingly connected by similar events or other characters, so you can't help but wonder how everything ties in at the end. I hate to use this word, but the book is "pointless" in a lot of ways. There's not really a grand rise of action or climax, as I would imagine there would be if the book was told in a linear way… but it's more of events collected and sorted out randomly in a connected sort of way. It's not easy to explain, but it basically mixes up everything so that you can see where people end up at certain points in the story and before/after the outbreak. I kept wondering which characters survived it and which didn't. The book is moving forward without having a real point, but there are so many quotes and interesting parts of life that the author shares.
The writing is beautiful. It's definitely a more literary book than I'm used to, especially lately, which is probably why it took me so long to get into it. It was really enthralling after a while, wondering whose perspective you'd get next and during what time.
I've been thinking lately about immortality. What it means to be remembered, what I want to be remembered for, certain questions concerning memory and fame. I love watching old movies. I watch the faces of long-dead actors on the screen, and I think about how they'll never truly die. I know that's a cliché but it happens to be true. Not just the famous ones who everyone knows, the Clark Gables, the Ava Gardners, but the bit players, the maid carrying the tray, the butler, the cowboys in the bar, the third girl from the left in the nightclub. They're all immortal to me. First we only want to be seen, but once we're seen, that's not enough anymore. After that, we want to be remembered."
The ending of the story was really good. I started to get nervous towards the end that it wouldn't have the closure I was hoping for, but it did a decent job. I wanted some kind of hope for the future of civilization and some kind of final wrap-up about how everyone was connected. I really don't want to spoil anything, so: View Spoiler »I think it was wrapped up well enough for each character, but the ending felt kind of abrupt. I guess it makes sense though because the whole book was a smattering of different events across time; I knew it wasn't going to be a big final scene at the end. I was hoping it would end with someone other than Clark. I almost wish that chapter happened before the section about Arthur. It would have made a little more sense to have Arthur's part be the ending, since it was also the beginning. « Hide Spoiler Overall, the book was a powerful look at humanity and how quickly things can change. It's about the interconnectedness of people, without us even realizing it. It's about how to move on and start over. I'm just super impressed by the amount of stuff that fit into this book and the author's style. It's definitely the kind of literature I could imagine reading in high school, but feels more accessible and is easier to understand. I'd definitely recommend this one to people looking for something a little deeper and heavier than YA.











Related Posts