In an effort to cut down on posts and burnout, my Review Roundups will feature 2-4 books I've read or listened to recently. Sometimes they're newer releases and sometimes they're all backlist titles. My ARC reviews usually get the solo treatment. Enjoy the mini reviews!
---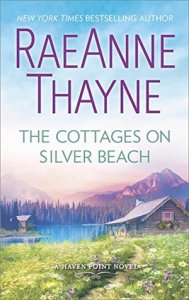 The Cottages on Silver Beach
by
RaeAnne Thayne
Series:
Haven Point #8
Genres:
Adult
,
Contemporary
Published by
Harlequin
on June 19, 2018
Also by this author:
Snow Angel Cove
,
Season of Wonder
,
Coming Home for Christmas
,
The Sea Glass Cottage
,
Summer at Lake Haven
,
Christmas at Holiday House
,
Sleigh Bells Ring
Format:
eBook
(384 pages) •
Source:
Purchased
Goodreads
•
Amazon
•
Barnes & Noble
Years after betraying her, he's back in Haven Point…and ready to learn the truth.

Megan Hamilton never really liked Elliot Bailey. He turned his back on her family when they needed him the most and it almost tore them all apart. So she's shocked when Elliot arrives at her family's inn, needing a place to stay and asking questions that dredge up the past. Megan will rent him a cottage, but that's where it ends-no matter how gorgeous Elliot has become.

Coming back home to Haven Point was the last thing bestselling writer Elliot Bailey thought he'd ever do. But the book he's writing now is his most personal one yet and it's drawn him back to the woman he can't get out of his mind. Seeing Megan again is harder than he expected and it brings up feelings he'd thought were long buried. Could this be his chance to win over his first love?
The Haven Point series is one of my favorites, set in the adorable town with the same name. My favorite thing about companion series in these small towns is that you meet up again with old characters, visit the same local spots, and really get to know everything there is to know.
The latest installment of this series follows Megan, the owner of the Inn that we actually met at the VERY beginning of book one, when it had just burned down and Eliza moved to town. The love interest is Elliot Bailey, another member of the Bailey clan that we've encountered in recent stories as well. I loved the parts of the book involving the Inn, Haven Point, and the Helping Hands… but there wasn't enough of that for me in this book. I missed the setting and characters too much because a fair amount was spent on the road and in Hope's Crossing (another companion series setting that I'm currently working through).
I generally liked Megan and Elliot but the back-and-forth and arguing annoyed me more than usual. Like many of the books in the series, the couple realizes that they love each other very quickly and then proceed to ignore it for most of the book. It was slightly frustrating and just didn't charm me as much as the others did.
I managed to read half of the book in one sitting on the airplane, which was excellent, and then read the final half in another sitting a few days later at home. I'm incredibly interested to see where the next book goes! There were a LOT of revelations at the end that set up for the next story but I can't give too much away – major spoilers for some other plot points in this book.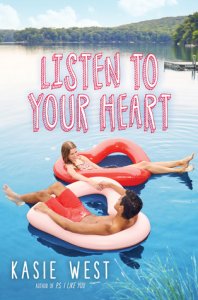 Listen to Your Heart
by
Kasie West
Genres:
Young Adult
,
Contemporary
Published by
Scholastic
on May 29th 2018
Also by this author:
The Distance Between Us
,
Pivot Point
,
On the Fence
,
Split Second
,
The Fill-In Boyfriend
,
P.S. I Like You
,
Lucky in Love
,
Snow in Love
,
Maybe This Time
Format:
Audiobook
(336 pages) •
Source:
Hoopla
Goodreads
•
Amazon
•
Barnes & Noble

Talking to other people isn't Kate Bailey's favorite activity. She'd much rather be out on the lake, soaking up the solitude and sunshine. So when her best friend, Alana, convinces Kate to join their high school's podcast, Kate is not expecting to be chosen as the host. Now she'll have to answer calls and give advice on the air? Impossible.

But to Kate's surprise, she turns out to be pretty good at the hosting gig. Then the podcast gets in a call from an anonymous guy, asking for advice about his unnamed crush. Kate is pretty sure that the caller is gorgeous Diego Martinez, and even surer that the girl in question is Alana. Kate is excited for her friend ... until Kate herself starts to develop feelings for Diego. Suddenly, Kate finds that while doling out wisdom to others may be easy, asking for help is tougher than it looks, and following your own advice is even harder.

Kasie West's adorable story of secrets, love, and friendship is sure to win over hearts everywhere.
I haven't read a Kasie West book in WAY too long and I've been hoarding too many of her books. When I saw LISTEN TO YOUR HEART (which I had gifted my sister for her birthday and she yelled at me to read ASAP) on Hoopla, I figured  it'd be a great audiobook for my flights to/from California, as well as fluffy background noise while packing to move home.
This one is about Kate, who is forced to be the host of her school's podcast and give advice to her peers. She needs some advice of her own when she starts to fall for her best friend's crush, Diego. There are some other twists and turns with characters and crushes that I appreciated it. It was a fairly predictable romance (which isn't a bad thing) but I thought some of the other elements within their friend group where nice additions to keep it interesting.
This became my sister's favorite Kasie West book and I can see why. It's not one of my favorites because I never fully connected to Kate as a character for some reason, but I did like her as a character overall? The podcast element was REALLY fun and topical.
Related Posts