I received this book for free (hey, thanks!) in exchange for an honest review. I promise that this does NOT affect my opinion of the book or the content of my review. For real.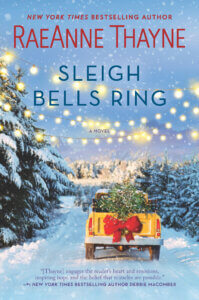 Sleigh Bells Ring
by
RaeAnne Thayne
Genres:
Adult
,
Contemporary
,
Holiday
Published by
Harlequin
on October 26, 2021
Also by this author:
Snow Angel Cove
,
The Cottages on Silver Beach
,
Season of Wonder
,
Coming Home for Christmas
,
The Sea Glass Cottage
,
Summer at Lake Haven
,
Christmas at Holiday House
Format:
eARC
(352 pages) •
Source:
Publisher
Goodreads
•
Amazon
•
Barnes & Noble

None of the Sheridan family members has visited the gorgeous Angel's View Ranch in the entire thirty months Annie McCade has been the caretaker of the property, and she has no reason to believe this holiday season will be any different. After all, why would they visit? Annie knows Wallace Sheridan, the family patriarch who hired her, loved it here but no one else in the family did. They couldn't face their dark memories of the place. Annie certainly understands their pain--when, as a child, she lived on the ranch, she saw a young and frantic Tate Sheridan come galloping out of the mountains,, looking for help for his severely injured father, who would later die from massive injuries. Since then, with the exception of Wallace, the whole remaining family couldn't get away fast enough.

And actually, Annie is grateful to have the place to herself--her ne'er-do-well brother got himself thrown in jail over the holidays, and she took temporary custody of her little niece and nephew for Christmas. Until Tate shows up and she unexpectedly hits him square in the face with a snowball! She worries that she is about to get fired, but Tate, after confronting the ghosts of his past, realizes he wants Annie to stay. His big family and their entourage are arriving the next day, and he can't manage them--and the big, echoing ranch house--without her.

So Tate has a brilliant idea. He tells her she and the kids can stay, through the holidays at least--if she agrees to pretend to be his long-lost love, to keep his busybody matchmaking grandmother off his back.

Annie is at first outraged by the suggestions and then intrigued. How hard could it be to pretend she and Tate have fallen for each other? He's gorgeous, after all--and some part of her heart had never forgotten their long-ago friendship. The trick, she realizes, will be convincing her heart during the magical holiday season that it's only make believe.
Buy Links: BookShop.org // Harlequin // Barnes & Noble // Amazon // Books-A-Million // Powell's
Review
I've been reading RaeAnne Thayne's books for years now and was excited to sign up for this tour! She always writes fun and cheery holiday stories with adorable small town settings. This book was no exception for the most part – instead of a small town with an adorable main street, this takes place on a sprawling ranch in Wyoming. It was very festive with lots of decorating and Christmas cheer, especially through the eyes of a couple of children.
SLEIGH BELLS RING centers around Annie, the caretaker of the ranch, and her brother's children. The owners of the ranch, including her childhood crush Tate, come in for Christmas and she is working as the de facto chef and host to all of them for one final Christmas before they sell it.
I was expecting to only read their two POVs but Tate's sister, Brie, ends up as a main character after the first 20% of the book or so. I immediately knew where her perspective was heading and I was intrigued to see what would happen for her. She wasn't spoken about very favorably in the beginning of the story so I was curious to see what her reasons would be, or where her head was at during the story.
I enjoyed the setting and the family feels in this one. However, I think the writing was a bit repetitive. The characters had the same thoughts over and over about feeling sorry for Annie's niece and nephew, explaining why they were there, etc. It just got to be too much at times. The same thing can be said for some of the main characters' backstories. There were a lot of tragic deaths and sad circumstances for the characters, so the holiday feels were kind of minimized in some areas.
Overall, I enjoyed this book – you'll still see me picking up the newest novel by Thayne each holiday season!
About the Author
RaeAnne Thayne is the #1 Publishers Weekly, New York Times, and USA TODAY bestselling author of more than sixty books. Her books have been described as "poignant and sweet," with "beautiful, honest storytelling that goes straight to the heart." She finds inspiration from the beautiful northern Utah mountains, where she lives with her family. // Author Website // Facebook: @AuthorRaeAnneThayne // Instagram: @raeannethayne // Twitter: @raeannethayne // Goodreads
Related Posts