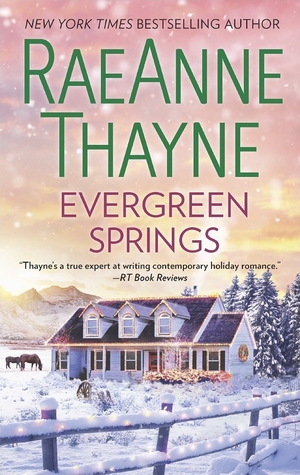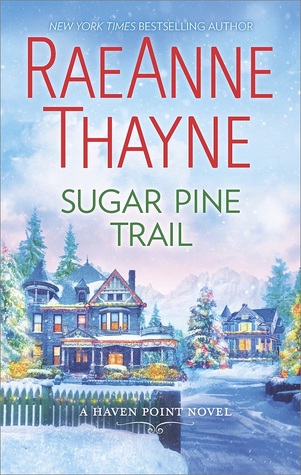 When I saw Hannah's review roundup for the Haven Point series, I knew I had to add it to my list ASAP. She talked about all of the fun reasons to give them a try and every single one appealed to me. I love books set during the holiday season or during the summertime, in a quaint little town that is charming during both times of year. (This is very obvious at this point, I think!) It was tough because I couldn't figure out how to read them all according to the season. Half of the books happen in the summer while the other half are in the winter/during Christmas. I decided to start the series in December to enjoy the Christmas feels, then feeling a little summery in between as a break. I'm going to keep my reviews short and sweet here, with a few highlights and lowlights about each book.
Snow Angel Cove

Quick summary: Eliza and her daughter, Maddie, are excited to start over in the new town of Haven Point, where she has a job at an inn. When it burns down exactly when she comes to start work, fate brings her into the home of millionaire Aidan Cane instead. At Snow Angel Cove, she works for Aidan as he prepares for his family to come for the holidays.
Seasonal feels: Winter – Christmas
Meet cute/backstory: Maddie runs into the road and nearly gets hit by Aidan's car when he hits black ice. Eliza protects her daughter and ends up getting hit.
Trope: Living together and getting attached
Highlights: The Snow Angel Cove setting was gorgeously described. I loved all of the Christmas decorations and snow-filled scenes.  Aidan was a loveable workaholic and Eliza was great to her daughter. The two of them were so fun to read about and I was dying for them to get together. This book had very minimal drama and miscommunication. His family's arrival at the end of the story was the cherry on top of everything. So cozy.
Lowlights: I read a bit more about the series on the author's website and apparently Haven Point is a place for healing. This makes a lot more sense. I was going to talk about how it seemed like every single character or family had an incredibly sad or tragic backstory, and it got to be a little bit much. However, if the whole point of the series IS for healing sick or sad people, I'm okay with this strand weaving through the books.
Rating/overall: Super cute series starter! I love this setting and can't wait to learn more about the town and the people in it. I don't have a lot of complaints but just can't list this book as a "favorite" for me. We'll see how the rest of the books shake out and if my rating goes up a little 😉
Redemption Bay

Quick summary: McKenzie (the mayor of Haven Point) and Ben have a long history together, since she was best friends with his late sister. She's hated Ben for years due to his disregard (and extreme dislike) for Haven Point, which directly led to the tiny town's economic downfall.
Seasonal feels: Summer – Fourth of July
Meet cute/backstory: Ben is back in town on assignment from Aidan. McKenzie soon learns that he is renting the house directly next door to him, which is the perfect start to a solid hate-to-love romance.
Trope: Hate-to-love
Highlights: I loved getting to explore Haven Point in the summer because it seems just as charming as the winter! There was an interesting side plot about Ben's mom that wove its way into the story (not necessarily seamlessly, but it was well-done). It was great to see (and often just hear) about Aidan, Eliza, and Maddie too.
Lowlights: This one had a littttle more drama during the "breakup" part of the romance but it was still very low on it, which I definitely appreciate. It may have something to do with these people being adults instead of teenagers and I'm just not used to it in my books!
Rating/overall: I liked this one about the same as its predecessor! I have to admit I'm slightly more partial to the wintertime in Haven Point, but I am eager to see more summer books coming up as well. McKenzie's passion for Haven Point balanced out Ben's lack of (initial) passion, which created a fun dynamic too.
Evergreen Springs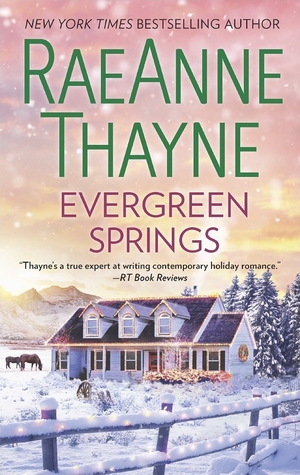 Quick summary: Doctor Devin Shaw, McKenzie's sister, meets Cole, the hermit who lives at Evergreen Springs (ranch), she's immediately drawn in to his family. He has two young kids and a pregnant sister that Devin immediately connect with. She helps him out with food and the kids as they deal with the sudden death of his ex-wife, and sparks start to fly.
Seasonal feels: Winter – Christmas
Meet cute/backstory: Tricia, Devin's friend from childhood, has a sprained ankle and is incredibly pregnant with twins when her brother Cole brings her into the hospital. Devin offers to help out around the house and with his kids in the days leading up to Christmas.
Trope: Connecting with the kids
Highlights: Man, the chemistry was great here! I loved how Devin was always so helpful and kind. Cole was the grumpy cowboy type, which is not really at all MY type, but I still loved him. The kids were so, so adorable. Ty was definitely my favorite. The Christmas decorating and overall feels were so great and it has me eager yet again for the next winter story in Haven Point.
Lowlights: This one had the most drama out of all of them, but it was still fairly mild. Cole has some expected issues with everything later in the book but they are somewhat quickly resolved. Also, some of the scenes got a little repetitive, as if it needed to be edited more?
Rating/overall: This one was also very nice and Christmassy! I think it's one of my favorites so far just because of the chemistry, cute kids, and "opposites attract" relationship. Cole was grumpy and took a long time to warm up, but he wasn't afraid to accept help (which I loved).
Riverbend Road

Quick summary: Wyn and Cade, her brother's best friend, have worked together on the police force in Haven Point for years. Suddenly both of them seem to realize they can't ignore feelings anymore and the two dance back and forth on how they could be together, while both are keeping secrets.
Seasonal feels: Summer
Meet cute/backstory: They work together and have known each other forever, but the sparks fly when Wyn risks her life on a job. Cade starts to see her differently (or at least finally allows himself to realize his feelings).
Trope: Brother's best friend; boss/employee; childhood friend
Highlights: I generally love the whole "this kid was around bugging me my whole childhood and now I love him" thing. Adding in the taboo of boss and employee made it even more interesting. Not much happens in terms of actual plot between the two of them, but there was an interesting piece about their new neighbor, Andie (the main character of the next book!).
Lowlights: I can't lie – these books are getting to be formulaic for sure. I know exactly what to expect at certain points in the main character's minds (honestly most of them have the same moments of realization where they love the other person, or the other person likes them back/wants to kiss them, etc.). The stories are starting to blend together because even though the tropes are mostly different, the actual build of the relationship and internal dialogue is the same for every book.
Rating/overall: This book continued to reinforce how much I love Haven Point and especially how they treat newcomers. I'd love to live in this town. I liked the family feels of this one, which got me even more excited for the next few books involving the Bailey siblings. I can't bring myself to go any higher OR lower in terms of rating these books, apparently.
Snowfall on Haven Point

Quick summary: Andrea is forced to look after the Sheriff, Marshall Bailey, while he is recovering from a broken leg. (She does owe his sister her life, after all!) When the two become closer and are forced to live together for a few days, they have no choice but to realize their feelings that have grown.
Seasonal feels: Winter – Christmas
Meet cute/backstory: Andie owes Wyn (from her heroism in the previous book) so she agrees to help her brother while he's injured. He is reluctant to receive help but she persists, like a good little Haven Point resident would.
Trope: Snowed in
Highlights: I have to say that the romance and story of this one was one of the cutest. I really enjoyed Andie and Marshall together, as he's apparently one big grumpy-but-sweet bear kind of guy. Her kids were super adorable and I'm somewhat surprised to admit that all of the children have been some of my favorite parts of this series.
Lowlights: The series has gotten a little more dramatic with this book and the previous. I know from the author site that Haven Point and its like are supposed to be places for healing, which is why all of the characters have sad situations happening, but it gets a little exhausting with every book. Every single character has a tragic backstory to talk about and overcome, which makes this a little less formulaic if you look at each book individually… but harder to read when you binge them all in a row like I've been doing.
Rating/overall: The Christmas feels were fairly good in this one but not as strong as some of the other winter ones. I love the boat parade scenes; they always make me want to go to a craft fair in the wintertime. I did enjoy this one overall (especially the adorable epilogue) but the formula is beginning to weigh on me. There's never a lot of drama in each relationship in the series, but there is everywhere else in their personal lives or histories.
Serenity Harbor

Quick summary: Katrina Bailey is home from Colombia for her sister's (Wyn) wedding. In the meantime, she takes a live-in nanny position with Bowie Callahan, a Caine Tech transplant, to help with his half-brother Milo. The two find themselves immediately attracted to one another, but Kat tries to resist temptation. She has plans to get back to Colombia.
Seasonal feels: Summer
Meet cute/backstory: Kat and Bowie meet at the grocery store. She helps him with Milo when he's having a meltdown and Bowie immediately offers her the job. She resists for a little bit, but eventually decides the money is worth it while she's home.
Trope: Living together and getting attached
Highlights: The Haven Point setting continues to be my favorite aspect. I loved all the cameos and having the ability to peek in on Wyn's wedding. It's awesome that the small town setting allows for allll of our past heroines to appear throughout the rest of the stories, without feeling like forced Easter eggs just for our enjoyment.
Lowlights: While Milo was a cute kid that added a lot of depth to the story, I'm not the kind of person who is here for kid-centered books. I don't mind when they're little cute side characters (like the other books in this series), but children/adoption/etc. was the focal point of the story. Again, this is a personal preference thing! Also, I think the couple had a little more drama with how they got together than some of the others.
Rating/overall: The stories are absurdly formulaic at this point, which is only emphasized because I've read them all in a row. The setting is perfect, the seasons are gorgeous, the kids are cute, the adults are great people… I don't have a lot of complaints overall!
---
Sugar Pine Trail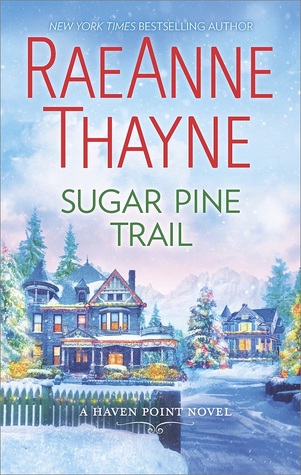 Quick summary: The quiet librarian, Julie, allows Jamie Caine (Aidan's brother) to rent the apartment in her old Victorian home throughout the holiday season, while he waits for his condo to be finished. Simultaneously, it seems, she begins caring for two boys who are without parents. Jamie is a surprisingly huge help with the boys and the two grow closer.
Seasonal feels: Thanksgiving – Christmas
Meet cute/backstory: Jamie and Julie have crossed paths at Snow Angel Cove, but now he's living in her extra apartment temporarily.
Trope: Living together and getting attached
Highlights: Jamie was known for being the player and Julie was known for being a quiet librarian. I love the "opposites attract" thing here. Bonding over helping the kids was really great, and definitely led me to hope for a specific ending to the story. The two of them jetted off to Hope's Crossing, where the other Caine siblings and father live, so now I'm even MORE excited to get that series too! Overall though, this book was really sweet and enjoyable. I loved watching their feelings grow throughout the story.
Lowlights: One quick thing is that I wish the epilogue happened a while later, instead of just a few days after the book ended. It would have been nice to see a glimpse into the future (although I'm sure we'll see more of them in the next books!).
Rating/overall: You can tell from the meet cute and trope section that a lot of the books feature this situation – one of them ends up living with the other (for whatever reason) and they grow closer during that timeframe. These remind me of some of Jenny Hale's great Christmas books, so I'm not complaining really… but it does get repetitive as you read 7 books in a row. This is probably my favorite book. I think SNOW ANGEL COVE would be my second favorite, if only because it opened me up to this town and group of characters. I just loved Julie, the boys, Jamie, and her Victorian house.
---
Up next:
The Cottages on Silver Beach (June 2018)
About Megan Hamilton (the inn owner we met in book one) and Elliot Bailey (yay for more Baileys!)
Christmas at Haven Point (September 2018)
No information yet
Related Posts