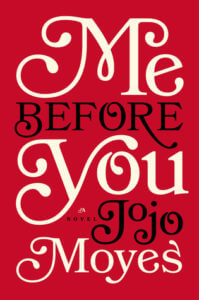 Me Before You
by
Jojo Moyes
Series:
Me Before You #1
on December 31st 2012
(369 pages) •
Goodreads
•
Amazon
•
Barnes & Noble

Lou Clark knows lots of things. She knows how many footsteps there are between the bus stop and home. She knows she likes working in The Buttered Bun tea shop and she knows she might not love her boyfriend Patrick.

What Lou doesn't know is she's about to lose her job or that knowing what's coming is what keeps her sane.

Will Traynor knows his motorcycle accident took away his desire to live. He knows everything feels very small and rather joyless now and he knows exactly how he's going to put a stop to that.

What Will doesn't know is that Lou is about to burst into his world in a riot of colour. And neither of them knows they're going to change the other for all time.
On the book

So, I'm surprised to say I had kind of mixed feelings upon finishing this book. I fully expected to bawl my eyes out. Honestly on any other day I might have, but I had an extremely emotional day for some other reasons and maybe by brain was too tired to cry more. In any case, big surprise. My Goodreads review sums up everything perfectly to get things started:
It's been an extremely emotional day for me in general and tears have come easily for other reasons… So I have to say I'm utterly baffled by the fact that this book didn't make me cry. At all. I loved the slow burn, banter-filled story because that is my JAM. I thoroughly enjoyed reading about the characters, but am kind of underwhelmed by the ending? I think that, as usual, because it's an all-time favorite of some people, I just held it to too high of a standard. I am suuuuuper ready for the movie this weekend! Soooo kinda mixed feelings although not really because I liked it a lot??
I'm going to break it down in a few different ways so fully explain my feelings. I liked the vast majority of things about this book, but there are some that left a bit to be desired for me.
Characters and romance
I LOVED both Will and Lou. Their story was amazingly slow-burn and full of banter. The whole hate (at least on one side) to love trope is my freakin life. This book did a really good job of making the romance believable and enjoyable, while not really happening for a LOOOOoooNG time. I absolutely despised Lou's family. They took advantage of her 24/7 and were so mean to her on top of it! If they were going to rely on her income, you'd think they'd stop making fun of her for two fucking seconds. It annoyed me to no end (especially her dad, and then her mom at the end). These characters all made me feel things – good and bad – so I'd say that's a big win.
Plot and pacing
I enjoyed this so much as I was reading and listening to it. Looking back, it feels like not much happened at all. This is just more emphasis on the fact that this book is super slow burn-y in lots of ways. Not a bad thing, but I do wish some things happened earlier. Watching Lou and Will get to know each other was so great and I really loved it as I was reading. (The audiobook was great too by the way!)
The ending
I'll keep all spoilers in the tag, but here are a few non-spoilery thoughts. The ending was somewhat ruined for me by Twitter and by the existence of the second book (and its title). I don't know if this affected my enjoyment or not because there are other things that did more. Now for the spoilers! View Spoiler »I saw ahead of time that the plot of the book involved assisted suicide. Judging by some tweets, I then figured out that he goes through with it and they all help him. Obviously this is a hot topic. I wasn't sure how the ending would hit me and if I would be okay with it. Frankly I still don't know how I feel. The biggest issue for me is that I expected some kind of big twist or something, because this was otherwise suuuuuper predictable. I knew it would end exactly in that way – with her helping him and him leaving her money to pursue her dreams/schooling. « Hide Spoiler Sooo yeah. Exactly what I expected at the same time as it wasn't exactly what I expected or maybe wanted? Really hard to explain. I expected an ending similar to The Fault in Our Stars in some way – spoilers for TFIOS and MBY in the tag: View Spoiler »In TFIOS, the unexpected happens: the guy dies instead of the girl when she appears to be the sicker one. I don't think I necessarily thought Lou was going to die instead of Will, but I expected SOME death-related twist… Like, Will would die of natural causes after deciding to keep living?? IDK. « Hide Spoiler

| | |
| --- | --- |
| Plot & Premise | |
| Characters | |
| Writing Style | |
| Pacing & Flow | |
| Feels or Swoons | |
| Addiction Level | |
| Overall: | 4.3 |

On the movie
True to Book: 


Casting: 

Enjoyability: 

Overall Score: 


Alyssa and I decided a few months ago, when the previews came out, that we'd read the book and then see the movie together. Because we're us, we both started reading the book the week the movie came out. It was nice to have a little buddy read before heading to the movie! And I have to say, both of enjoyed the movie MORE than the book. That never happens.
True to the Book
We talked after the movie about how a lot of the things we didn't like as much in the book were actually changed in them movie. I won't spoil much about the book, but I'll say that the movie didn't involve his sister at all (she didn't exist), even though she was barely in the book. The father also wasn't having an affair in the movie. They just took out some unnecessary details, so that was really nice. Otherwise, the story lined up exactly. It was nice to have JUST finished the book because a lot of the dialogue was fresh in my mind; they pulled right from the book for sure.
Casting
Because I read this book after the movie previews came out, I already had these actors in my head! I think they were a great fit for these characters even though I already picture them as Finnick and Khaleesi 😉 Both were absolutely great in this movie. Lou was very expressive and awkward in the book, and that definitely happened a lot in the movie. I think it was a bit much sometimes, but I enjoyed her character so much. They actually made Will more likeable in the movie too.
Enjoyability
Like I said, we ended up liking this more than the book! We were both feeling a bit meh about it after digesting the story and thinking about it more. The movie was definitely a tearjerker; I cried on and off for the last 20 minutes or so. I just feel like this was such a fantastic and nearly perfect adaptation.
Related Posts