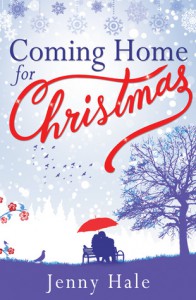 Coming Home for Christmas by Jenny Hale
Genres: Adult, Holiday, Women's Fiction
Published by Bookouture on October 4th 2013
Also by this author: A Christmas to Remember, Christmas Wishes and Mistletoe Kisses, All I Want for Christmas, We'll Always Have Christmas, It Started With Christmas, The Summer House, Christmas at Silver Falls, Christmas at Fireside Cabins, The Christmas Letters
Format: eBook (304 pages) • Source: Purchased
Goodreads • Amazon • Barnes & Noble

Christmas is a time for family - isn't it?

Allie Richfield loves Christmas, so when she lands a job as House Manager for the amazing Ashford Estate—which includes organizing the Marley family festivities—she is in her element. With a budget bigger than her life savings and a team of staff, how hard can it be?

As one-by-one she meets the Marleys, she's about to find out…

Allie's new boss, Robert, might be gorgeous, but he's also colder than the snow outside and refuses to come home for Christmas. Robert's playboy brother, Kip, flirts with her relentlessly; and his sister, Sloane, arrives home with baggage—both the divorce-kind and the Louis Vuitton kind. Their ninety-two year old grandmother, Pippa, spends her day grumbling at everybody from her mobility scooter.

With Robert intending to sell Ashford, it's the Marley's last chance to create some happy memories in their family home—and Allie is determined to make it happen… even if it takes a little Christmas magic! With the festive spirit in full swing, she might even discover a little happiness of her own…
I'm going to try a new kind of review occasionally, where I make notes as I read and use them as a quick review of the book! Here's my first go at this.
I'm seeing a lot of similarities between this book and the previous Christmas book I've read by Jenny Hale. The main characters have similar personalities, are dealing with somewhat similar situations with the love interest, the love interests have similar personalities to each other, etc. I like it though; she's really mastered this kind of story.
It's interesting reading this book AFTER A Christmas to Remember, because Allie and Robert were featured in that book and it takes place after this one. It's nice to know where they're headed actually.
There was a slight difference that just came up… I won't spoil anything too much, but be warned it could be heading into somewhat-love-triangle territory.
I actually feel like I'm reading about the same main character in some ways. In ACTR, the narrator was incredibly self-conscious and anxious, which annoyed me a lot, but she still (eventually) stuck up for herself and just told her employer exactly what she was thinking. Allie, in this book, is not really anxious or self-conscious, but goes through the same things with her employer – she calls him on his bullshit. I like it, because they're strong and just do what they want, but I can't help feeling like it's a little too similar to me.
The love triangle situation is getting a bit annoying, because it's the kind where it's so painfully obviously that someone isn't the right fit for her. You just want to shake some sense into her.
People with kids, teachers, and nannies should read Hale's books. There are so many cute activities for children in her books. Is she a teacher or something? I always love the scenes where the MC is being adorable with children.
The ending is definitely cute. I had a feeling that alllll of that stuff was going to happen, but it's that warm and fuzzy predictability that makes it all worth it.
Yeahhh I finished this one in a day…
Overall – very cute read. I think it suffered a little for me because I read the other book by Hale first and these two just seemed a little too similar in a lot of ways. Regardless, very happy. Very cute. Very Christmassy!
Related Posts