I received this book for free (hey, thanks!) in exchange for an honest review. I promise that this does NOT affect my opinion of the book or the content of my review. For real.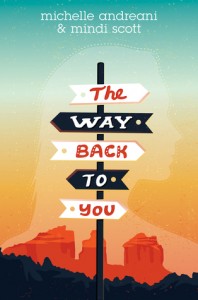 The Way Back to You
by
Michelle Andreani
,
Mindi Scott
on May 3rd 2016
(384 pages) •
Goodreads
•
Amazon
•
Barnes & Noble

In this witty, heart-tugging novel, two teens take a spontaneous road trip across the Southwest to meet three strangers who received the life-saving organs of their late best friend—charting a journey of loss, hope, and love along the way.

Six months ago, Ashlyn Montiel died in a bike accident.

Her best friend Cloudy is keeping it together, at least on the outside. Cloudy's insides are a different story: tangled, confused, heartbroken.

Kyle is falling apart, and everyone can tell. Ashlyn was his girlfriend, and when she died, a part of him went with her. Maybe the only part he cares about anymore.

As the two people who loved Ashlyn best, Cloudy and Kyle should be able to lean on each other. But after a terrible mistake last year, they're barely speaking. So when Cloudy discovers that Ashlyn's organs were donated after her death and the Montiel family has been in touch with three of the recipients, she does something a little bit crazy and a lot of out character: she steals the letters and convinces Kyle to go on a winter break road trip with her, from Oregon to California to Arizona to Nevada. Maybe if they see the recipients—the people whose lives were saved by Ashlyn's death—the world will open up again. Or maybe it will be a huge mistake.

With hundreds of miles in front of them, a stowaway kitten, and a list of people who are alive because of Ashlyn, Cloudy and Kyle just may find their way to back to her...and to each other.

So this is a really strong 4 stars for me. Sometimes I think I could round it up because I really loved it so much as I was reading it! The only issue I'm finding is that I finished the book last night and don't feel as much of an impact as I expected. The book is about some generally heavier topics so I expected for the ~feels~ to last me a few days. I know my bookish memory is not great at all, but still. I don't know what it is.
Now that that's out of the way, let's talk about the many, many things I LOVED about this book:
Characters
I loved learning about Cloudy and Kyle. I thought they had an interesting dynamic and I was really interested to see what transpired between them (that led to their current non-friendship). I wish more was fleshed out surrounding that, or at least about their relationship before Ashlyn and Kyle started dating. View Spoiler »Cloudy had a crush on Kyle because they were lab partners. One day her best friend decides she likes him and she doesn't say anything. Ashlyn and him date for like a year while Cloudy dates their other friend… all while kind of liking Kyle still. She gets drunk and kisses him once and their friendship kind of ends. This is all reasonable and not surprising, but she often MENTIONS the guilt about what she did… but I never FEEL it. And it doesn't last very long. « Hide Spoiler I guess I just wanted all that spoiler-y stuff to be beefed up more. I didn't feel some of it as much as I'd like to in that situation. Lots of telling and not showing.
Road trip
I love books involving road trips and journeys of any kind. This one had a unique reason (more on that in a second), so I was even more excited. There's just something about being on the open road with someone, going from place to place, that makes me wanderlust-y. What else is new though? I could read a book about any state and want to go there at this point. (Is it obvious my state is super boring?!) But anyways, I looooved the road trip element. The best part was that they brought a kitten with them! Ugh so cute.
Organ donors
The reason for their impromptu trip is to visit three of the seven people who received Ashlyn's organs after she died. These are individuals who responded to Ashlyn's family… and Cloudy stole their emails to try to track them down with Kyle. This topic in a synopsis interested me in the past, but that book ultimately fell flat for me. I loved the discussion of higher power (though I am not religious and usually stay far away from those books) because it makes sense. If I was in their shoes, I would wonder about the afterlife and reincarnation and organ donation. Just a lot of really cool after-death concepts to explore!
Moving on
Obviously this book is centered around grief and moving on from a young person's untimely passing. I thought this was handled really well, and it's nice that the book takes place six months later. Sometimes it can be really hard to read books with "fresh" grief, over someone who very recently passed away. This one had a great timeframe and I really felt their sadness.
Family and friends
I loved how supportive Kyle's dad and Zoe were to Kyle and Cloudy, respectively. They all understood what needed to be done and gave them space to do it. It's not that often that family members are supportive and normal, so this was refreshing. I thought it was a little weird that not as many people were mad when they found out, but oh well. I guess there are some free passes when your best friend or girlfriend passes away so suddenly! (This was a common theme throughout the book – Kyle forgiving Cloudy quickly, his father forgiving him, etc. etc. — but I still believed it? I was happy to see less drama, honestly!)
So overall, I seriously enjoyed this book. I would highly recommend it to anyone who thinks the synopsis is appealing… because it will totally live up to your expectations!

| | |
| --- | --- |
| Plot & Premise | |
| Characters | |
| Writing Style | |
| Pacing & Flow | |
| Feels or Swoons | |
| Addiction Level | |
| Overall: | 4.2 |
Related Posts