I received this book for free (hey, thanks!) in exchange for an honest review. I promise that this does NOT affect my opinion of the book or the content of my review. For real.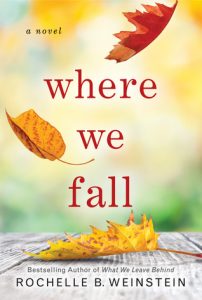 Where We Fall
by
Rochelle B. Weinstein
on April 19th 2016
(291 pages) •
Goodreads
•
Amazon
•
Barnes & Noble
By all accounts, Abby Holden has it all. She's the mother of a beautiful teenager and the wife of a beloved high school football coach. And all it took to achieve her charmed life was her greatest act of betrayal.

Coach Ryan can coax his team to victory, but he can't seem to make his wife, Abby, happy. Her struggles with depression have marred their marriage and taken a toll on their daughter, Juliana. Although this isn't the life he's dreamed of, he's determined to heal the rifts in his family.

Chasing waterfalls and documenting their beauty has led photographer Lauren Sheppard all around the world. Now it has brought her back home to the mountains of North Carolina—back to the scene of her devastating heartbreak.

For the first time in seventeen years, a trio of once-inseparable friends find themselves confronting past loves, hurts, and the rapid rush of a current that still pulls them together.…
Review
I mentioned this book back in my recent read-bait post. The synopsis called out to me because I love the stories about coming home, reuniting with old friends, and uncovering past ~secrets~ of some kind. I knew this book would need to be read immediately, so I'm happy to take part in the blog tour (they always give me a kick in the pants to read books I'm excited for, instead of getting bogged down in other things!). Honestly though, "For the first time in seventeen years, a trio of once-inseparable friends find themselves confronting past loves, hurts, and the rapid rush of a current that still pulls them together…" is so ridiculously ME; I can't even deal.
The book started off with a bang – it kept me interested right from the beginning. The main character, Abby, had hit an emotional rock bottom and was dealing with the consequences within her family. Her husband, Ryan, and daughter, Juliana, are very close; it weighs on Abby quite a bit that she can't and doesn't have the same kind of relationship as they do. There was a LOT going on within the first 50 pages of the book!
As the synopsis promises, someone from their past returns home and derails everything even further. I liked when Lauren was introduced because she provided some more background about how the three of them shifted around and lost touch. Wondering about their backstory was the driving force for me.
This is really character-driven story. Each chapter goes deep into each person and what they're thinking – their memories, fears, hopes… It was great because each character was completely fleshed out. Sometimes it felt like a little too much and it diverged from the actual plot, but I would generally rather have too much characterization than not enough. Each character had different traits that I liked, as well as plenty that I didn't. Once I learned the truth about some of the things that went down with Abby/Ryan/Lauren, I didn't feel as bad for Abby anymore. I won't spoil anything but there are just a lot of things that started to bug me. Those thoughts escalated throughout the book and it was hard to read at times. I liked reading about these characters but I didn't LIKE the characters, if that makes sense. I think my favorite character was Juliana because I felt that I could relate to her the best. Between her issues with her boyfriend and the disconnect between her and her mom at the beginning, it was easiest to get inside her head.
Overall, this was a really interesting read! I definitely recommend it if you're looking for a book that focuses on the characters, depression, families, and the past colliding with the present. It kind of reminds me of the really fun TV dramas I loved like Brothers and Sisters or Desperate Housewives (only a bit more serious!).
Follow the Author
Born and raised in Miami, Florida, Rochelle B. Weinstein followed her love of the written word across the country. She moved north to attend the University of Maryland, earning a degree in journalism, and began her career in Los Angeles at the LA Weekly. After moving back to Miami, she enjoyed a stint in the entertainment industry, marrying her love of music with all things creative. When her twins arrived, she sat down one afternoon while they were napping and began to write. The resulting novel, the highly acclaimed What We Leave Behind, explores the poignancy of love and the human condition. Her second book, The Mourning After, is a moving story of hope and resiliency.
Blog Tour Stops
Follow along with the rest of the blog tour at all of these lovely blogs below!
Giveaway
Enter the Rafflecopter below to win a copy of WHERE WE FALL, eligible for followers in the US or Canada. Your address information will be shared with TLC Blog Tours so the book can be sent out.
Related Posts