I received this book for free (hey, thanks!) in exchange for an honest review. I promise that this does NOT affect my opinion of the book or the content of my review. For real.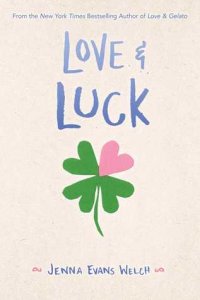 Love & Luck
by
Jenna Evans Welch
Genres:
Young Adult
,
Contemporary
Published by
Simon and Schuster
on May 8th 208
Also by this author:
Love & Gelato
,
Love & Olives
Format:
eARC
(320 pages) •
Source:
Publisher
Goodreads
•
Amazon
•
Barnes & Noble

Addie is visiting Ireland for her aunt's over-the-top destination wedding, and hoping she can stop thinking about the one horrible thing she did that left her miserable and heartbroken—and threatens her future. But her brother, Ian, isn't about to let her forget, and his constant needling leads to arguments and even a fistfight between the two once inseparable siblings. Miserable, Addie can't wait to visit her friend in Italy and leave her brother—and her problems—behind.

So when Addie discovers an unusual guidebook, Ireland for the Heartbroken, hidden in the dusty shelves of the hotel library, she's able to finally escape her anxious mind and Ian's criticism.

And then their travel plans change. Suddenly Addie finds herself on a whirlwind tour of the Emerald Isle, trapped in the world's smallest vehicle with Ian and his admitted-ly cute, Irish-accented friend Rowan. As the trio journeys over breathtaking green hills, past countless castles, and through a number of fairy-tale forests, Addie hopes her guidebook will heal not only her broken heart, but also her shattered relationship with her brother.

That is if they don't get completely lost along the way.
More purchase links: Book Depository | Kobo | IndieBound | iBooks 
I'm excited to be another stop on the blog tour for LOVE & LUCK! Any book involving international travel makes it high on my TBR because I love learning about other countries. I haven't been outside of the US yet (anywhere!!) so these books give me ideas about where I may want to take my first trip someday. This story is about Addie, a girl who travels to Ireland with her family for her aunt's destination wedding. The book opens with her and her brother falling down a hill and getting muddy while in their wedding party attire. It's definitely not a good look. For me, the most fun aspect of the story was the guidebook, Ireland for the Heartbroken, that is featured throughout. Addie finds it in the library before the trip and uses it to guide her travels around the country.
I really had a wonderful reading experience with this one. I love road trip books and I don't know if I've read one set internationally before! The family feels were super strong and the main character was a lot better than her best friend was in the previous book. There was a little bit of every emotion throughout the story and I really love the journey that they all went on. I genuinely cried AND laughed out loud. There were so many moments that could have been corny but somehow they just worked in the story felt deeper as a result. Addie's brothers were my favorite characters and they all felt so real to me. I really loved this story.
Cover Colors & Book Looks
I love the simplicity of this cover and how it matches with LOVE & GELATO so perfectly! They're the kind of covers you want to have on your shelves to feature in summer-y bookstagram photos. The little heart design in the shamrock is probably my favorite part.
With the recent shutdown of Polyvore, I had to do some intense research to find a suitable replacement for my Cover Colors feature. I loved making collages with clothing, accessories, and makeup to match the books I featured here. I decided to use ShopLook for this post and it's a passable option for those looking into an alternative. It's definitely not the same or perfect by any means, but it's a jumping off point.
I made some simple looks here, one for daytime sightseeing and one for a wedding (which is featured in this book as the reason everyone's in Ireland). No surprise here – I chose green as the main color for each look. I always think of rolling green hills when I think of Ireland because that's the cliche and I've never been there!
Daytime Sightseeing
I know I like to have some cute outfits for picture-taking whenever I travel somewhere new, so I had to go with something that was pretty comfy and adorable at the same time. I love the glitter flats so hopefully they're not the kind that hurt your feet when you walk 😉 Otherwise, simple good jewelry with a nice skirt and shirt to match.
Nighttime Wedding
My wedding look is a deeper green dress with black and gold accessories. I picked out a shawl cardigan to throw on in cause it gets cold, but it's another simple look otherwise. More gold jewelry with some fun black shoes in a unique shape.
About the Author
Jenna Evans Welch was the kind of insatiable child reader who had no choice but to grow up to become a writer. She is the New York Times Bestselling author of LOVE & GELATO and the upcoming LOVE & LUCK.
When she isn't writing girl abroad stories, Jenna can be found chasing her children or making elaborate messes in the kitchen. She lives in Salt Lake City, Utah with her husband and two young children.
Full schedule here!
Giveaway
One copy of LOVE & LUCK – US Only
Related Posts