In an effort to cut down on posts and burnout, my Review Roundups will feature 2-4 books I've read or listened to recently. Sometimes they're newer releases and sometimes they're all backlist titles. My ARC reviews usually get the solo treatment. Enjoy the mini reviews!
---
Finlay Donovan Is Killing It
by
Elle Cosimano
Series:
Finlay Donovan #1
Genres:
Adult
,
Mystery/Thriller
Published by
Macmillan
on February 2, 2021
Also by this author:
Finlay Donovan Knocks 'Em Dead
,
Finlay Donovan Jumps the Gun
Format:
Audiobook
(368 pages) •
Source:
Scribd
Goodreads
•
Amazon
•
Barnes & Noble

Finlay Donovan is killing it . . . except, she's really not. She's a stressed-out single-mom of two and struggling novelist, Finlay's life is in chaos: the new book she promised her literary agent isn't written, her ex-husband fired the nanny without telling her, and this morning she had to send her four-year-old to school with hair duct-taped to her head after an incident with scissors.

When Finlay is overheard discussing the plot of her new suspense novel with her agent over lunch, she's mistaken for a contract killer, and inadvertently accepts an offer to dispose of a problem husband in order to make ends meet . . . Soon, Finlay discovers that crime in real life is a lot more difficult than its fictional counterpart, as she becomes tangled in a real-life murder investigation.

Fast-paced, deliciously witty, and wholeheartedly authentic in depicting the frustrations and triumphs of motherhood in all its messiness, hilarity, and heartfelt moment, Finlay Donovan Is Killing It is the first in a brilliant new series from YA Edgar Award nominee Elle Cosimano.
This was so fun and refreshing – exactly what I needed! I've been intrigued by the cozy mystery genre, or at least "lighter" mysteries that focus heavily on the amateur sleuth and her personal life, but none have fully hit the mark. They've either been not-good in a compulsively readable way, or just straight-up not great in general. This one hit the mark for me in so many ways.
Finlay is a struggling romantic suspense author and she finds herself caught up in a murder mystery, along with her babysitter-turned-roommate, Vero. They have a fun relationship – I loved how quickly Vero worked with Finlay to figure out what was happening, even getting involved with some extremely elicit activities. Like many mysteries like this, the crime/murder is a main point of the book, but you learn even more about the main character and their personal life as they try to figure out what's going on. Finlay is dealing with her shitty ex-husband and his new perfect fiance while trying to be a single working mom of two cute kids. I enjoyed seeing how she attempted to balance it all and how Vero stepped in to help her… in more ways than one.
I won't spoil too much about the mystery or end of the book, but there's a TINY love triangle here (even though you can kind of tell from the start where it's headed – at least I could). I loved watching her come out of her shell, especially by the end. The romance and family elements were excellent and wove in very well with the murder mystery. I loved that she was a writer who was just on the verge of catching her break finally.
If you've been curious about this genre or the synopsis appealed to you for this one, I highly recommend reading it and seeing what you think. It definitely met my expectations and was exactly what I needed to read at the time.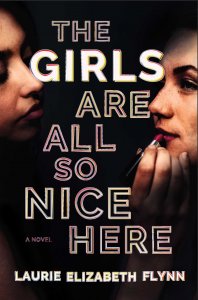 The Girls Are All So Nice Here
by
Laurie Elizabeth Flynn
Genres:
Adult
,
Mystery/Thriller
Published by
Simon and Schuster
on March 9, 2021
Also by this author:
Firsts
,
Last Girl Lied To
Format:
Audiobook
(320 pages) •
Source:
Scribd
Goodreads
•
Amazon
•
Barnes & Noble

Two former best friends return to their college reunion to find that they're being circled by someone who wants revenge for what they did ten years before—and will stop at nothing to get it—in this shocking psychological thriller about ambition, toxic friendship, and deadly desire.

A lot has changed in the years since Ambrosia Wellington graduated from college, and she's worked hard to create a new life for herself. But then an invitation to her ten-year reunion arrives in the mail, along with an anonymous note that reads "We need to talk about what we did that night."

It seems that the secrets of Ambrosia's past—and the people she thought she'd left there—aren't as buried as she'd believed. Amb can't stop fixating on what she did or who she did it with: larger-than-life Sloane "Sully" Sullivan, Amb's former best friend, who could make anyone do anything.

At the reunion, Amb and Sully receive increasingly menacing messages, and it becomes clear that they're being pursued by someone who wants more than just the truth of what happened that first semester. This person wants revenge for what they did and the damage they caused—the extent of which Amb is only now fully understanding. And it was all because of the game they played to get a boy who belonged to someone else, and the girl who paid the price.

Alternating between the reunion and Amb's freshman year, The Girls Are All So Nice Here is a shocking novel about the brutal lengths girls can go to get what they think they're owed, and what happens when the games we play in college become matters of life and death.
I've loved Flynn's writing since her YA debut and have seriously enjoyed her foray out of contemporary and into mystery/thriller novels. Others have also been YA but this is her first adult novel. She really knows how to write and keep me invested in what's happening! This was a relatively straightforward mean girl mystery but I was always curious to keep listening. Like FINLAY DONOVAN, I kept wishing that I had a copy of the book to read and finish off instead of listening during whatever pockets of time I had.
Ambrosia and her friend Sully did something bad during college, and we spend the book going back and forth in time to try to figure out exactly what happened. I felt like the present-day-Ambrosia was somewhat sympathetic and wanted to move on from whatever happened when she was a freshman at Wesleyan. The Ambrosia at college though? She was insufferable. She clearly had some issues with self-esteem and was always trying to impress Sully, which was not overly fun to read. I could see things careening out of control, which is part of the reason I felt like I knew how it all was going to end.
The ending was somewhat surprising but a lot of the things that happened on the way there were fairly predictable. There was a somewhat topical issue that was brought up in the process and reminded me of this case View Spoiler »https://en.wikipedia.org/wiki/Death_of_Conrad_Roy « Hide Spoiler, but there was a lot more to it than that.
Overall, a pretty addicting story that had me eagerly listening to the audiobook whenever I had the chance!

The Ex Talk
by
Rachel Lynn Solomon
Genres:
Adult
,
Contemporary
Published by
Penguin Random House
on January 26, 2021
Also by this author:
Today Tonight Tomorrow
,
We Can't Keep Meeting Like This
,
Weather Girl
,
See You Yesterday
Format:
eBook
(358 pages) •
Source:
Purchased
Goodreads
•
Amazon
•
Barnes & Noble

Shay Goldstein has been a producer at her Seattle public radio station for nearly a decade, and she can't imagine working anywhere else. But lately it's been a constant clash between her and her newest colleague, Dominic Yun, who's fresh off a journalism master's program and convinced he knows everything about public radio.

When the struggling station needs a new concept, Shay proposes a show that her boss green-lights with excitement. On The Ex Talk, two exes will deliver relationship advice live, on air. Their boss decides Shay and Dominic are the perfect co-hosts, given how much they already despise each other. Neither loves the idea of lying to listeners, but it's this or unemployment. Their audience gets invested fast, and it's not long before The Ex Talk becomes a must-listen in Seattle and climbs podcast charts.

As the show gets bigger, so does their deception, especially when Shay and Dominic start to fall for each other. In an industry that values truth, getting caught could mean the end of more than just their careers.
I read a YA contemporary by Rachel Lynn Solomon that became a new favorite, so you better believe I was trying to read her buzzed-about adult contemporary as well. It took forever to come in from the library and the ebook magically went on sale, so I blazed through it ASAP.
The concept of THE EX TALK is that two public radio employees end up working on a segment and corresponding podcast where they pretend to be exes, talking about relationships and interviewing experts. They have to pretend they dated for a few months and lie to their audience about it. Naturally, sparks start to fly between Shay and Dominic, and they have to figure out how they could possibly move forward. This was a super enjoyable, banter-filled, hate-to-love/enemies-to-lovers kind of workplace romance. RIGHT UP MY ALLEY. I enjoyed the interracial relationship and exploration of Dominic's Korean background too.
I was nervous up front that all of the lying-to-the-public would be a huge issue in the end and wasn't sure how much this book would work for me, but I was pleasantly surprised. Yes, things got messy and wild at the end, but I had faith my two faves would work through it!
Rachel Lynn Solomon is officially an auto-buy regardless of adult or YA or whatever she chooses to write. She writes so much swoony chemistry and fun and just perfection.
Related Posts