I mentioned in a few recent posts how I've been obsessed with the Aurora Teagarden Mystery movies on Hallmark Channel (based on the book series) and my coworker recommended the Rose Gardner Mystery books for me to read as well. I've noticed lately that I've been loving these style of books/movies without really knowing what they were called. I've HEARD the term "cozy mysteries" but never really knew what it meant… until I finally made the connection. Wikipedia says that they feature these main qualities:
sex/violence are downplayed (compared to straight up murder mysteries)
small town location – intimate communities
amateur detectives, often women who are well-educated with public-facing jobs (they know everyone in town) and have some kind of insider connection to the police
often dismissed as nosy busybodies even though they're working it and solving murders ??
murderers are regular community members with some kind of revenge/greed/jealousy as motive
What started it all
After the Christmas season wrapped up and all of my holiday Hallmark movies were binged, I missed Candace Cameron Bure. I don't remember how I exactly stumbled across the Aurora Teagarden Mysteries but I thought: why not? I was in the mood for more CCB so I went for it. I LOVED THEM. I binged the first few movies over the course of a week or so, while Chris was working overnight, and didn't stop thinking about them when I wasn't watching. There were also THREE new releases in the "series" this year (January, April, and July) that I looked forward to and watched immediately upon release. It looks like the movies are about to catch up to the amount of books in the series, so here's hoping they find a way to prolong it and make more.
Movies/series to watch
Most of the Hallmark Mystery movies are series, where the same characters repeatedly return like in a book series. (I think most of them are based on book series too?) I'm going to just feature the movie poster for the first in the series because I'm lazy and who knows if I'll even like these without CBC starring?
Murder She Baked | Based on a book series and involves baked goods – sign me up.
Garage Sale Mysteries | Lori Loughlin is ALMOST as good as CCB right?! I started watching one of these but ended up pausing it for some reason and never finished. I think she literally finds weird objects and mysteries at garage sales lol.
Emma Fielding Mysteries | An archaeologist is the main character in these – kinda fun!
Flower Shop Mysteries | Definitely didn't know Brooke Shields did Hallmark movies, but I'm down for this. She returns to her hometown to open a flower shop and obviously murders occur.
Books to read
I mentioned above that my coworker recommended the Rose Gardner Mysteries books to me and then my book club friend also said they were great. I needed something addicting after my reading took a nosedive. I wanted some quick crack books and those were supposed to fit the bill! I added many of Denise Grover Swank's books to my TBR and also looked at the cozy mystery list on Goodreads.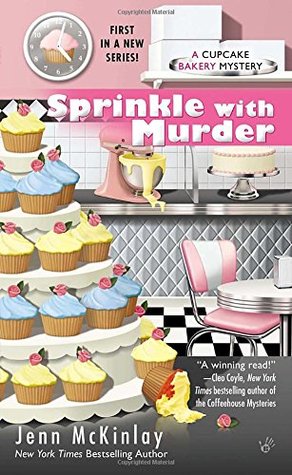 Rose Gardner Mysteries | I've already talked about these at length – you know the story! I just started the series last week and so far so good.
Cupcake Bakery Mysteries | I randomly came across this one on my local library's website. Apparently they were hosting some kind of mystery book club brunch and reading this story. I added it to my TBR but I'm not sure I'd actually attend the book club lol.
Neely Kate Mysteries | This is another DGS series I had to add – don't even know what it's about lol.
Darling Investigations | Another DGS – this time about a teenage TV sleuth turned real life one!
Heather Wells Series | I've actually had this on my TBR for a while and didn't really know that it counted as a cozy mystery. I'm not sure if it really does or not but some have it shelved that way.
Related Posts