I received this book for free (hey, thanks!) in exchange for an honest review. I promise that this does NOT affect my opinion of the book or the content of my review. For real.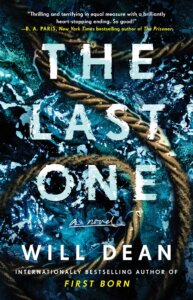 The Last One
by
Will Dean
Genres:
Adult
,
Mystery/Thriller
Published by
Atria Books
on August 8, 2023
Format:
eARC
(448 pages) •
Source:
Publisher
Goodreads
•
Amazon
•
Barnes & Noble

When Caz steps onboard the exclusive cruise liner RMS Atlantica, it's the start of a vacation of a lifetime with her new love, Pete. On their first night they explore the ship, eat, dance, make friends, but when Caz wakes the next morning, Pete is missing.

And when she walks out into the corridor, all the cabin doors are open. To her horror, she soon realizes that the ship is completely empty. No passengers, no crew, nobody but her. The Atlantica is steaming into the mid-Atlantic and Caz is the only person on board. But that's just the beginning of the terrifying journey she finds herself trapped on in this white-knuckled mystery.
If there's one thing Will Dean has, it's the audacity. What an ending!! I did not see that coming at all. (Had to get that off my chest first, now on to an incredibly vague review!)
The synopsis of THE LAST ONE intrigued me so much when I watched a the booktuber vlog her reading experience. Basically the first 10% of the book is the synopsis and a bunch of other stuff happens after that – I strongly recommend going into this book as blind as you can so I'm definitely not going to share anything else that happens lol. My main theories right off the bat were some of the classics (everyone is dead including the MC, it's all a dream, etc.) – needless to say I won't tell you if anything was right.
I couldn't put this down and finished it in one day. Once some ~things~ happen and are revealed, the book is a pretty slow-ish thriller. It's not fast-paced like many others but I still couldn't stop reading because I was dying to know what would happen next. There are some strong twists but not too many, which was really nice (no whiplash like other thriller books/writers).
It's a little slower at parts like I said and thus I think it's a LITTLE too long, but the ending was so good. I can't believe how the author chose to end this lol. There was a lot of character backstory that I think was supposed to make us like Caz more but just ended up being repetitive. The book gives you more info than you need at times, which made it unnecessarily longer.
I don't want to say anything else but if you like locked door mysteries (and, like me, never know how they're going to make a whole book centered around one person and one space), you will probably enjoy this one. The ending is definitely going to be divisive but I generally liked it because it made my jaw drop. Highly recommend this if you're looking for a unique thriller. This book was unlike anything I've ever read!
---
I received this book for free (hey, thanks!) in exchange for an honest review. I promise that this does NOT affect my opinion of the book or the content of my review. For real.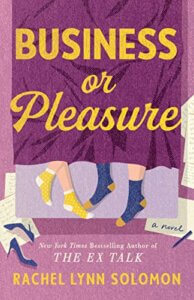 Business or Pleasure
by
Rachel Lynn Solomon
Genres:
Adult
,
Contemporary
Published by
Berkley
on July 4, 2023
Also by this author:
Today Tonight Tomorrow
,
The Ex Talk
,
We Can't Keep Meeting Like This
,
Weather Girl
,
See You Yesterday
Format:
eARC
(352 pages) •
Source:
Publisher, Publisher (ALA Midwinter)
Goodreads
•
Amazon
•
Barnes & Noble

Chandler Cohen has never felt more like the ghost in "ghostwriter" until she attends a signing for a book she wrote—and the author doesn't even recognize her. The evening turns more promising when she meets a charming man at the bar and immediately connects with him. But when all their sexual tension culminates in a spectacularly awkward hookup, she decides this is one night better off forgotten.

Unfortunately, that's easier said than done. Her next project is ghostwriting a memoir for Finn Walsh, a C-list actor best known for playing a lovable nerd on a cult classic werewolf show who now makes a living appearing at fan conventions across the country. But Chandler knows him better from their one-night stand of hilarious mishaps.

Chandler's determined to keep their partnership as professional as possible, but when she admits to Finn their night together wasn't as mind-blowing as he thought it was, he's distraught. He intrigues her enough that they strike a deal: when they're not working on his book, Chandler will school Finn in the art of satisfaction. As they grow closer both in and out of the bedroom, they must figure out which is more important, business or pleasure—or if there's a way for them to have both.
Rachel Lynn Solomon can STILL do no wrong in my eyes. All of her books are so fantastic and addicting! Like Abby Jimenez, I just can't put down her romances… I find myself staying up too late reading.
Our MC Chandler is a ghostwriter and ends up getting hired to write a memoir for an actor, Finn, from an old teen favorite werewolf show. The only problem? She hooked up with him and had a disastrous one night stand the night before they "meet" about the job. He's embarrassed as hell when he learns that he was NOT good in bed and the two come up with a plan. Chandler will teach him how to ~please a partner~ while they're out on the comic con circuit together writing his book.
I really enjoyed that this one was more sexier (and sex positive in general) than her other books. Chandler minored in gender and sexuality studies so she's just become really comfortable with all things sex. Naturally the two of them have some chemistry. I think some reviewers thought the book focused too much on their sexual chemistry and not enough on their relationship (talking, spending time together, etc.) and I totally disagree. I think Solomon did a great job of showing how well they got along and genuinely liked each other outside of the bedroom. Their attraction and banter were obvious from the start!
I think because of some of the topics in this book, it did SOMETIMES get more preachy. I obviously appreciated (and agree with!) the messages and fully understand where Chandler was coming from, but there was just a lot of commentary throughout that took me out of it sometimes. I did enjoy and appreciate the conversations about mental health and abortion though – worthwhile discussions!
There were a ton of references to Lord of the Rings and cozy mysteries, which made this such a fun book to read – the characters felt very real and fleshed out. I liked the side characters (her parents, her cousin, Finn's mom, and Finn's friends) quite a bit as well. As always, Solomon creates a relatable and engaging cast of characters. I adored this book and can't wait for her next one!
Related Posts