I received this book for free (hey, thanks!) in exchange for an honest review. I promise that this does NOT affect my opinion of the book or the content of my review. For real.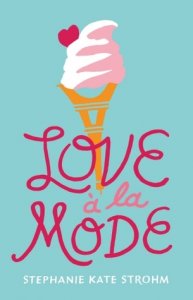 Love à la Mode
by
Stephanie Kate Strohm
Genres:
Contemporary
,
Young Adult
Published by
Disney-Hyperion
on November 27, 2018
Also by this author:
That's Not What I Heard
Format:
eARC
(304 pages) •
Source:
Publisher
Goodreads
•
Amazon
•
Barnes & Noble

Take two American teen chefs, add one heaping cup of Paris, toss in a pinch of romance, and stir. . . .

Rosie Radeke firmly believes that happiness can be found at the bottom of a mixing bowl. But she never expected that she, a random nobody from East Liberty, Ohio, would be accepted to celebrity chef Denis Laurent's school in Paris, the most prestigious cooking program for teens in the entire world. Life in Paris, however, isn't all cream puffs and crepes. Faced with a challenging curriculum and a nightmare professor, Rosie begins to doubt her dishes.

Henry Yi grew up in his dad's restaurant in Chicago, and his lifelong love affair with food landed him a coveted spot in Chef Laurent's school. He quickly connects with Rosie, but academic pressure from home and his jealousy over Rosie's growing friendship with gorgeous bad-boy baker Bodie Tal makes Henry lash out and push his dream girl away.

Desperate to prove themselves, Rosie and Henry cook like never before while sparks fly between them. But as they reach their breaking points, they wonder whether they have what it takes to become real chefs.

Perfect for lovers of Chopped Teen Tournament and Kids Baking Championship, as well as anyone who dreams of a romantic trip to France, Love la Mode follows Rosie and Henry as they fall in love with food, with Paris, and ultimately, with each other.
I've had ALL of the books by this author on my TBR foreeeever now and am excited that I finally read one! Her books all sound like adorable, fluffy contemporary romances with often unique premises. My Netgalley request for this one was approved so I finally had no excuse to keep putting her words off!
I loved Henry from the first chapter. He was instantly so adorable and goofy as he struggled to talk with Rosie for the first time. I was impressed from the beginning that Strohm was able to provide so much context into his family life and background within the first few pages of the book, without feeling like an unnatural info-dump. We learn right away that his dad is a chef with his own restaurant and his mom isn't the biggest fan of him continuing down that path. The second chapter is from Rosie's point of view, where we learned about her four brothers and love of baking. The two of them were awkward around each other (not in an unreasonable or annoying way, IMO), which added to their charm.
The school itself was amazing and the setting was incredibly vivid! I felt like I was in a French boarding school, just like with Anna and the French Kiss (but these two books are quite different otherwise). Obviously this school was even more intriguing because the kids were all aspiring chefs and OH MAN AM I HUNGRY AFTER THIS BOOK! Be prepared for that, folks. I loved that the school was international too, so there were teens from alllll backgrounds and parts of the world. The friend group was awesome.
Henry's mom annoyed me VERY much because she was forcing things onto him that didn't relate to his interests or personality; she was forcing him to be something different than who she was. I can see her wanting him to be solid academically but she didn't seem to believe in his love of cooking? She experienced firsthand what it's like to run a restaurant and simply didn't want the same thing for her son, but it was frustrating to read. She only added more pressure on him, which won't help him get better at anything. Obviously his frustration with her bled into other parts of his life, including alienating Rosie. Unfortunately THIS, mixed with Rosie's homesickness, drove a lot of the miscommunication and drama within the story. (That and the whole Bodie Tal celebrity "crush" thing.) It's odd because the romance was kind of slow burn but also not at all at the same time? It was a really interesting storyline.
Overall, this was such a sweet story, with a cute romance, adorable main characters, delicious food, and a fun French culinary boarding school setting. I loved the friend group that developed; they all felt real. The final 10% or so of the book REALLY caught me by surprise. I was enjoying it quite a bit but it wasn't until then that the feels caught right up to me and I knew this was a favorite. Highly, highly recommended – if you thought the summary sounded cute, I can't imagine you being disappointed.
Related Posts