I received this book for free (hey, thanks!) in exchange for an honest review. I promise that this does NOT affect my opinion of the book or the content of my review. For real.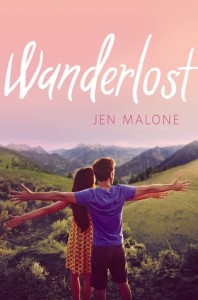 Wanderlost
by
Jen Malone
on May 31st 2016
(352 pages) •
Goodreads
•
Amazon
•
Barnes & Noble

Not all those who wander are lost, but Aubree Sadler most definitely is on this novel's whirlwind trip through Europe. A romantic and charming YA debut perfect for fans of Stephanie Perkins and Jenny Han.

Aubree can't think of a better place to be than in perfectly boring Ohio, and she's ready for a relaxing summer. But when her older sister, Elizabeth, gets into real trouble, Aubree is talked into taking over Elizabeth's summer job, leading a group of senior citizens on a bus tour through Europe.

Aubree doesn't even make it to the first stop in Amsterdam before their perfect plan unravels, leaving her with no phone, no carefully prepared binder full of helpful facts, and an unexpected guest: the tour company owner's son, Sam. Considering she's pretending to be Elizabeth, she absolutely shouldn't fall for him, but she can't help it, especially with the most romantic European cities as the backdrop for their love story.

But her relationship with Sam is threatening to ruin her relationship with her sister, and she feels like she's letting both of them down. Aubree knows this trip may show her who she really is—she just hopes she likes where she ends up.

What an adorable, swoon-filled read this was! I have loved international-travel-oriented books in the past because it usually gives me insane feelings of wanderlust. (Meant to Be and Just One Day/Year to name a few highly recommended reads!) I've actually never been out of the country and this book definitely got me thinking about it. Amsterdam sounds particularly beautiful and luckily that's at the top of Chris's travel list too! Anyways, back to the book…
I wasn't sure what to expect but I really wanted a nice fluffy contemporary involving cool places in Europe. That's exactly what I got! There were a few main elements of the story that led to some predictability (basically the big ol' lie to everyone), but the cute/swoon factor completely overpowered any qualms I had with cliches.
The story centers around Aubree, who is the reason her sister (Elizabeth) got arrested and can't take a group of senior citizens on a European tour group. She fills in for her, lies to her parents about where she is for the summer, and pretends to be her sister all around Europe. She also meets a VERY CUTE BOY who happens to be the tour company's owner's son. You can assume from this description what will end up happening, but it's the journey of the whole story that makes it great.
I loved reading about the different countries and getting to know the 6 seniors onboard. They were all fantastic and had such distinct personalities. I wish there was even more of them, if that were possible. Major feels from every single character in this book!
The biggest thing I loved – aside from the romance – was the natural character development for Aubree. She starts out as a complete mess and loses some important stuff on the airplane. Her and her sister have a weird relationship that only gets more complicated with this summer trip. All of this changes and improves so nicely throughout the story; you almost don't even see it happening. I was rooting for her every step of the way. Loved it.
Okay, so the boy. Sam was so great. I shipped them before they even met, when they had adorable phone conversations. I was really hoping there wouldn't be a lot of drama and angst surrounding Aubree-pretending-to-be-Elizabeth because I just neeeeded them to be happy. I won't spoil anything, but this book delivered on the swoons.
Overall, SO glad to have read this book. It was the perfect blend of travel, love, friendship, and family feels.

| | |
| --- | --- |
| Plot & Premise | |
| Characters | |
| Writing Style | |
| Pacing & Flow | |
| Feels or Swoons | |
| Addiction Level | |
| Overall: | 4.6 |
Related Posts