Hello friends! I'm here today for my stop on the blog tour for Chloe Snow's Diary: Confessions of a High School Disaster! I read the book in one afternoon and couldn't put it down. I loved Chloe so much; she reminded me of myself in my freshman year of high school. Below you'll see my Color Covers post for the book's cover, as well as the outfit I made for Chloe that represents various aspects of the book. I also included a small review down below, near all of the blog tour information. Hope you enjoy and want to read the book ASAP 😉
---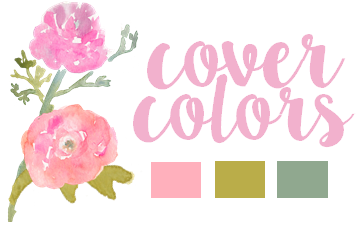 It's no secret that I'm obsessed with book covers. I love the colors, the typography, the different designs that cover artists can create. I even have a guest post feature where people share their favorite book covers and bookmarks! I decided to start up this random feature where I draw color inspiration from my favorite book covers. I may create an outfit, pick out some nail polish, or design a quote graphic.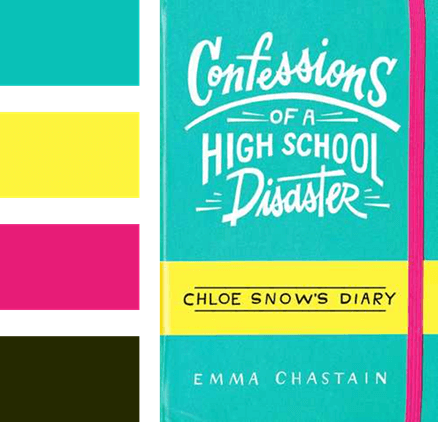 I have to say, this outfit below was probably one of the most fun to make! I put it together almost immediately after finishing the book so everything was super fresh in my mind. You'll see a lot of different details below that directly correspond to things Chloe does, sees, wears, and receives. Some examples: the copy of Sense and Sensibility from Christmas (she's a huge reader), The Sound of Music poster (she's in the high school play), and a blue diary (like the cover of the book and what I would assume her real life diary looks like). There are two things (the necklace and porcelain rabbit) that represent her strained relationship with her mom. She references Tinkerbell clothing (hence the earrings), yoga pants, her floral sneakers, and basic sweaters. The rope bracelet is a "gift" from another character that definitely represents her life at the time of the book. And finally, the glitter nail polish, because she always gets compliments on it.
---
I received this book for free (hey, thanks!) in exchange for an honest review. I promise that this does NOT affect my opinion of the book or the content of my review. For real.
Chloe Snow's Diary: Confessions of a High School Disaster
by
Emma Chastain
on March 7th 2017
Also by this author:
The Year of Living Awkwardly: Sophomore Year
,
Notes from a Former Virgin: Junior Year
(352 pages) •
Goodreads
•
Amazon
•
Barnes & Noble

In the tradition of Bridget Jones's Diary, a lovably flawed high school student chronicles her life as she navigates the highs and lows of family, friendship, school, and love in a diary that sparkles with humor and warmth.

I'm Chloe Winter, and my life is kiiiiind of a disaster.

On the plus side, I got the lead in the musical!

On the down side…

1. I'm a kissing virgin (so so so embarrassing). 2. My best friend, Hannah, is driving me insane. 3. I think I'm in love with Mac Brody, the most popular senior guy, whose girlfriend is so beautiful she doesn't even need eyeliner. 4. My dad won't stop asking me if I'm okay. 5. Oh, and my mom moved to Mexico to work on her novel. But it's fine—she'll be back soon. She said so.

Mom tells me everything is copy. So I'm writing down all the horrible things that happen to me in this diary.

This is the worst year of my life so far, unless maybe it's the best.
Quick Thoughts
This book totally grabbed me in a way I did not see coming. I wasn't a theater person in high school and barely had any extracurricular activities at all. My mom didn't leave my family to write a book in Mexico. There are a lot of things about Chloe Snow's life that were not at all like my own at 15… but there were countless other things (feelings, experiences, reactions, emotions) that were JUST like mine. I felt like I was reading my own diary.
I know that I've been reading less YA lately because it's harder to relate to the characters as a twenty-something. I don't want to read books about younger people and say "ugh this book was too young for me, what an annoying character." I know that I'm not the audience for those books and I don't want to throw my voice out there as an adult-judging-a-teen-for-being-a-teen. On the flipside, I adore the books that bring me right back into my own shoes as a teenager. This book absolutely hit the nail on the head for me.
Chloe was boy/crush-crazy, always thinking about if they liked her or how cute they were. She was constantly alternating between being annoyed with and being in love with her best friend. She made a new friend and had to balance her time with him and her time with her other BFF from childhood. She got wrapped up with the wrong guy and couldn't see reason. There were so many elements of this book that would make me think "I'm too old for this" but it was too perfectly executed to ever feel that way. I think the diary format helped a lot too. It was fun to read her quick snapshots from each day. I started the book around 3 PM and decided to finish it by the time I went to bed. It was such a quick and entertaining read.
Of course, there were the usual frustrating parts where you know better than Chloe and wish you could shake some sense into her… but this was a classic story about finding yourself, making mistakes, and learning from them. I couldn't recommend this book more – to people like my fifteen year old sister that will relate and love it, to people who are ten years older (*cough* me) who want to reminisce.
---
About Emma Chastain
Emma Chastain is a graduate of Barnard College and the creative writing MFA program at Boston University. She lives in Brooklyn with her husband and children.
LINKS: Facebook | Twitter | Goodreads | Publisher | Instagram
---
Blog Tour Schedule
Related Posts