The Unquiet
by
Mikaela Everett
on September 22nd 2015
(464 pages) •
Goodreads
•
Amazon
•
Barnes & Noble

There are two Earths, almost identical in every way—two copies of every person, every city, every stone or blade of grass—but one Earth is slowly disappearing, person by person, city by city. And they don't plan to go quietly. Lirael has been training since she was a child to be a merciless sleeper-soldier for her vanishing planet.

Her mission is to kill her duplicate on the other Earth and slip seamlessly into her life. The family never even suspects they are living with an imposter.

She is the perfect soldier.

At least, she is in the beginning.

But the wait for the final order—to rise up and take over the planet—is long. By the time it comes, will Lirael still be willing to destroy everyone who has ever loved her?
Initial Excitement
This book actually flew quite under the radar when it came out last year. I saw Jamie read it and mentioned how underrated it was, so I just added it to my TBR. My book club ended up picking it out randomly using our extremely scientific method of choosing books *cough* and it was really out of our comfort zone! (We use this infographic to choose. One of us picks one number 1-20 and that corresponds to the box/category, if we count them in order. Then, the other one of us picks another number 1-6 and that corresponds to the book within that box.) So, I was intrigued by the premise and excited to read this underrated story!
Quick Summary
In this book, there are two connected earths and each person has an "alternate" (aka identical twin kind of thing) that lives on the other earth. Because the second earth is dying, the people are training to take over the first earth. They learn everything about their alternate so they can eventually come across, kill them, and replace them on the main earth. (This is all somewhat hard to understand in the beginning but I don't think anything I said can't be inferred from the synopsis.)
Storytelling, Setting, and Feels
Sometimes getting thrown right into the action can be fun. Sometimes it can be confusing. And sometimes (okay, this time), it can be both! I liked getting off to a quick start and trying to piece things together as things happened, but I did find myself a bit confused still after 150 pages of reading. On top of that, there were just SO MANY PAGES in this book. So. Many. Pages. I wouldn't mind if I felt like I really got to know the characters, get inside their heads, and understand/believe in the cause. But it just didn't happen. You could have squished everything together and easily made this book half the length. I genuinely can't even look back on what I read and think about what happened chapter by chapter.
The writing was really nice actually. There were a few passages that I stopped myself and thought that they were very well-written. I didn't have any feels because Lirael was so closed off. I get that she was trained that way, but even when she started thinking for herself… there still wasn't much going on. I still didn't feel any connection or care for her.
Characters
Lirael was the main character and the story is centered around her experience as a sleeper/alternate(?). I don't really understand what to call her. Anyways, the book begins in her world and shows how she was trained, plus all of the weird things they have to deal with on a regular basis. She studies her alternate so she can seamlessly take over her life, while learning how to fight so she can kill her. The time eventually comes for her to cross over into the other earth, then the rest of the story happens from there. She showed essentially no emotion – at first because she wasn't allowed to, then later because she apparently didn't have her own personality. I get how that could happen, given her life up to that point, but I don't see how she couldn't possibly have something under the surface.
There were some minor characters that showed up throughout, like her grandparents, sister, aunt, and a few other sleepers. We pretty much don't know anything about them and they come in and out.
Negative Stuff
I did sort of lay it all out throughout the previous sections, but there were a lot of things that didn't click for me. The main thing is that I had no connection to the story. I didn't really care about what was happening, I couldn't click with the main character, and I didn't feel for the cause. I don't mind reading a book with a villain as a main character as long as I can see their perspective and/or it's interesting enough. This book didn't really have that.
It was way too long and I don't remember why that was necessary. Not much happened overall, so the story could have been consolidated and more interesting with less pages. I think that's my biggest issue. If there were 300 pages or something, I could get caught up in action. There were so many pages with so little purpose behind them. I didn't connect with Lirael or the story in 450 pages somehow.
Ending Feels
Hmmm. I was surprised by some of the end, but not by most of it? My gut reaction was "…okay?" when I read the ending. It felt pointless. The whole story didn't have any oomph and the ending didn't leave me thinking, "okay, I can see why I read this now! What a way to go out with a bang." I'm not even going to bother putting my thoughts in spoiler tags because I don't even know what to say.
TL;DR?
While a very cool and interesting concept, the story itself was hard to connect to. The main character had no personality because of her situation, but I was hoping it would come out eventually when she tried to break away from her old life. I didn't click with anything aside from being generally intrigued by how it would end.
Thoughts in a Gif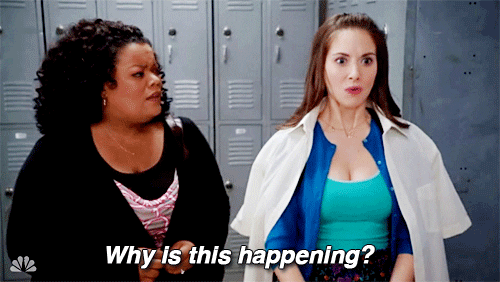 Rating Breakdown
| | |
| --- | --- |
| Plot & Premise | |
| Characters | |
| Writing Style | |
| Pacing & Flow | |
| Feels or Swoons | |
| Addiction Level | |
| Overall: | 3.2 |
Related Posts