Ten of my Favorite Comedy Movies
Top Ten Tuesdays are hosted by The Broke and the Bookish, where we make lists of our top ten books (or something else!) based on that week's prompt. The topics are provided ahead of time and can be found here. Book links bring you to Goodreads or my review.
This week's TTT is… Movie Freebie — top ten all time favorite movies, top ten foreign films, top ten rom-coms, top ten 90's movies, top ten action flicks, top ten tear-jerkers, top ten movies your favorite actor/actress is in, top ten movies with PoC leads, etc. etc.). I guess my natural inclination was to do top ten favorite movies because I haven't talked about this as much on the blog… but I got sidetracked with just comedies.
Other posts about movies I love, if you're interested:
---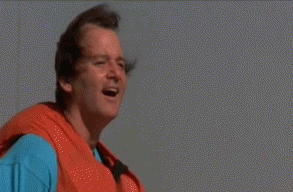 What About Bob?
I used to watch this movie nonstop when I was a kid. My parents and I would quote it ALL THE TIME (especially every time we ate corn). I watched it again a few months ago and it had been quite a few years since the previous time. I'm so glad Chris loved it because this movie is (a) hilarious and (b) incredibly important to me.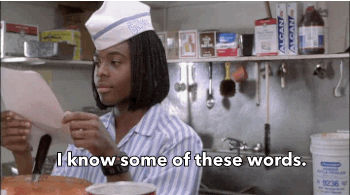 Good Burger
This movie is truly pretty terrible, but so funny and dumb-in-a-kinda-good-way. I used to watch it all the time with my mom and we'd also quote it too often. There's just something completely ridiculous about it that makes me so happy. This is also when I learned that Carmen Electra exists and I immediately had a crush on her.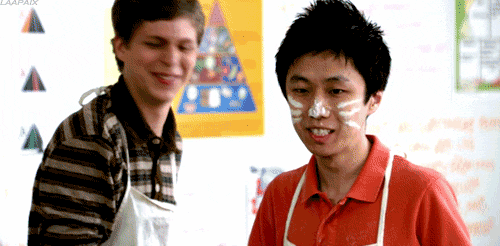 Superbad
A lot of these movies on here were very "yes we all loved that when it came out"… but they're some of my all-time favorites. This style of comedy is my F A V O R I T E and it never gets old for me. Superbad is a super classic (see what I did there?) and even just thinking about some scenes can make me laugh.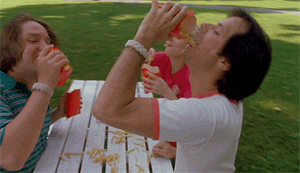 Wet Hot American Summer
I've talked about this one at length before (link at the top) but I have to emphasize it again. It reminds me of my friends and how things used to be, so that's kind of sad, but the movie itself is perfect. I love everything about it. And there are countless comedians/actors in it that you love now who are little babies in it.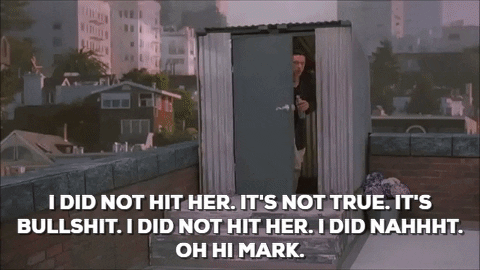 The Room
I've also talked extensively about this movie because I love it so much. It is supposed to be a drama but it's often referred to as a dark comedy. If you go into this understanding how ridiculous the dialogue/production is, it can be considered a straight-up comedy. I laugh my ass of during almost every scene.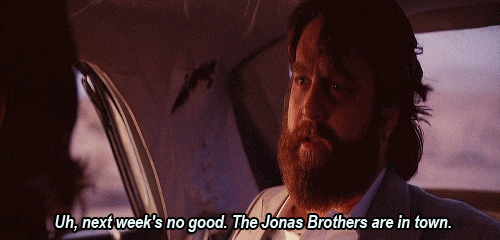 The Hangover
This movie was kind of ruined by the sequels, but I still love the original. The first movie was so classic and hilarious. I think people forgot about that when they basically made #2 and #3 the same exact plot with the same kinds of jokes. I need to go back and watch this again.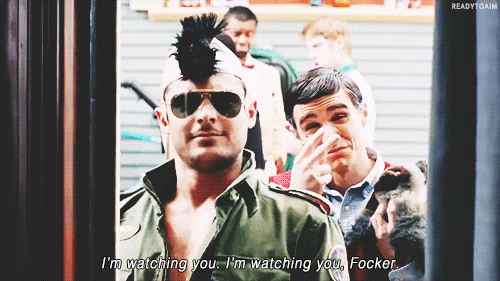 Neighbors
I honestly don't even remember if this movie was genuinely funny or not (pretty sure it was) but I LOVE Zac Efron so much. And Dave Franco. The whole thing was ridiculous but incredibly enjoyable. Probably not a cinematic masterpiece though, so be warned if you decide to watch.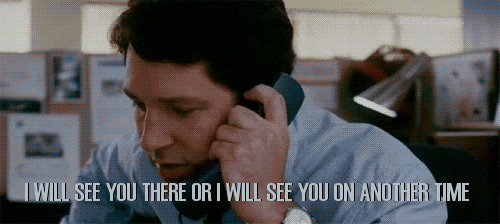 I Love You Man
I wanted to do a broad "Judd Apatow" category and just include some of my favorites of his, but I had to break a few out. Just know that his kind of comedy is some of my favorite. I Love You Man is no exception. SO many classic lines in this movie, like the gif above.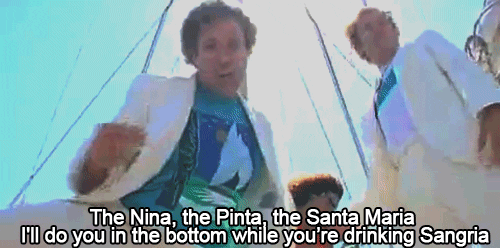 Stepbrothers
Another perfect one. I think most people can agree about how hilarious it is. I loved the whole premise and the ridiculousness of everything that happens between these new stepbrothers. Chris and I always reference the scene in the car when Adam Scott's character and his family are singing Sweet Child of Mine because it's perfect.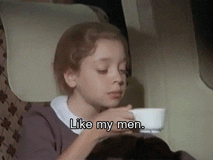 Airplane!
And finally – a total classic! I've actually only seen it a handful of times but it needs to be on here. Chris loves the Naked Gun movies (which I haven't seen) and says they're pretty similar, so it'll be time to watch those too. It's one of those movies you have to watch a few times before even catching everything that happens. Love.
What do you think of these?
Any of these comedies on your favorites list?
Related Posts