Ten Books I'd Love to See as Movies or TV Shows
Top Ten Tuesdays are hosted by The Broke and the Bookish, where we make lists of our top ten books (or something else!) based on that week's prompt. The topics are provided ahead of time and can be found here. Book links bring you to Goodreads or my review.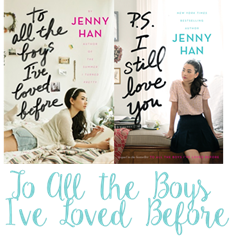 I'm sure I'm not the only person that would love to see Lara Jean, her family, and those adorable boys on the big screen. To All the Boys I've Loved Before and PS I Still Love You by Jenny Han would be so freaking cute as movies. It would also give some well-deserved main character screen time to Asian American actresses!
Even though I wasn't a fan of When by Victoria Laurie, I could see it being a pretty interesting movie! There would definitely be a few things I would change, but the overall concept is too cool to pass up. I'm really bad at "dream cast" types of posts, so  I can't really begin to think of who I would want in this movie, but I'm sure there are plenty of options. This wasn't a blockbuster book so I doubt it would gain movie attention, but again the premise is really awesome. I could totally see it on the big screen.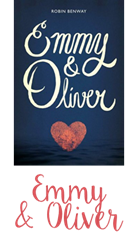 I loooooved Emmy & Oliver by Robin Benway. So much. There have been quite a few contemporary YA books-turned-movies, like The Fault in Our Stars and the upcoming All the Bright Places. This is a really sweet, quiet story that would hopefully draw people into the theaters. The concept of Oliver getting kidnapped by his father and returning home would really be an interesting movie idea. I mean, there are plenty of thrillers and mysteries about kidnappings that are already movies… This would be a much cuter version of that story, and obviously is more focused on relationships than kidnappings. Who wouldn't want to watch this?!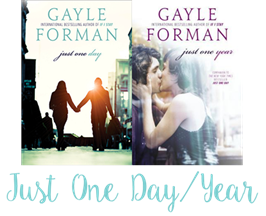 After reading Just One Day and Just One Year by Gayle Forman and being completely filled with wanderlust,  I can't even imagine how the movies would make me feel! I think that both books could be condensed into one movie that alternates perspectives between Willem and Allyson as they meet, spend the day together, and then spend the year apart. All of the filming locations (Paris, Mexico, Amsterdam, India, etc.) would be gorgeous and make me want to travel the world. Can someone please make these into an epic movie?? Thanks.
Maybe I'm just a fan of making movies with alternating perspectives, but I would love to see When Joss Met Matt by Ellie Cahill. It's the only new adult book on my list, so it would probably be rated R instead of PG-13. I love the idea of following these two characters throughout the years (I think there are other movies like this but I can't think of any examples right now!) and seeing flashbacks intermixed. Joss and Matt were definitely MTB, so I'd love to watch the chemistry and history as they navigate other relationships and SPOILER end up together eventually. It kind of reminds me of Friends with Benefits and No Strings Attached, but over a longer time period. (Am I the only one who thinks its weird that those two identical movies came out in the same year?) Regardless, I could totally see this as a rom-com with some steamy times. Gimme.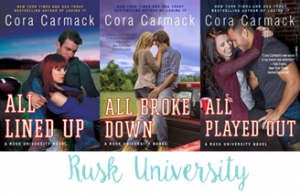 After recently finishing the most recent installment of the Rusk University series by Cora Carmack on Sunday and seeing this topic on Monday, I knew it needed to be on here.  There are plenty of football-related TV shows, like Friday Night Lights, and plenty of college TV shows, like Greek… but I would totally watch a Rusk University series! I think because these are new adult books, it would work pretty well on HBO. I mean, these books are STEAMY and I would definitely want to see that in the show. I could see it being kind of like Greek, where there are multiple "main characters" who start dating each other and hang out in one big friend group. I'm not sure how they would work out the timelines and make sure there isn't too much going on at once, but this could be a solid TV show.
Alright so I'm pretty sure that there have already been low-key movies and/or web series and/or TV shows of the Private series by Kate Brian. I could be wrong (and probably could have googled that before writing this post, but YOLO). I technically haven't finished this series yet because of the weird twist that happened at the end of the twelfth book, although I do plan to finish it up at some point. This series is full of mystery, murder, romance, mean girls, money, power – everything. All set at an exclusive boarding school. Seriously, I love it. This would make a really interesting TV series because of that setting and all of the craziness that happens during the series. I have a feeling it would turn into a Pretty Little Liars and Gossip Girl situation though, where eventually the books don't match up to the TV show. That would definitely piss me off a little bit. However, I think there's more than enough material between these books to make a really interesting show. The only thing I'd say is that I don't think they should bother with the twist towards the end. I don't want to spoil it if people plan on reading these, but let's just say that there's a bit of a genre change. (Dang, this happens a lot with my girl Kate Brian. Hello, Shadowlands.) ANYWAYS, like I said, there's plenty of stuff to throw into a long-running television show even without the weird twist at the end. There was also the spin-off series, Privledge, that could be interesting, but I didn't show it here. That one would be a bit more… gruesome… than this.
Also, I'd like to say that The It Girl series, which is a spinoff of Gossip Girl, would make a good TV show as well. There's something about boarding school that really draws me in for some reason. While I'm at it, recommending TV shows for books I read many years ago, The A-List by Zoey Dean and Secrets of my Hollywood Life by Jen Calonita would make cool shows. Oh, and The Clique by Lisi Harrison should be a TV show instead of a horrible direct-to-DVD movie. I would watch any of these if they were on TV. I could list a lot of random book series from my young adulthood that would fall into this category. I think most of them would end up on ABC Family, which is like the center for dramatic shows about teeangers, but whatever! I'd still tune in like the non-young-adult that I am.
I just binge-read the Jessica Darling series by Megan McCafferty last month (yes, I was a bit late to that party) and OVERALL I enjoyed it. I had some mixed feelings about Jessica most of the time, but it was really funny and enjoyable by the end of the series. I loved watching her grow up, since the book takes place over about a 10 year period. This could make a fun, long-standing television show.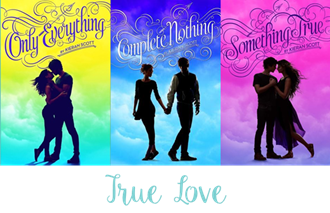 The True Love trilogy by Kieran Scott would make another nice ABC Family show, I think. (Because apparently I want to turn anything Kate Brian/Kieran Scott does into a show.) It would be fun to bring some mythology into the lineup! It has a nice mix of regular teenagers and their daily lives in high school, plus the Greek gods and goddesses. True (aka Eros, aka Cupid) is stuck on earth, trying to bring three couples together before she can go back to Olympus. I think it would make a really fun TV show and could be spread out across a few seasons. It'd be fun to watch True interact on earth for the first time and try to get used to all of the things she doesn't have on Olympus. Plus, there's that added drama of the people coming down to earth to track her down and kill her or something. Yeah, my bookish memory isn't great…
Kody Keplinger is now one of my all-time favorite authors, and so far I've only read two of her books. The DUFF was recently made into a movie, which I haven't seen yet, but I think her whole writing resume could make a TV series! All of these books below take place at Hamilton High and involve some of the same characters. I could see this being set up as a Degrassi-type of show, with a lot of characters and seasons. I think the timelines for each of these books are a bit different, so some characters and plotlines would fade after a few seasons, but overall it'd be fun! I plan to read the other two books on here very soon, so then I'll be better able to gauge just how good of a show this would be 😉
Related Posts