Guys, I am very excited to share some of the amazing goodies I got from my holiday peeps so far. I have one more swap, the 12 Days of Christmas swap, that will be starting up within the next few days. The reveal for that swap will be on December 24th, because I'll be opening one present a day in the 12 days before Christmas!
The Broke and the Bookish Secret Santa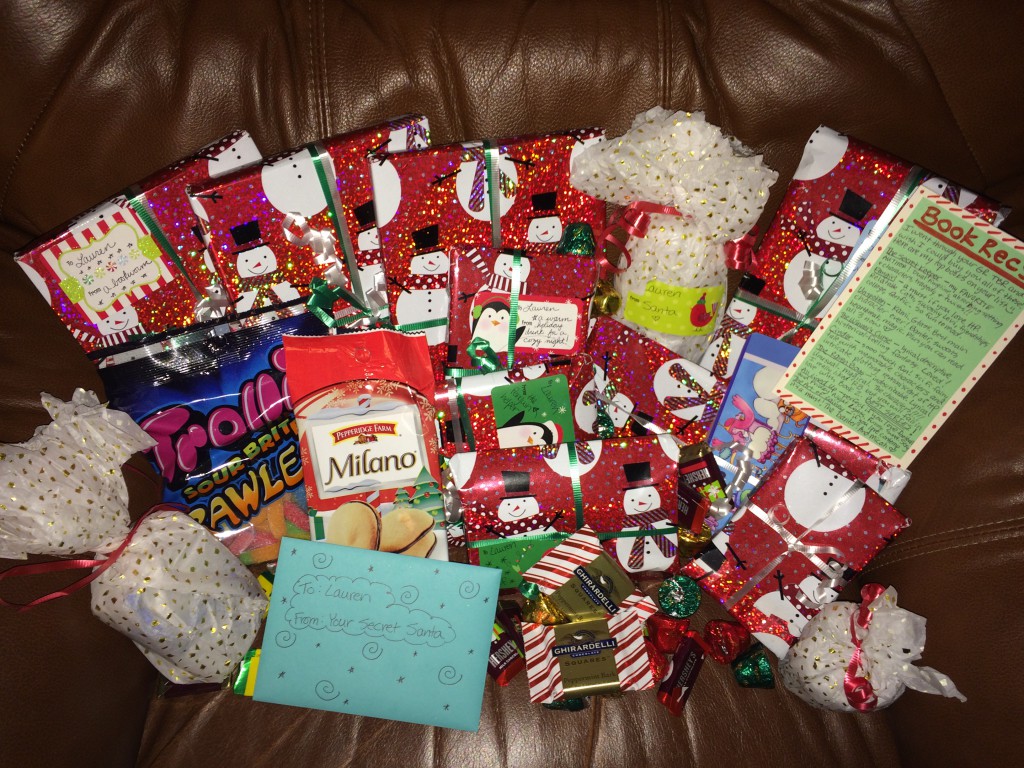 My Secret Santa: Morgan from Gone with the Words!
I'm so excited that Morgan was my Secret Santa. She and a few of her friends followed me immediately once the Secret Santas were revealed, but luckily a lot of others followed me too! It was a pretty good method because everyone kind of followed everyone, so no one knew who actually had them. I've had quite a few Twitter convos with Morgan since we followed each other and was REALLY pumped that she was my Secret Santa! She did such an amazing job. She hit on a lot of the stuff I mentioned in my email – Harry Potter, cheetah print, coffee, and Adventure Time!
What my package included:
Paper listing book recommendations based on my Goodreads TBR!
Ruby Red by Kerstin Gier
Meant to Be by Lauren Morrill (a recommendation from Morgan)
Racing Savannah by Miranda Kenneally
Notepad with little calendar

Adventure Time

bookmark (eeeeek)
Harry Potter Winged Key  (so cute!!!)
Starbucks VIA Christmas Blend (literally perfect timing because I just ran out of coffee)
Cheetah print decorative plate (the cutest)
Lotion from Bath & Body Works
Pumpkin gingerbread candle (smells amazing)
Trolli Brite Crawlers – my favorite candy
Lotssss of yummy chocolates (including my favorite Ghirardelli raspberry and dark chocolate squares!)
---
Secret Santa Book Exchange @ Becoming Books
My Secret Santa: Katie from Life with the D's!
What my package included:
Hand-stamped necklace from Katie's shop (so freakin cute)
The Perfectionists by Sara Shepard (so exciting because I wanted the physical copy of this one!)
Godiva chocolates 🙂
Related Posts