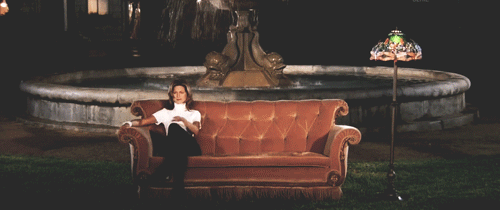 Tagged by Brittany at The Book Addict's Guide
Created by Nick from Nick's Book Blog and Nereyda from Mostly YA Book Obsessed
OH GOD MY LIFE IS COMPLETE. I don't know how I didn't think of creating this myself. Many thanks to Brittany for tagging me for this and bringing it to my attention! Like her, I am a huge Friends fan. That's even an understatement. I've mentioned it before on here, that it's something I genuinely love/hate talking to people about. I'm very protective of my favorite show and only have conversations with ~true fans~ of it. I literally used to sneak out of my bedroom every night that my mom was watching Friends, starting around when I was 8 years old, and pretend that I couldn't sleep. She'd let me lay on the couch with her and "fall asleep," when really I was just listening to the show… which was WAY too inappropriate for me at the time.
Friends can be quoted ALWAYS, during any situation. Ever. I even added a recent feature to my reviews that has "Feelings from Friends," which includes a gif from the show. (Check one out here or here!) Without further ado/explanation of my obsession, here is…
The FRIENDS Book Tag
THE ONE WHERE EDDIE WON'T GO | a character we wish would go away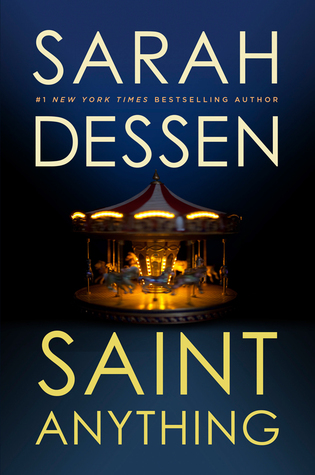 Sydney's mom and Ames from Saint Anything by Sarah Dessen
When I think of characters that annoyed the absolute shit out of me, the mother in Saint Anything is the first that comes to mind. I hated that she basically didn't trust her daughter to do anything, just because of the awful mistakes her son made. And her endless attempts to put him on a pedestal despite what he'd done. And just about everything she said/did. I also, obviously, hated Ames. He was so creepy and would not leave Sydney alone.
THE ONE WHERE ROSS AND RACHEL WERE ON A BREAK | most painful breakup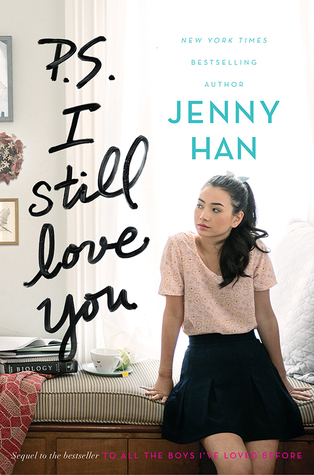 Lara Jean's love triangle from P.S. I Still Love You by Jenny Han
Okay, this isn't reall a spoiler, so don't worry. It's in the description that there's going to be some kind of a love triangle between Lara Jean, Peter (swoon), and John (another boy from her past). Some THINGS happen between her and Peter that obviously lead her into this other THING with John. I won't tell you about the end of the book or the result of the love triangle, but I'll say that I looooved both of those boys and knew I'd be sad either way. This may or may not count as the most painful "breakup," so take that as you will.
THE ONE WTH ALL THE KISSING | favorite kiss scene or book with a lot of kissing
Kinsley and Liam from Scoring Wilder by R.S. Grey
There was a looooot of kissing… and other things… in this book! Obviously you come to expect that with New Adult titles, but I remember this one having some distinct scenes. *fans self*  The whole forbidden romance thing led to quite a few scenes where the kissing was happening in places where they could get caught. Overall, a solid kissing book 😉
THE LAST ONE | favorite 'end of series' book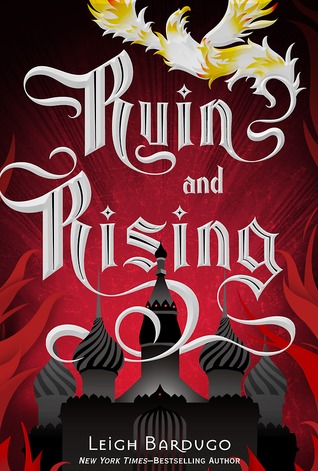 Ruin and Rising by Leigh Bardugo
Oh man, what a great series end. It's sad because I really haven't finished that many series and didn't have much to choose from. This one was definitely a fantastic final book. Not only was it a great end to the series, but it was my favorite book in the trilogy in general. What a strong finish that completely solidified this as a favorite/highly recommended series.
THE ONE WITH THE BLACKOUT | a moment in a book we
wish we could forget or never happened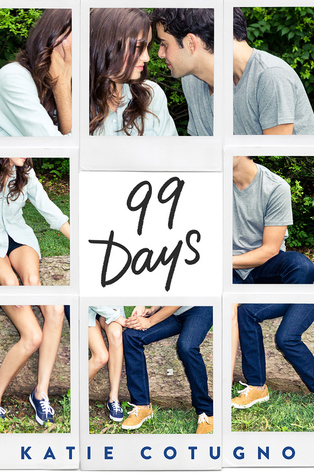 99 Days by Katie Cotugno
This book had a lot of cringeworthy moments, because you just knew that everything was going to blow up in her face eventually. I can't really pinpoint exact scenes that I wish didn't happen, but the whole story was very OMG STOP DOING THAT. I really thought it was well-done, raw, and realistic. It was definitely like a trainwreck that you just had to keep watching.
THE ONE WHERE CHANDLER CAN'T CRY | a book that didn't
affect us emotionally like it did other readers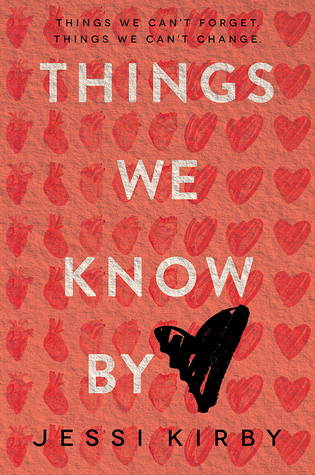 Things We Know by Heart by Jessi Kirby
This was my most anticipated book of 2015 and I was majorly let down. I didn't feel emotional connection to the characters at all. I don't know if it was my own personal hype issue, or if I just really didn't care that much. The book was boring and didn't make me feel anything. I barely shipped the characters, especially because Quinn was holding onto this huge secret for the entire book that I knew would come out at the last minute. It just didn't give me ANY feels except disappointment.
THE ONE WHERE JOEY DOESN'T SHARE FOOD | a book we won't share
Looking for Alaska by John Green
I read all of John Green's books loooong before the hype. I'm a bit of a hipster, so sue me. I got so annoyed when people all started reading TFIOS and Looking for Alaska when he got popular out of the blue. Don't get me wrong, I think his writing can be a bit pretentious and I don't consider myself to be an annoying fan anymore, but still. I absolutely loved Looking for Alaska when it came out and want to horde it all to myself. It still bugs me that there's a movie coming out. Also, if you didn't read his other books before TFIOS even came out, you can put away your John Green quote tattoos.  K bye.
THE ONE WITH THE THUMB | a book you would give two thumbs up to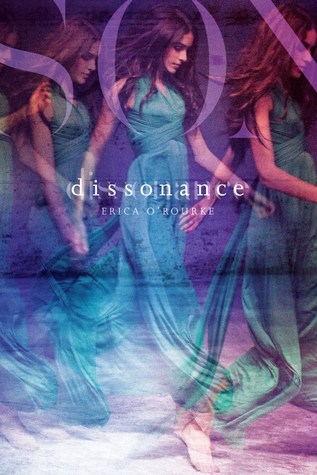 Dissonance by Erica O'Rourke
I LOVED IT. I put this on my TBR long before it came out and long before book blogging. The idea of parallel universes being created from each decision you make has interested me since that episode of So Weird. (More on my interest in multiverses here!) I was so happy when this book ended up exceeding my expecations and becoming a favorite. I have a lot of "favorite" books, but this one definitely gets two thumbs up for just being the most LAUREN APPROVED book of all time.
THE ONE WITH THE ICK FACTOR | a book pet
peeve or a book that has a pet peeve
Insta-love + love triangle in Famous in Love by Rebecca Serle
I honestly don't mind love triangles if they're done in a way I believe. If the person genuinely seems torn, gets to know both people, and has different reasons for liking them, I can see it. This book, unfortunately, had so much insta-love mixed with the triangle that I just couldn't deal. What made her fall for Jordan when he randomly showed up?! I just didn't see it. Insta-love is pretty much my main bookish pet peeve. I don't mind a lot of things that other people have problems with, but insta-love is the one thing that really bugs me.
THE ONE WITH THE LESBIAN WEDDING | a favorite book with an LGBTQ couple
Addie and Laurel from Harmonic by Erica O'Rourke
Even though this was a novella, I loved seeing Addie and Laurel's relationship. I hope that the next book features more of them! I hate to say it, but I haven't read a lot of books with LGBTQ characters in them. I know that'll change sometime soon, because I have so many on my TBR, but this lovely little book will do for now! I shipped them so hard.
I'm tagging anyone who was obsessed with Friends
before it came on Netflix or Nick @ Nite 😉
Related Posts