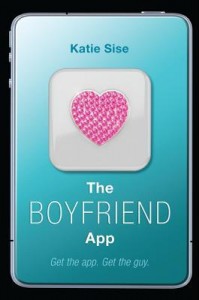 The Boyfriend App
by
Katie Sise
Series:
App #1
Genres:
Contemporary
,
Young Adult
Published by
Harper Collins
on April 30th 2013
Also by this author:
The Boyfriend App
Format:
eBook
(320 pages) •
Source:
Scribd
Goodreads
•
Amazon
•
Barnes & Noble

In The Boyfriend App by Katie Sise, super-smart, somewhat geeky Audrey McCarthy can't wait to get out of high school. Her father's death and the transformation of her one-time BFF, Blake Dawkins, into her worst nightmare have her longing for the new start college will bring.

But college takes money. So Audrey decides she has to win the competition for the best app designed by a high schooler—and the $200,000 that comes with it. She develops something she calls the Boyfriend App, and suddenly she's the talk of the school and getting kissed by the hottest boys around. But can the Boyfriend App bring Audrey true love?

I received an ARC of The Pretty App, the next book in this companion series, a looong time ago. I tried to read it first without reading The Boyfriend App, but wanted to go through the whole series in order. I didn't have a lot of expectations going into this one. I was hoping to breeze through and get the background info for the next book in the series. Well, that worked: this was a super quick and entertaining read! It's certainly not perfect, but I definitely enjoyed it overall.
The number one thing I liked about this book was the concept. There's an app contest where the winner gets scholarship money and prizes for their school. Audrey, the main character, designs The Boyfriend App. First, it matches people up based on compatibility and distance. The second version of the app creates a lot of chaos, as it actually gets the other person to fall in love (but mostly lust). For a contemporary romance, the concept was unique. I loved that the MC was a geeky, super smart girl. I loved her group of friends: Aidan (the cute boy I shipped hard throughout), Lindsey (her fashion-obsessed cousin who always had her back), Mindy (her supportive friend with a speech impediment and didn't talk), and Nigit (another super-smart geeky guy in the group).
The book is split into two parts – one for each "version" of the app.
The first part is Audrey brainstorming her app and figuring out what she wants to do to win the prize money. She was a pretty simple character that was often guided by her father, who died in an accident at work. I liked that she wasn't super complex but it did bug me at times. It made her character a little one-dimensional, especially when she fell into the typical tropes. I shook my head a lot as she refused to pick up on all the signs around her about Aidan. A lot of my notes consisted of "OMG GIRL COME ON" and "ugh don't be stupid." There was a little too much predictability as far as that was concerned.
The second part of the book had me wondering: are high schools really like this? I think about this a lot as I read books with bullying or "mean girl" kinds of behavior. I know that bullying exists, but sometimes its portrayed in such an exaggerated way that I just don't get it. I know for a fact that if someone said something terribly mean to a lunch lady and put gravy all over her face – no matter how popular and pretty the person was – there would be countless people standing up for the lunch lady. Maybe my high school was different than other people's, but do people really act like this?! When shit hits the fan as Audrey introduced BFA V2, I found myself cheering for her as she got revenge on the ex-best-friend-mean-girl, Blake, and her hot boyfriend Xander.
Beyond that part, I surprisingly enjoyed the second part of the book. It was primarily about Audrey figuring out all of the secrecy and illegal activities that a huge corporation is participating in. Public (basically today's Apple) has too much power and it was cool to see Audrey try to figure out what they were doing. It definitely kept me engaged and interested. I could sense some sketchy stuff happening later in the book (which I won't spoil) and was getting pretty nervous for her/her friends. A lot of the second half was unrealistic and not believable, but it was fun to suspend logic for a bit and go along with it.
The writing style was pretty good. It was weird at first getting used to Audrey basically talking to the reader. I'm good with first person points of view usually and I did eventually get used to this style. There was a lot of computer and hacking language that was made somewhat easy to follow.










Related Posts